Thumbnails of sitters connected with the stage (or in costume for the stage) in the Lafayette Collection
(this is not a comprehensive listing but only contains those images scanned to date)
Clicking on a thumbnail in the listing below will open the relevant catalogue form with a larger image.
For other costume portraits, see also DHB (button above)
All images on this site are copyright V&A. For further information on using or requesting copies of any images
please contact the V&A Picture Library: vaimages@vam.ac.uk including the URL of the relevant page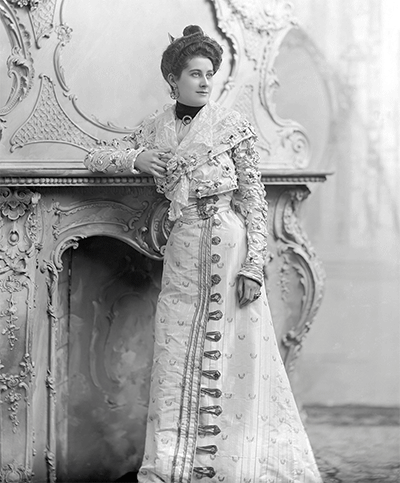 Miss Enid Spencer Brunton 1897

Miss Margaret Halston c 1897

Miss Margaret Halston c 1897

Miss Ethel Henry 1897

Sarah Brook 1898

Miss Carter 1898

Miss Cook 1898

Lily Hanbury 1898

Elizabeth Kirby 1898

Lillie Langtry 1898

Lewis Waller [1898]

Sarah Bernhardt 1899

Nina Boucicault 1899

Miriam Clements 1899

Maud Danks 1899

Miss G Dudley 1899

Sir Seymour Hicks 1899

Evelyn Millard 1899

Countess d'Erlanger 1900

Mrs Valentine Dick 1900

Maud Hobson 1900

Jane May 1900
Grace Palotta 1900

Miss JS Salisbury 1900

Mrs Melville Simons 1900

Mrs Melville Simons 1900

Lady Sturt 1900

Lady Maud Warrender 1900

Lydia West 1900

Miss Vanderbilt Wackerman 1900
Lewis Waller 1900
Countess of Westmorland 1900

Sir Squire Bancroft 1901

Rosie Boote, Marchioness of Headfort 1901

Dame Lillian Braithwaite 1901

Lillie Langtry 1901

Janet Steer 1901

Winifred Wood 1901

Madame Suzanne Adams 1902

Countess Clancarty (Belle Bilton) 1902

Madame Leane de Pougy 1902

Miss Jullin 1902

Dan Leno and wife 1902

Lewis Waller 1903

Lillie Langtry 1905

Madge Temple 1906

Lillie Langtry 1906

Lillie Langtry 1908

Lydia Yavorska (Princess Bariatinsky) 1909

Lillie Langtry 1911

Countess Poulett 1911

Miss Hume 1920

Rosie Boote, later Marchioness of Headford 1921

Régine Flory (Marie Louise Artaz 1923

Winifred Evans 1923

Betty Balfour 1924

Miss Betty Chester 1924

Beth Beri 1925

"Messers Television" 1926

This site has been compiled by Russell Harris rvondeh@gmail.com.

For any comments/corrections please email the compiler at rvondeh@gmail.com.