VANDERBILT WACKERMAN, MISS

Neg. No: 2494B

Neg. Size: 15"x12"

Neg. Date: 15-08-1900


Sitter: Miss Vanderbilt Wackerman (stage name) ( )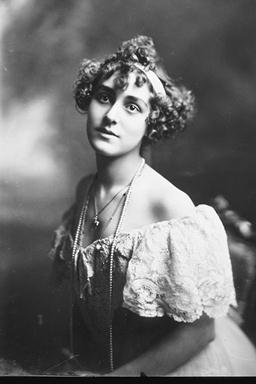 Biog: Actress:
Miss Vanderbilt Wackerman is the daughter of Mr. and Mrs. john Vanderbilt Wackerman of 93 Chippewa street, this city [i.e. Buffalo] (The Inter Ocean)
"In the London papers of Thursday last there was published the story of Miss Helen Vanderbilt Wackerman, who attracted public attention to herself by leaving the Hotel Cecil in an excited condition, and rushing, hatless and dishevelled, down the Strand and Fleet Street." (The Sketch).
"THE AMERICAN LADY. A Chronicle representative yesterday interviewed Professor Herkomer regarding Miss Wackerman, the young American lady whose strange conduct in the City has excited much interest, and who sat him for a portrait study. Mr. Herkomer said that when lie made the arrangement with Miss Wackerman he wrote to her asking her to understand clearly that the picture was not intended to be a portrait of herself, but simply a study of his own, for which he would be pleased give her some of his own handiwork. She consented, and his lawyers have her letter. The Professor also said he had made inquiries about her in America, and he found that she hails from Buffalo, in New York State, and that she was comparatively unknown there, and certainly never had any reputation there for the society beauty she had represented herself as having been. Neither did she seem to be possessed of any wealth. As the Academy picture, it was not by any means a portrait of her; it was simply what it was represented to her it would be—a study." (St. James's Gazette)
" With reference to a portrait of Miss Vanderbilt-Wackerman, which I published in The Tatler a fortnight ago, I am asked by the young lady's mother to state that the hyphen is superfluous, and that I ought to have spelt the name as one word, Vanderbiltwackerman. I owe Mrs. Vanderbiltwackerman an apology, but I may perhaps say that I copied the name exactly as it is spelt in American papers.
(The Tatler, 14 August 1901, p. 320)
Role: "Mrs Vanderbilt Wackerman is the daughter of an American father and a Scots mother. For the last two years she has made London her home, where she is a very familiar figure in artistic circles. In the masque at the Guildhall last year Miss Wackerman appeared as Athene, a part for which her Greek type of beautify peculiarly fitted her." (The Tatler, 24 July 1901, p 159)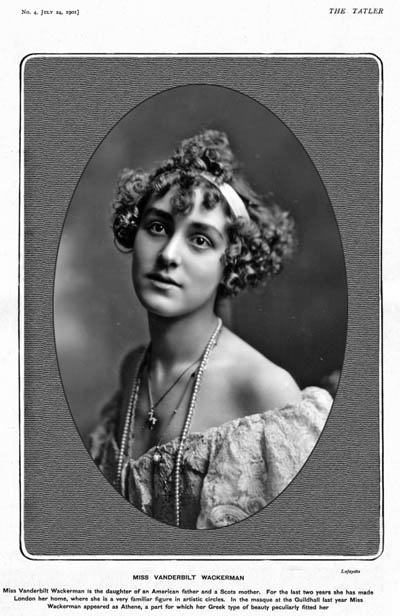 Date: 15 August 1900.
Occasion: -
Location: The Lafayette studio, 179 New Bond Street, London.
Descr: HL sitting.
Costume: -
Jewellery: -
Furniture & Props: Painted backdrop.

Photographer: Lafayette Ltd., 179 New Bond Street, London.

Evidence of photographer at work: -

No of poses: 4.

Copyright: V&A

All images on this site are copyright V&A. For further information on using or requesting copies of any images please contact the V&A Picture Library: vaimages@vam.ac.uk including the URL of the relevant page

Provenance: Pinewood Studios; acquired 1989.

References:
Biog: The Tatler, 24 July 1901, p 159; The Sketch, 20 November 1901, p. 160; St James's Gazette, 14 November 1901, p. 9; The Tatler, 14 August 1901, p. 320 (re hyphen in name); Buffalo address (The Inter Ocean (Chicago, Illinois)14 Nov 1901, p 3).
Role: -
Occasion: -
Costume: -
Jewellery: -
Reproduced: The Tatler, 24 July 1901, p 159.

Additional Information: -

Acknowledgements: -