GONDAL, RANI OF

Neg. No: 7084

Neg. Size: 15"x12"

Neg. Date: 10-7-1911


Sitter: Maharani Bai Shri Nand Kunverbaji Sahiba, CI (2.8.1892). (b. at Dharampur, 1867; d. at Bombay, 9th March 1936), Rcvd. Coronation (1911) and Silver Jubilee (1935) Medals, second daughter of H.H. Maharana Shri Narayandevji Ramdevji Rana Sahib, Raja of Dharampur, by his second wife, H.H. Chhasatia Rani Bai Shri Gulab Kunverba, daughter of Sardar Bhagubava Sahib of Dharampur; married 3 June 1881 HH Thakor Saheb Sir Bhagwatsinghji Sagramji, Thakor of Gondal.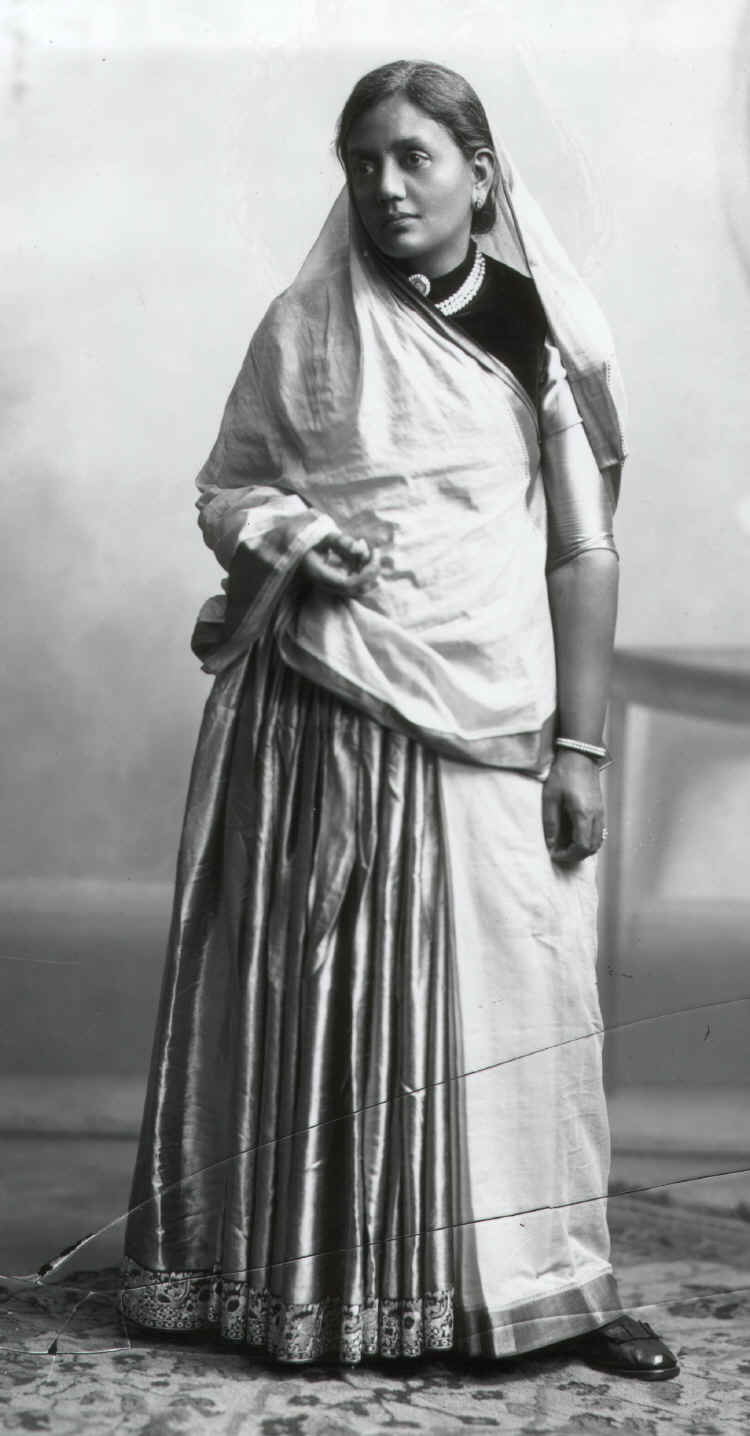 Biog: Author (in Gujarati); philanthopist
"...the Thakor Saheba was the first Rajput lady to break through the purdah system and visit Europe with her husband. She is the authoress of a volume describing her travels. His Highness is both a scholar and an author, and his work on the History of Aryan Medical Science was most favourably received. (The Times, June 7, 1911, p 7a, b & c.) "
Date: 10 July 1911.
Occasion: Visit to England for the Coronation of King George V.
Location: Lafayette studio, 179 New Bond Street, London.
Descr: FL standing.
Costume: "The Rani wears a plain white cotton outer sari in Gujarati-style with gold brocade borders. This is worn over a bodice and silk skirt which is decorated with chinai embroidery at the hem. This type of embroidery was done in Surat by Chinese embroiderers and was particularly popular with Parsee ladies for trimming sari edges."
Jewellery:
Furniture & Props: Painted backdrop.

Photographer: Lafayette Ltd., 179 New Bond Street, London.
Evidence of photographer at work: -
Other images in this series:
Copyright: V&A Provenance: Pinewood Studios; acquired 1989.

References:
Biog: The Times of India, 8 September 1908, p ?; Jehangir Sorabji, Princes and Chiefs, London, 1903, Vol II, p 114.
Occasion: See Neg. 7082 (Thakor Saheb of Gondal).
Costume: -
Orders, Decorations & Medals: -
Reproduced: -

Additional Information: -

Acknowledgements: (Costume) Rosemary Crill, Indian Department, V&A; (Biography) Christopher Buyers.