BOURKE, MRS A

Neg. No: GP (L) 1368-444

Neg. Size: 12"x15"

Neg. Date: 05-07-1897


Sitter: Hon Mrs Algernon Bourke (1870-1967), née Guendoline Irene Emily Sloane-Stanley.
Biog: Only daughter of Hans Sloane-Stanley of Paultons, near Romsey, Hampshire; m. (1887) Hon Algernon Henry Bourke, 3rd son of 6th Earl of Mayo.
Role: Salammbô. (for historical details of the character, see: salammbo.html)
Date: 5 July 1897.
Occasion: The Devonshire House Ball, 2 July 1897.
Location: The Lafayette Studio, 179 Bond Street, London, W.
Descr: FL standing.
Costume: A...drapery gown of white and silver gauze, covered with embroidery of lotus flowers; the top of gown applique with old green satin embroidered blue turquoise and gold, studded rubies; train of old green broche." (The Gentlewoman, 10 July 1897, p 56c)
Costume supplier: Alias, 36 Soho Square, London, W.
Jewellery: A serpent bangle and other items.
Furniture and Props: Painted backdrop.

Photographer: The firm of J. Lafayette, 179 New Bond Street, London, W.
Evidence of photographer at work: -
No of poses: 3 (see also neg nos 1368-442 & 1369).
Copyright: V&A Provenance: Pinewood Studios; acquired 1989.

References:
Biog: Burke's Landed Gentry (see Sloane-Stanley); Burke's Peerage.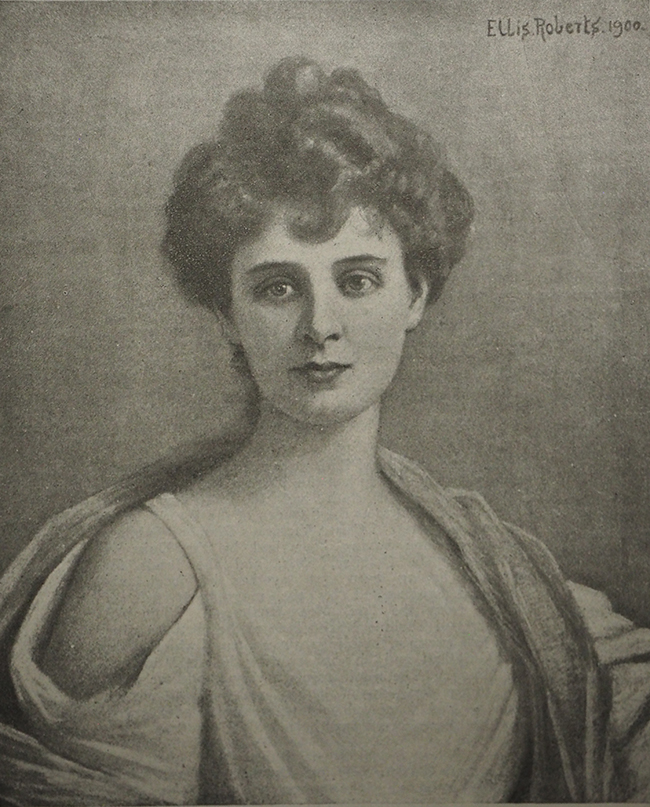 Mrs Bourke, after a painting by Ellis Roberts, published in The Lady 1900
Occasion: Sophia Murphy, The Duchess of Devonshire's Ball, London, 1984.
Role and Costume: (Role only) The Daily Graphic, 3 July 1897, p 13a; The Times, 3 July 1897, p 12a; The Morning Post, 3 July 1897, p 7e; St. James's Gazette, 3 July 1897, p 9b; The Sketch, 14 July 1897, p 484b; (Costume) The Standard, 3 July 1897, p 4c; The Gentlewoman, 10 July 1897, pp 55 [line drawing] & 56c. (See also The Gentlewoman, 8 January 1898, p 59 & p 47 [line drawing].)
Jewellery: -
Reproduced: Devonshire House Fancy Dress Ball, July 2 1897: A Collection of Portraits in Costume of Some of the Guests, privately printed, 1899, p 137, (National Portrait Gallery Archives).

Acknowledgements: -