Biog: C.B.E. cr. 1918; eldest daughter of 1st Earl of Dudley; m. (1895) 4th Baron Wolverton.
Image published in Daisy of Pless: The Happy Years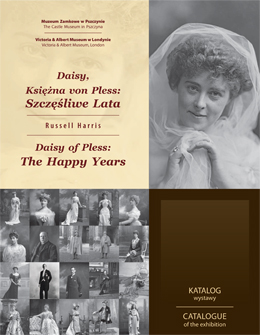 Role: Britannia.
Date: 9 July 1897.
Occasion: The Devonshire House Ball, 2 July 1897.
Location: The Lafayette Studio, 179 New Bond Street, London.
Descr: FL seated.
Costume: Trident; plumed helmet with raised laurel wreath design; necklet with Royal Coat of Arms centre; cuirass of silver disks; sash with Garter motto "Honi soit qui mal y pense"; double layered skirt, embroidered with the thistle of Scotland and the rose of England; cloak and shield displaying the Union flag.
Costume Supplier: -
Furniture & Props: Painted sea-scape backdrop.
The triple-masted ship, the symbol of Britain's dominion of the seas, and the lighthouse representing the safe shores of home, were added to this negative by the studio retouching department. These familiar attributes, seen behind Britannia on the British penny coin, had only recently been removed (1895), an unpopular change which some thought presaged the decline of British naval power. (See, inter alia, Annual Report of The Deputy Master of the Mint, 1895; The Candid Friend, 25 May 1901, p 146 and Charles Oman, The Coinage of England, Oxford, 1931, p 379.)

Lighthouse would the Eddystone Lighthouse

The triple-masted ship seen on the gates of Green Park, London

Photographer: The firm of J.Lafayette, 179 New Bond Street, London, W.
Evidence of photographer at work: Backdrop retouched.(1)
| | | |
| --- | --- | --- |
| No of poses: 5. | | |
Copyright: V&A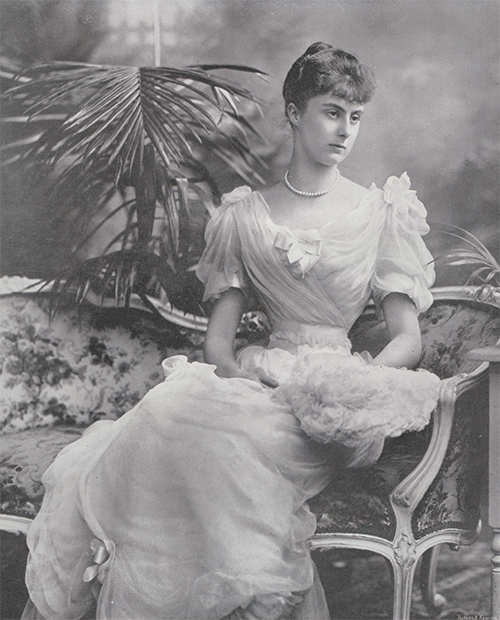 Portrait by Lafayette published in Country Life Illustrated, 26 March 1989

All images on this site are copyright V&A. For further information on using or requesting copies of any images please contact the V&A Picture Library: vaimages@vam.ac.uk including the URL of the relevant page

Provenance: Pinewood Studios; acquired 1989.

References:
Biog: Burke's Peerage; The Times, 7 June 1956, p 15g
Occasion: Sophia Murphy, The Duchess of Devonshire's Ball, London, 1984.
Costume & Role: (Role only) The Daily Graphic, 3 July 1897, p 12c; The Morning Post, 3 July 1897, p 7d; (Costume) The Queen, 10 July 1897, p 138c.
Costume Supplier: -
Reproduced: (Version from resit 26 November 1897) The Lady's Field, 21 May 1898, p 445; Devonshire House Fancy Dress Ball, July 2 1897: A Collection of Portraits in Costume of Some of the Guests, privately printed, 1899, p 44, (National Portrait Gallery Archives).

Acknowledgements: -

The use of the symbol of Britannia has its origin in the Roman goddess Minerva. She came to symbolise security as well as dominion over the sea. A popular image on coinage, until recently she had appeared with the lighthouse and three-masted ship - emanations of her two characteristics. When these were removed from the coin in 1895, people commented that it presaged the demise of the navy. The Candid Friend, 25 May 1901