MORVI, MAHARAJA of

Neg. No: 166869

Neg. Size: 15"x12"

Neg. Date: NONE


Sitter: Maharaja Shri Sir Lukhdirji Bahadur of Morvi (1876-1957).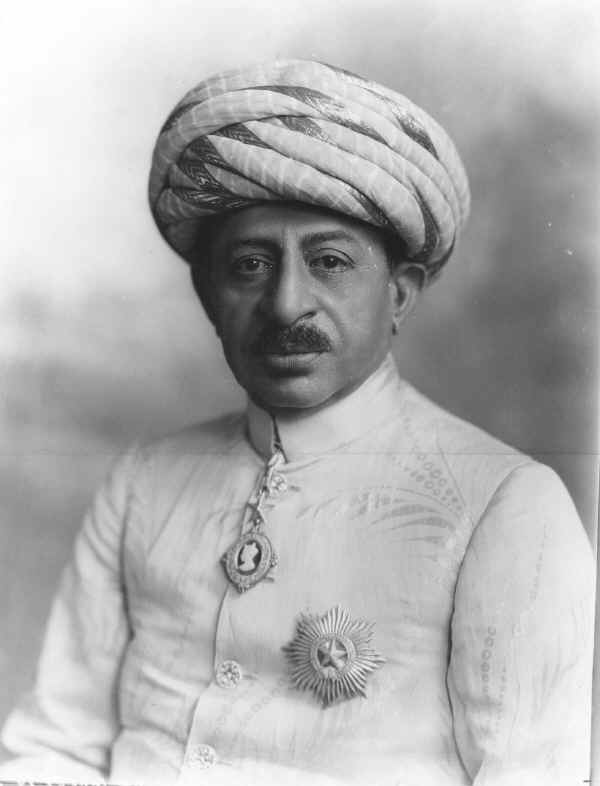 Biog:
H.H. Maharaja Thakore Shri Sir Lakhdhiraji Waghji alias Jilubha Sahib Bahadur, Maharaja of Morvi, GBE (c 8.6.1939), KCSI (1.1.1930), b. 26th December 1876, eldest son of H.H. Thakore Shri Sir Waghji Rawalji Sahib Bahadur, Maharaja of Morvi, GCIE by his first wife, H.H. Palitanawala Raniji Ba Shri Bajirajba Kunverba Sahib, daughter of Thakore Shri Pratapsinhji Sahib, Thakore Sahib of Palitana. Educ. in England. Succeeded on the death of his father and ascended the gadi, 11th June 1922. Installed 20th January 1923. Granted the hereditary title of 'Maharaja', 3rd June 1926. Rcvd. Silver Jubilee Medal (1935) and Coronation Medal (1937).
Abdicated in favour of his eldest son, 1948.
Married
| | |
| --- | --- |
| | (firstly) at the Fort, Rajpipla, May1898 Maharaj Kumari Ba Shri Nand Kunverba Sahib (b. at Nanod, 1883; d. at Morvi, 1915), second daughter of H.H. Maharana Shri Gambhirsinhji Verisalji Sahib, Raja of Rajpipla. |
| | (secondly) at Devgad, 1898 H.H. Bariawala Rani ……. Sahiba, second daughter of Raja Shri Mansinhji Sahib, Raja of Baria. |
| | (thirdly) at Ranigan, 1908 H.H. Sarvaijawala Maharani Bai Shri ……. Sahiba, daughter of Sarvaji Bawaji Ranaji, Talukdar of Ranigamand Datha. He d. 4th May 1957, having had issue six sons and two daughters: |
Date: (18 May 1933).
Occasion: -
Location: The Lafayette Studio, 160 New Bond Street, London.
Descr: HL.
Costume: -
Orders, Decorations & Medals: Star & badge of a Knight Commander of The Most Exalted Order of the Star of India.
Furniture & Props: -

Photographer: Lafayette Ltd., 179 New Bond Street, London.

Evidence of photographer at work: -

Related images:

Copyright: V&A

All images on this site are copyright V&A. For further information on using or requesting copies of any images
please contact the V&A Picture Library: vaimages@vam.ac.uk including the URL of the relevant page

Provenance: Pinewood Studios; acquired 1989.

References:
Biog: WW; The Times, 7 May 1957, p 13.
Occasion: -
Costume: -
Orders, Decorations & Medals: A.R. Litherland & B.T. Simpkin, Spink's Standard Catalogue of British Orders, Decorations & Medals, London, 1990, p 36.
Reproduced: -

Additional Information: -

Acknowledgements: (Medals) David Bownes; (Biography) Christopher Buyers