A BRIEF HISTORY OF THE LAFAYETTE STUDIO
'... the inspired pencil of Lafayette has limned for ages yet to come.'

James Joyce, Ulysses, 1922.
Lauder family group - the wife, six sons and three of the four daughters of Edmund Stanley Lauder (c 1828-1891) photographer and proprietor of Lauder Brothers, Dublin. (Photograph from private collection. The sitters are shown below, listed according to their (last known names.

A larger version of the image to below can be loaded by clicking on this text.

Sarah Lauder née Stack (c 1828-1913) wife of Edmund Stanley Lauder (top centre)
James Stack Lauder (James Lafayette) (1853-1923) photographer and managing director of Lafayette Ltd 1898-1923 (top left)
George Marsh Lauder (George Lafayette) (1858-1922) photographer and manager of Lafayette Glasgow branch
Edmund Stanley Lauder Jnr. (1859-1895) photographer and property developer
Robert Enraight Lauder (1861-1938) medical officer of health
William Harding Lauder (1866-1918) photographer and co- managing director of Lafayette Ltd 1898-1918 (left)
Thomas Campion Lauder (1873-1943) Lieut-Colonel RAMC (bottom centre)
Lydia Harding Sproule née Lauder (1857 - )
Sarah Harding Hatte née Lauder (1865 - )
Harriet Barry formerly Hatte née Lauder (1868-1933).
The Lafayette studio has one of the oldest histories of any photographic business in the world.
It was founded in Dublin in 1880 by James Stack Lauder, who used the professional name of James Lafayette. James was the eldest son of Edmund Lauder , a pioneering and successful photographer who had opened a daguerreotype studio in Dublin in 1853. In adopting the name 'Lafayette', James created a new image for the family business, seeking to prosper from the cachet of a French name: Paris was then the centre of the art world and of avant-garde photography in particular.
James Lafayette was 27 when he founded the new firm which, in its early days, was variously known as 'Jacques Lafayette', 'J. Lafayette' and 'Lafayette'. In fact, he was joined in the new venture by his three brothers, all of whom were experienced photographers who had worked in their father's three studios.
carte backs from the original 'Lauder' studio
The new business flourished from the start. It soon established itself as the premier portrait studio in Ireland following commissions from the Viceroy and leading members of the Irish aristocracy.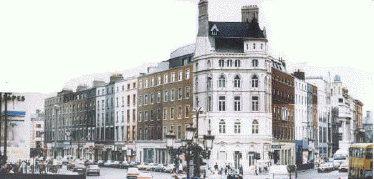 The white building in the centre is the location of the main Lafayette studio in Dublin
Almost immediately James Lafayette started to attract favourable reviews in newspapers and photographic journals. He also began to win exhibition medals for his portraits of society beauties, actresses and children not only in Ireland, but England, France and America. In 1884 he was elected a member of the Photographic Society of Great Britain. By 1885 the firm was registering some of its best work for copyright, and had attracted the attention of the Royal family with its best-selling portraits of Princess Alexandra, taken to mark the Royal visit to Ireland of that year.

In 1887 James Lafayette was invited to Windsor to photograph Queen Victoria and was granted a Royal Warrant as 'Her Majesty's Photographer in Dublin'. This Royal Warrant, which was subsequently renewed by King Edward VII and George V, conferred enormous prestige. The style and title of 'Photographer Royal', which now appeared on the studio advertising and promotional literature, proved extremely useful in attracting new clients.

Studio camera of the type used by Lafayette

[back view shows glass plate negative in place]

The Lafayette business expanded rapidly in the 1890s. Studios were established in Glasgow (1890), Manchester (1892)(see line drawing below), and with the surge of business in Jubilee year (1897) a branch was opened on London's Bond Street. a branch was opened on London's Bond Street. Subsequently another studio was established in Belfast (1900).

In 1898 all the Lauder family businesses were incorporated and shares in the newly established Lafayette Ltd. were floated on the Stock Exchange. By this point James Lafayette had left the Dublin studio in the hands of his brother, William Harding Lauder, and was managing the London studio. Following his commission to photograph guests at the Duchess of Devonshire's costume ball in 1897, James Lafayette was clearly established as the most commercially successful portrait photographer of the day. London was then the centre of the world stage and the Bond Street studio photographed the most prominent people at court, in society, the arts, the armed forces, and the professions, as well as a stream of foreign visitors, from Japanese diplomats to African princes. In 1898 James Lafayette was even recommended for a knighthood in the pages of The Photogaphic News. (This honour for photography, in fact, had to wait until 1972 with the knighthood of Cecil Beaton.)

The Deansgate, Manchester Studio

The prosperity of the Lafayette business in the 1890s and early twentieth century was closely linked to the expansion of the press. Many Lafayette photographs were published in the national and provincial newspapers, as well as in the many new photographically illustrated magazines made possible by advances in printing technology. As early as 1893, for example, Lafayette's wedding photographs of the Duke and Duchess of York at Buckingham Palace were published in The Illustrated London News and The Gentlewoman.

In some cases Lafayette seems to have made special arrangements to supply large numbers of photographs to new magazines. Country Life, for example, was founded in 1897. During its first year, Lafayette provided more than 30 of the magazine's 52 weekly frontispiece portraits. The Scots Pictorial, which was also established that year, was supported by the Glasgow studio.

Gordon Street, Glasgow - approximate site of the studio

Such was the volume of press work that from 1914 to 1927 there was a special office in Fleet Street to deal with it.

James Lafayette died in Bruges in 1923, at the age of 70. He was by far the most dynamic, entrepreneurial member of his family and, following his death, the company went into relative decline. A new generation of photographers, including Bertram Park, Hugh Cecil, Paul Tanqueray, and Dorothy Wilding, was providing competition to established commercial photographic studios such as Lafayette. The Stock Market crash in 1929 and the ensuing Great Depression also had a devastating effect: Lafayette operated at a loss for most of the 1930s.

A cameo of Daisy, Countess of Warwick
from a Lafayette publicity brochure

'Lafayette Ltd.' continued to function until 1952, although the business was not finally wound up until 1962. The Lauder family and its employees were thus producing photographs continuously from 1853 until 1952. They also kept a library of their most important negatives, almost all of which were marked with the name of the sitter and the date when the negative was made.

The back of a Lafayette carte 1897

the opening and back page of a Lafayette publicity brochure circa 1902

Handwritten note enclosed with a publicity brochure circa 1902

The Dublin branch of the business, which was sold off in 1951, still survives. Until the 1990s it was run by the oldest photographer in Ireland, a former employee and nephew of Walter Pannell, a photographer who worked with James Lafayette. Some of the 19th-century props and photographic equipment are still in use to this day.

Sadly, the majority of negatives from the Dublin studio were destroyed in 1951 (allegedly sold for re-use as glass panelling for green-houses). Several hundred historic glass and nitrate negatives survive, however, including early examples of royal photo-journalism and portraits of famous Irishmen such as Patrick Pearse, leader of the Easter Rising, George Bernard Shaw and W.B. Yeats.

Some very important negatives from the London studio and a smaller number from the provincial English branches survived in a London attic. In 1972 they were moved by builders to Pinewood Studios, where in 1988 they were rediscovered in a props store and given to the V&A (see Sunday Times article). The Museum decided to keep the 3,500 glass plate and celluloid negatives dating from 1885 to c. 1937, but transferred the rest of the collection, consisting of 30,000 - 40,000 nitrate negatives from the 1920s to the early 1950s, to the National Portrait Gallery.

In addition to these two large archives of negatives, the Earl of Haddington holds a substantial number of uncatalogued negatives, mostly on film, at Mellerstain, his home in Berwickshire.

There are, of course, a vast number of prints of Lafayette photographs still in existence. Large collections of Lafayette photographs can be found in the Royal Archives, the main commercial picture libraries and the Gernsheim Collection at the University of Texas. There are also several smaller specialist collections. Most negatives in the V&A and NPG collections can thus be matched with surviving photographs in period frames and family albums, photographs published in newspapers and magazines, postcards, and prints sold for mass circulation.

1939 Customer Proof