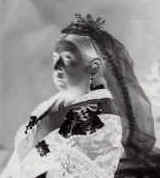 "I wiped one or two faces and there were Queen Victoria and Lloyd George looking up at me. I just couldn't throw them out, he said last week.

The filthy and disordered mess turned out to the the archive of the Lafayette studio, a photographic firm to which Queen Victoria gave a royal warrant on March 5, 1887. The most prominent people at court, in society, politics and the services sat for the studio in New Bond Street.

The archive is an extraordinary and priceless image bank of the people who owned and ran the Britain of the day.
Thurston packed the 80,000 glass and celluloid negatives, weighing more than six tons, into cardboard boxes and 90 orange plastic packing cases and took them to Pinewood studios, where he worked. He had been merely "lent out" by the studio at a quiet time to do a clearance job at the Fleet Street premises where he found the negatives. Nobody knows when or why the hoard was stored there.
He made his discovery in 1968. But once again the pictures were overlooked. For another 20 years those cases - containing unique portraits of Queen Victoria at her jubilee celebrations, Edward VII at his coronation, Indian maharajahs in their finery - lay gathering more dust behind a faded fawn curtain in the film studio's props store at Iver Heath, Buckinghamshire.
Then six weeks ago, Malcolm Stone, an art director, came across Thurston's neglected treasure. He saw the scuffed boxes arranged in 5ft piles but, unlike Thurston, immediately recognised the portraits as the work of a great 19th century studio.
He contacted Cyril Howard, Pinewood's managing director, who offered them to the Victoria and Albert Museum and the National Portrait Gallery, which were delighted to have them. Already the V&A has collected 30,000 of the negatives, and the rest, which are mostly post-1925, will go to the portrait gallery.
This week the first batch is being cleaned and filed at the V&A. Every 10in x 15in glass negative, weighing 3 oz. is being individually washed and catalogued. They are all captioned with a name and date, but the full list of sitters will not be known for months.
Already Victoria, Edward VII, Edward VIII, Earl Spencer (the Princess of Wales's great grandfather), Lady Randolph Churchill and various Rothschilds have been discovered. "It is going to take years to go through all the negatives. Some are cracked. They are all dirty but anything might turn up," said Peter MacDonald, who is in charge of the museum's photographic studio.
Photographic experts are amazed at the quality and the minute detail on the large negatives. "We can even see the individual threads on Queen Victoria's dresses and the wrinkles on her rather podgy hands," said Madeleine Ginsburg, keeper of textiles at the V&A.
The Lafayette studio was in New Bond Street from 1880, with branches in Manchester, Dublin, Belfast and Paris [sic]. It took every effort to make its clients looks glamorous.
A jubilee photograph of Victoria, in a bead-embroidered tulle overskirt with a bodice and train of silk damask, has been heavily retouched. She has lost two inches off her waist, a few wrinkles from her face, and her hair has been slightly streaked and lightened. Her arms have been trimmed to make them look less podgy.
Often unflattering pictures were kept locked up and were marked with the stamp, "Not to be published".
The extraordinary deference bestowed by the Lafayette studio is seen in its advertising brochure describing the relationship between photographer and royal sitter: "Every effort seems to be made by the exalted personages to place the artist at his ease - causing him for the moment for forget the immeasurable distance in rank that exists between him and his sitters."
Conservation experts are delighted that the Lafayette archive has not been badly damaged, lost or sold abroad like so many other important photographic collections.
In the second world war Norman Parkinson, the Queen Mother's favourite photographer, lost 10,000 negatives during a German bombing raid. "I went to see them in their store and all I found was a twisted building," he said.
Angus MacBean, the celebrity photographer of post-war years smashed 38,000 glass negatives weighing four-and-a-half tons because he could not find anywhere to house them. "Harvard University took another four-and-a-half tons but the rest I just smashed. It seems a tragedy now but I offered them to the any British museum and they all turned them down."
"For every picture in the National Portrait Gallery another thousand has gone for ever," said Valerie Lloyd, former curator of the Royal Photographic Society.
One of the greatest losses to Britain was the Helmut Gernsheim collection. It was the largest private collection in the world and included 300,000 pieces of camera equipment, 150,000 prints and 12,000 books and periodicals on photography. It was collected by Gernsheim, a naturalised Briton, who sold it in 1963 to the Harry Ransome humanities research centre at the University of Texas.
Roger Taylor, curator of the National Museum of Photography, Film and Television in Bradford, is thrilled by the rescue of the Lafayette collection. "Very little is known about the these 19th century studios, how they were run and exactly who was photographed. This will illuminate the people and their time. The negatives are national treasures and it is only right they should end up in our finest museums."