HAYASHI, BARONESS
Neg. No: (GP) (L) 2933a
Neg. Size: 15"X12"
Neg. Date: 17-03-1902


Sitter: Baroness (later Viscountess) Hayashi, née Misao Gamo (1858-1942), 4th daughter of Shigetami Gamo, adopted by Teiun Yamanouchi; m. (1873) Count Tadasu Hayashi (1850-1913), Japanese diplomat and statesman.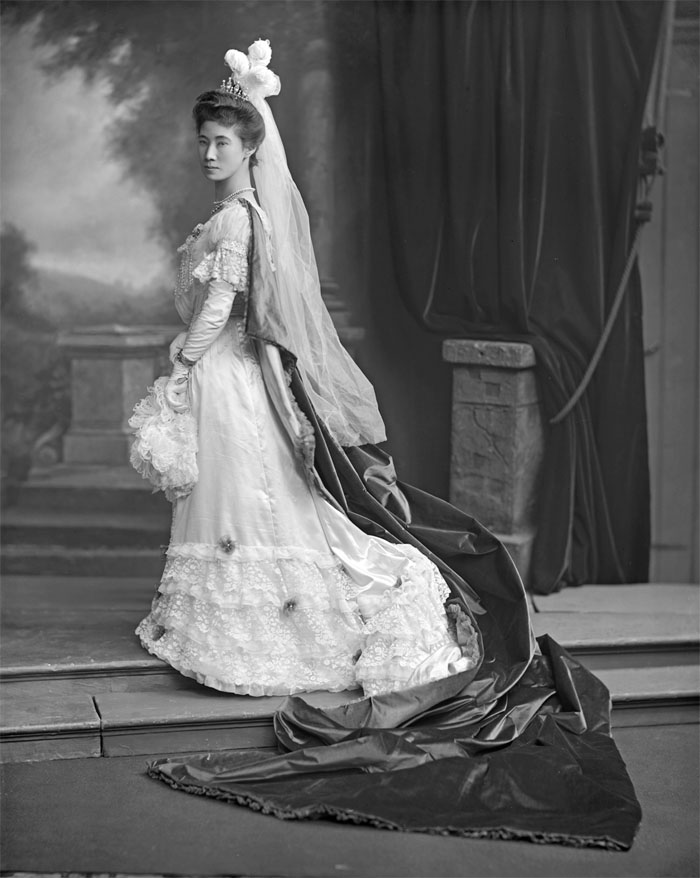 Viscountess Hayashi, née Misao Gamo (1858-1942) was the wife of Tadasu Hayashi (1850-1913), the first Japanese ambassador to the United Kingdom, who, in 1902 was to sign the Anglo-Japanese Alliance which was directed against Russian expansionism in the Far East.

The Court of 14 March 1902 was the first held by the new King Edward VII and Queen Alexandra, following a year of mourning for Queen Victoria. In a break from tradition, the Court took place from 10 pm, following King Edward VII's complete redecoration of the interior of the Palace in a white and gold finish. Improvements were made to the heating, ventilation and electric lighting, and the new "brilliantly lighted" evening Courts of course had the effect of making the costumes and jewelery all the more impressive. After the gloomy decades of Queen Victoria's staid presence at Court, the new King was determined to make Buckingham Palace the centre of fashionable London life.

In this standing portrait, made during a visit to the photography studio three days after the Court, Viscountess Hayashi is seen in the gown she wore to the Court. Western-style court dress had been seen in Japan from the beginning of the Meiji period (1868-1912). Perhaps used to the generally more formal posture in her own country and the Western-style of court dress, which had been seen since the beginning of the Meiji period (1868-1912), Viscountess Hayashi appears supremely poised and at ease in this portrait. She complements her satin, chiffon and lace court dress with a pearl and diamond forget-me-not tiara, pearl necklace, diamond corsage brooches and a fan of uncurled ostrich feathers.

Predictably an image of the Viscountess from this photographic session was published in various of the illustrated newspapers and as a cigarette card in the following two years, firmly setting her within the orbit of the period's society beauties.

Date: 17 March 1902.
Occasion: The Court (Diplomatic Circle) 14 March 1902: presented to King Edward VII and Queen Alexandra by the Marchioness of Lansdowne.(2)
Location: The Lafayette Studio, 179 New Bond Street, London, W.
Descr: FL standing.
Costume: Court dress.
Costume Supplier: -
Jewellery: -
Furniture & Props: Painted backdrop; studio photographer's chair with detachable crest-rail.

Photographer: Lafayette Ltd., 179 New Bond Street, London, W.

Evidence of photographer at work: -

No of poses: 2.

Copyright: V&A

All images on this site are copyright V&A. For further information on using or requesting copies of any images please contact the V&A Picture Library: vaimages@vam.ac.uk including the URL of the relevant page

Provenance: Pinewood Studios; acquired 1989.

References:
Biog: The Sketch, 22 August 1900, p 184 and 19 September 1900, p 360; https://en.wikipedia.org/wiki/Misao_Gamo
Occasion: The Times, 17 March 1902, p 8a.
Costume: -
Costume Supplier: -
Jewellery: -
Reproduced: (versions) Chic, 3 May 1902, front page; The Ladies' Field, 16 August 1902, p 11; Lady's Pictorial, 9 April 1904, p 681; The Tatler, 25 April 1902, front page.

Acknowledgements: Hamish Todd, Japanese Section, Oriental Collections, The British Library.

1. Count Hayashi was responsible for concluding the Anglo-Japanese Treaty, signed 30 January 1902. In recognition he was advanced from Baron to Viscount on 27 February 1902. He later served as Ambassador to Great Britain and in the Japanese government was Minister of Communications 1911 and Minister of Foreign Affairs 1906 & 1913.
2. Maud Evelyn, née Hamilton, Marchioness of Lansdowne (d 1932), daughter of 1st Duke of Abercorn, m (1869) Henry Petty-Fitzmaurice, 5th Marquis of Lansdowne (1845-1927), Secretary of State for Foreign Affairs 1900-1905.