GEORGE V, KING, WEDDING GROUP

Neg No: GP (D)(00423)

Neg Size: 15"x12"

Neg.Date: None


Subject: Princesses Victoria and Maud of Wales as bridesmaids.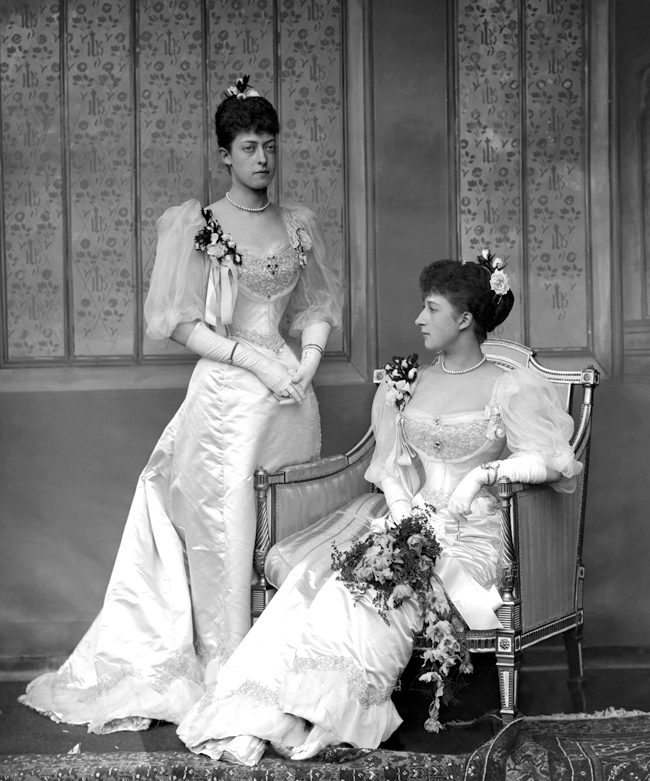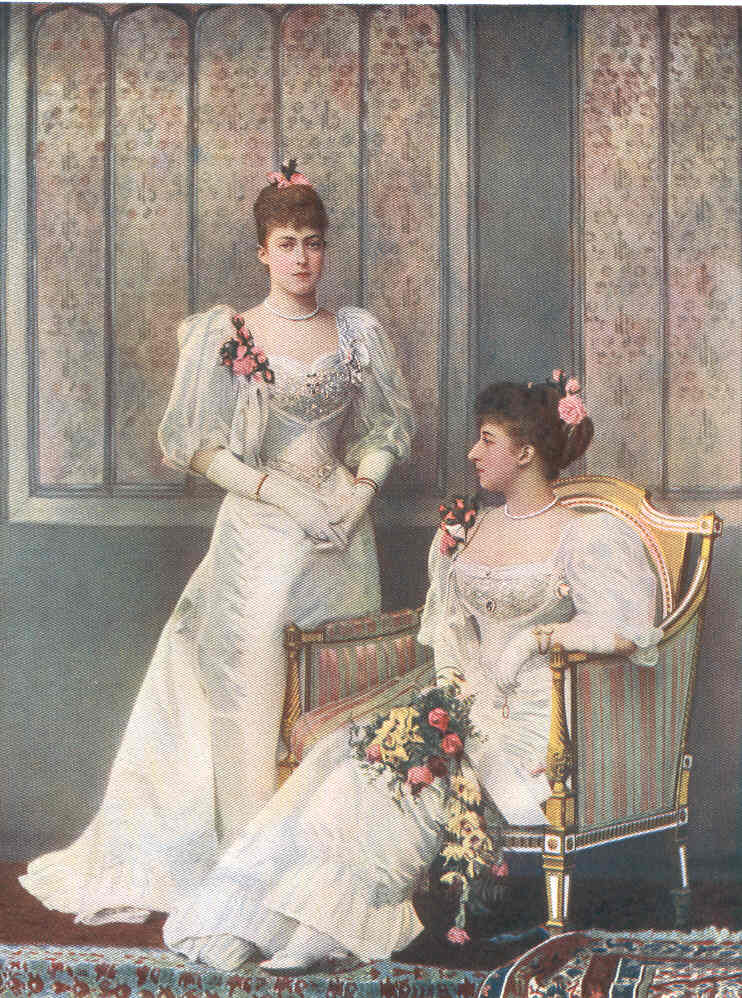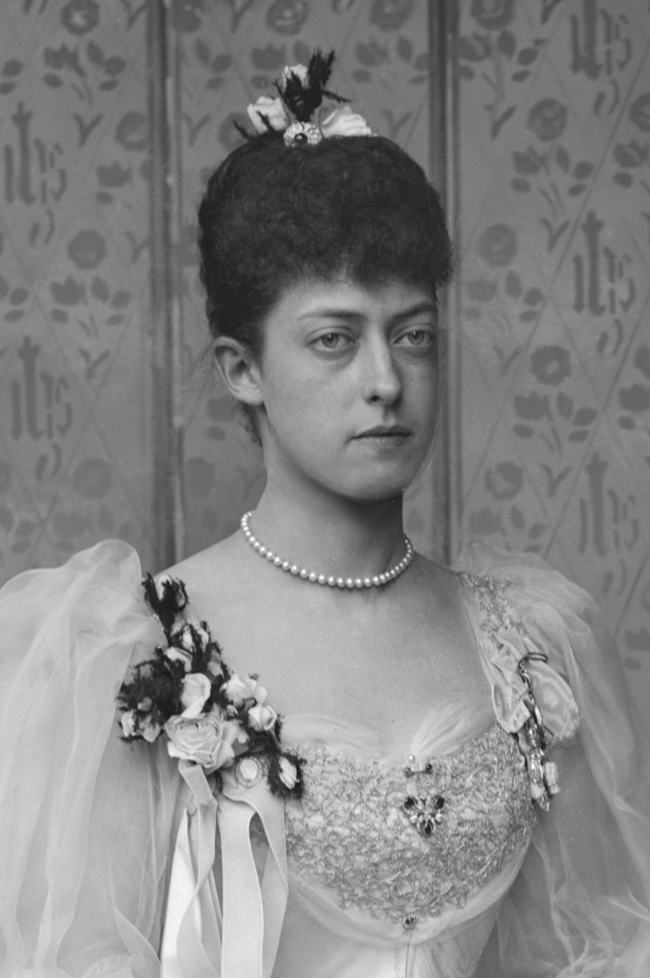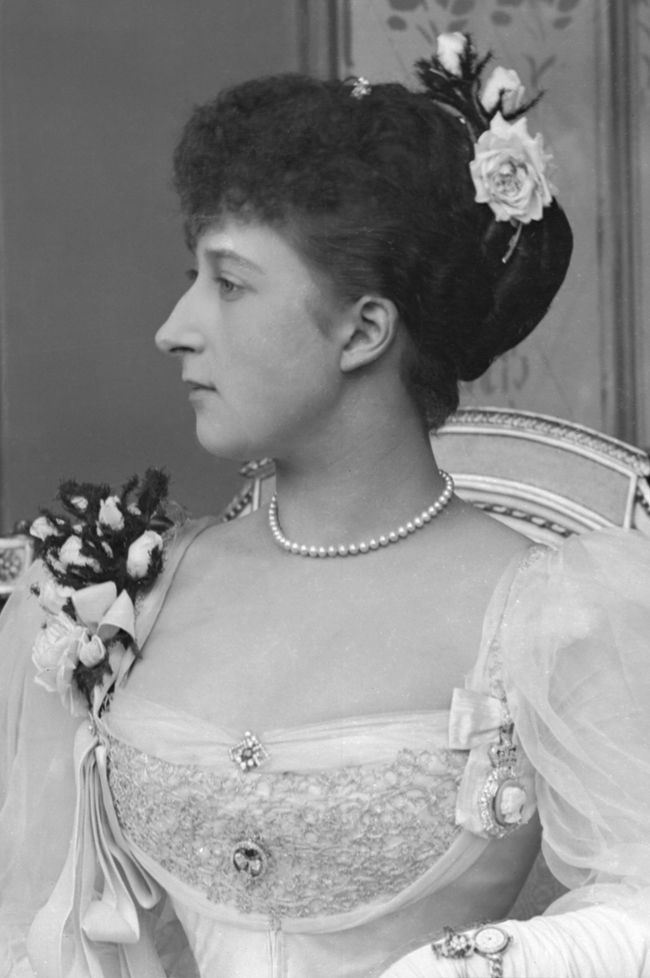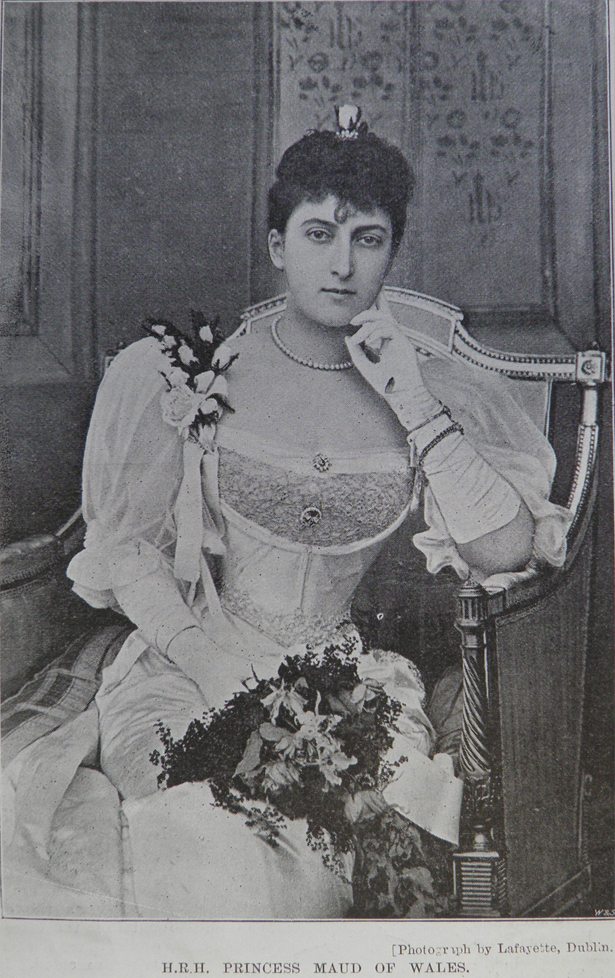 Published in The Queen, 9 November 1895
Sitters: (left to right)
Princess Victoria (1868-1935), née Princess Victoria (Alexandra Olga Mary) of Wales;
Queen Maud of Norway (1869-1938), née Princess Maud (Charlotte Mary Victoria) of Wales.
Date: 6 July 1893.
Occasion: The Wedding of the Princess Victoria Mary of Teck ('Princess May'), later Queen Mary to Prince George, Duke of York, later King George V, 6 July 1893.
Location: Buckingham Palace.
Descr: Full length.
Costume: White satin dresses trimmed with silver lace and pink roses.
The Bridesmaids' Dresses

Of the ten Royal bridesmaids who attended H.S.H. Princess May of Teck to the altar on the 6th, the Princesses Victoria and Maud of Wales, the Princesses Victoria and Alexandra of Edinburg [sic], and Princess Victoria of Schleswig-Holstein wore very pretty white-satin dresses, the skirts of which were cut long enough to trail about a yard on the ground. Round the bottom of each was a deep chiffon flounce, over which was laid a row of silver and crystal passementarie, and finished round the neck with pleatings of chiffon, with two elegant sweeping loops joining in the centre, and the passementarie was laid on this and carried as a strap over the shoulder. The sleeves consisted of single drooping puffs of chiffon coming down just over the elbow, and each Princess wore a breast-bouquet of pale pink roses. The remaining five bridesmaids, Princess Beatrice of Edinburgh, Princesses Norah and Patricia of Connaught, Princess Eugenie of Battenberg, and Princess Alice - the little daughter of Prince and Princess Louis of Battenberg - wore short frocks of the same white satin, with proportionate chiffon flounces headed with silver passementerie, white satin sashes tied behind, full bodies with chiffon puffings at the top and silver passementerie and short puff sleeves. They had pink roses on their shoulders. All the satin was of English manufacture, and the silver passementerie was made by cottage workers at Amersham, Penn Street, Winchmore Hill, and the adjacent villages and hamlets of South Bucks. The order for it was given to Messrs. Muddiman of Tabernacle Street, Finsbury, who have for several years been doing a great deal to cultivate trimming-making as a cottage industry, and also to resuscitate pillow-lace making, with silk and gold and silver threads.

The Graphic Royal Wedding Number, 10 July 1893, p 10
Costume supplier: Linton and Curtis, 16 Albermarle St., London.
Orders, Decorations & Medals: Badges of the Royal Order of Victoria and Albert (1st Class).
Jewellery and Accessories: (Princess Victoria) Natural pearl necklace, curb-link chain bracelet with pearl and diamond cluster, a gem-set trefoil brooch, hair ornament of foliate design. (Queen Maud) Natural pearl necklace, gem-set cluster brooch, other brooch [chk], gold, enamel and diamond 'May blossom bracelet', Collingwood & Co, 1893, (gift from bride and bridegroom to bridesmaids); eye-glass.
Furniture and Props : Gothic style backdrop with the ecclesiastical motif I.H.S. flanked by roses; a giltwood chair in the French taste.

Photographer: James Stack Lauder (1853-1923), trading as 'J. Lafayette', 30 Westmoreland St. Dublin. (See additional information).

No of poses: 1 [but see also neg nos (D)(00417 & 00418)]

Copyright: V&A

All images on this site are copyright V&A. For further information on using or requesting copies of any images please contact the V&A Picture Library: vaimages@vam.ac.uk including the URL of the relevant page

Provenance: Pinewood Studios; acquired 1989.

References:
Biog: Dictionary of National Biography, Hugh montgomery-Massingberd ed., Burke's Royal Families of the World, Vol 1, London, 1977, p 309
Costume: The Times, 6 July 1983, p 6c The Lady, 7 July 1893, p 5; James Pope-Hennesy, Queen Mary, London, 1959 Nigel Arch and Joanna Marschner, The Royal Wedding Dresses, London, 1990.
Orders, Decorations and Medals: Burke's Peerage.
Jewellery: Jonathan Condrupp, Jewellery Department, Sotheby's. (May blossom bracelet) The Queen, 15 July 1893, pp 113 & 136; James Pope Hennessy, op cit, p 267; Shirley Bury, Jewellery 1789-1910 The International Era, Vol II 1862-1910, pp 605-6.
Location & Photog: Copyright Records, Public Record Office, Kew, COPY 1/413, 15 July 1893, (2 poses registered).
Reproduced: The Illustrated London News, 29 July 1893, frontispiece. [Version] Royalties of the World [date?]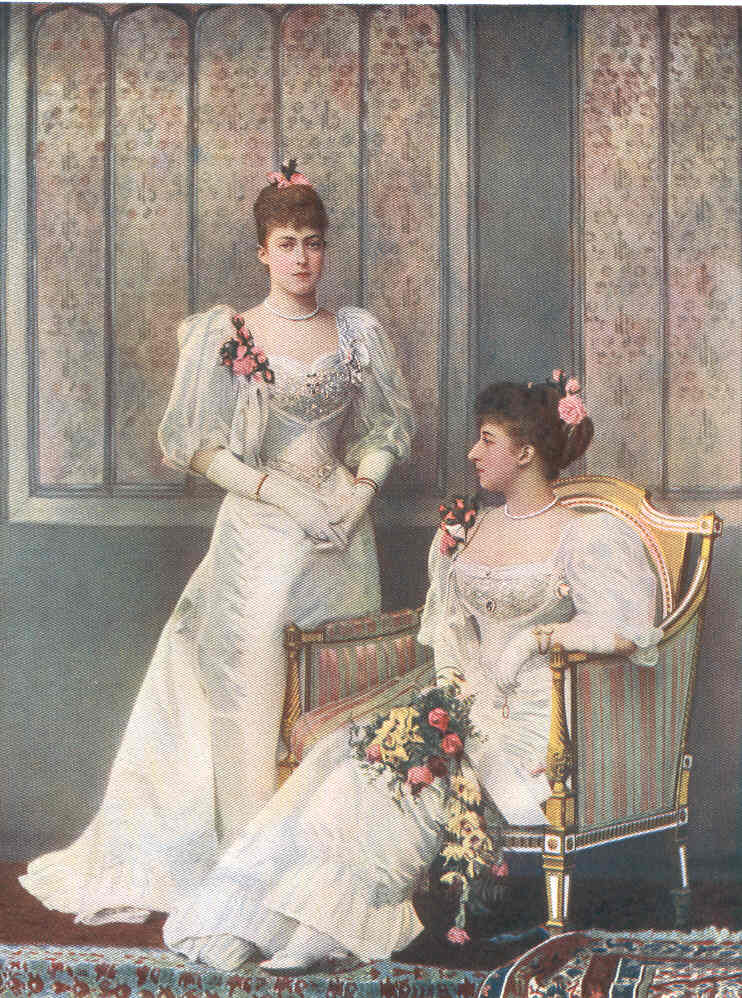 Additional Information: Two firms, W. & D. Downey of 61, Ebury St. London, and Lafayette of Dublin, were invited to take official portraits after the marriage ceremony of King George V. The above image, was registered for copyright by both firms but published in The Illustrated London News credited to Lafayette, Dublin. Refs: (Downey) The Times, 6 July 1893, p 7a; Public Record Office, Kew, COPY 1/413, 9 September 1893.