CHURCHILL, LADY RANDOLPH

Neg. No: GP (L) 1424

Neg. Size: 15"x12"

Neg. Date: 03-07-1897


Sitter: Lady Randolph Churchill (1854-1921), née Jennie Jerome.(1)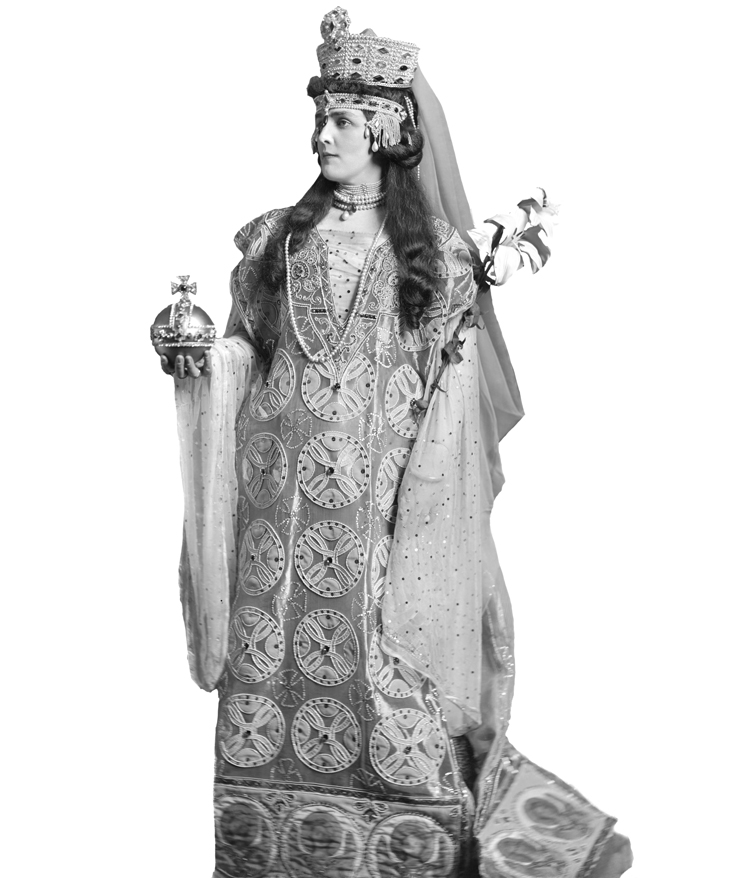 'Deep' scanning by the photography studio at the V&A revealed fragments of the background from which it has been possible to reconstruct the original photograph.
Biog: Socialite, magazine editor and journalist; 2nd daughter of Leonard Jerome, financier, of New York; m (1874) Lord Randolph Churchill, statesman; m (1900) Captain George Cornwallis-West (div 1913); m (1918) Montague Phippen Porch, colonial administrator.
Marie, Queen of Roumania, The Story of My Life, London, 1934, Vol I, p 81

"Lady Randolph was a more flashing beauty, and might almost be taken for an Italian or a Spaniard. Her eyes were large and dark, her mouth mobile with delicious, almost mischievous curves, her hair blue-black and glossy, she had something of a Creole about her. She was very animated and laughed a lot, showing beautiful white teeth, and always looked happy and amused."
Role: Empress Theodora (d 547 AD).(2)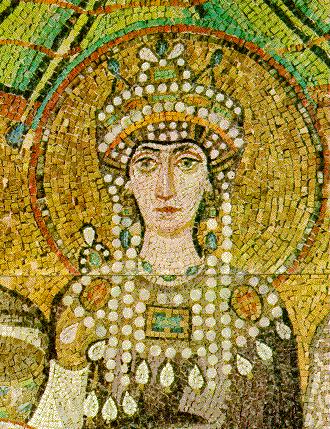 (Mosaic of Theodora - first quarter of 6th century, San Vitale, Ravenna)
Date: 3 July 1897.
Occasion: The Devonshire House Ball, 2 July 1897.
Location: Devonshire House, Piccadilly, London, W.
Descr: FL standing.
Costume: "...under-dress of Eastern fabric, cream worked in squares of green and gold, and draperies from the neck of green and mauve." (The Gentlewoman, 8 January 1898, p 59a).(3)
Costume Designer: Jean Joseph Benjamin-Constant.(4)
Costume Supplier: J.P. Worth, Paris.
N.B. In 1890, Dame Nellie Melba commissioned a "Lohengrin Cloak" from JP Worth. "green silk shot with gold and lined with flesh satin and tulle; bordered with a band of gold braid, cream silk chiffon and pearls, sequins and beads; nine hand-painted angels set in a circle of velvet with beads and gold ruche
centre back length 223.5 (h) x 406.5 (w) cm
The Arts Centre, Performing Arts Collection, Melbourne, gift of Pamela, Lady Vestey in 1978"
http://www.nga.gov.au/Exhibition/Edwardians/Detail.cfm?IRN=127089&ViewID=2
Accessories: Orb based on the Sovereign's Orb, 1661, and Queen Mary's Orb, 1689, (Tower of London); Madonna lily.

Photographer: The firm of J. Lafayette, 179 New Bond Street, London, W.

Evidence of the Studio at work: Background masked.

No of poses: 5.

Copyright: V&A

All images on this site are copyright V&A. For further information on using or requesting copies of any images
please contact the V&A Picture Library: vaimages@vam.ac.uk including the URL of the relevant page

Provenance: Pinewood Studios; acquired 1989.

References:
Biog: Burke's Peerage; Who's Who; The Times, 20 June 1921, p 13e. (See also Mrs. George Cornwallis-West, The Reminiscences of Lady Randolph Churchill, London, 1908, p 301 ff; George Cornwallis-West, Edwardian Heydays, London, 1930; Ralph G. Martin, Lady Randolph Churchill: A Biography, London, 1974, Vol II, pp 107-111.)
Occasion: Sophia Murphy, The Duchess of Devonshire's Ball, London, 1984.
Costume: The Chicago Tribune, 3 July 1897, p 3a & b; The New York World, 3 July 1897, p 7a; Vanity Fair, 8 July 1897, p 27b; Lady's Pictorial, 10 July 1897, p 50b [sketch]. (See also The Gentlewoman, 8 January 1898, p 59a.).
Costume Designer: Vanity Fair, 8 July 1897, p 18b.
Costume Supplier: J.P. Worth, A Century of Fashion, Boston, 1928, p 131.
Accessories: -
Furniture and Props: -
Reproduced: (With drawn-in background) Devonshire House Fancy Dress Ball, July 2 1897: A Collection of Portraits in Costume of Some of the Guests, privately printed, 1899, p 203, (National Portrait Gallery Archives); (Versions) The Daily Graphic, 15 May 1911, p 6; The Lady's Pictorial, 27 May 1911, p 902; J.P. Worth, A Century of Fashion, Boston, 1928, p 131; (version signed 'mother') Peregrine Churchill and Julian Mitchell, Jennie, Lady Randolph Churchill: A Portrait with Letters, London, 1974, opp. p 192.


Acknowledgements: -

1. Her obituary in The Times gives Jennie's first name as Jeannette; she reverted to the use of her first married name, "Lady Randolph Churchill", after the dissolution of her second marriage.
2. Theodora (c. 500-548 AD), Byzantine Empress; m (525 AD) Emperor Justinian I (reigned 527-565 AD) (Encyclopaedia Britannica). For treatments of the life of Theodora familiar to the late 19th century, see inter alia, Edward Gibbon, Decline and Fall of the Roman Empire, London, 1776; Procopius' Anecdota in Corpus Scriptorum Historiæ Byzantinæ, Bonn, 1833-38; Sir Henry Pottinger, The Gift of God: A Romance of Old Constantinople, London, 1879; Victorien Sardou, Théodora, first performed Paris, 1884 (Sarah Bernhardt in the title role).
3. For costume sources see the Ravenna mosaics and costume designs for Sarah Bernhardt in the role of Théodora by M. Orazi and M. Th. Thomas. Refs: Les Premières Illustrées, (Vols 3-4), 1883-1884, p 25. See also cloak by Worth made for Nellie Melba to wear in Lohengrin 1891. (Diane de Marly, Worth: Father of Haute Couture, London, 1980, illustration p 183). The costume was worn on at least two more occasions: 'The Tableaux and Burlesque at Blenheim', January 1898 (See The Gentlewoman, 8 January 1898, p 59) and 'The Royal Fancy Dress Ball at the Savoy Hotel', 18 May 1911 (See The Daily Graphic, 15 May 1911, p 6 and Lady's Pictorial, 27 May 1911, p 902.)
4. Jean Joseph Benjamin Constant (1845-1902), French orientalist and society portrait painter. His painting of "Theodora" was exibited in 1887.