VILLIERS STUART, MISS

Neg. No: (SF) L 122481
Neg. Size: 8˝ x 6˝
Neg. Date: 12-07-1926


Sitter: Miss Nesta Villiers-Stuart ().

Biog: Daughter of Major and Mrs Villers-Stuart, of Dromana, Cappoquin, Ireland. (m) 14 February 1928 Lieutenant D. M FitzGerald, Framingham House, Norfolk.

Date: 12 July 1926.

Occasion: The Court, 7 July 1926: presented by Mrs. Patrick Villiers-Stuart.

Location: The Lafayette Studio, 160 New Bond Street, London, W.

Descr: FL standing.

Costume: Court dress; a pale pink ostrich feather fan.(1)

Costume Supplier: Threshers, 5 Conduit Street, W1.

Jewellery: A tiara of diamonds and rubies.

Furniture & Props: Painted backdrop.

Photographer: Lafayette Ltd., 160 New Bond Street, London.

Evidence of photographer at work: -

No of poses: 4.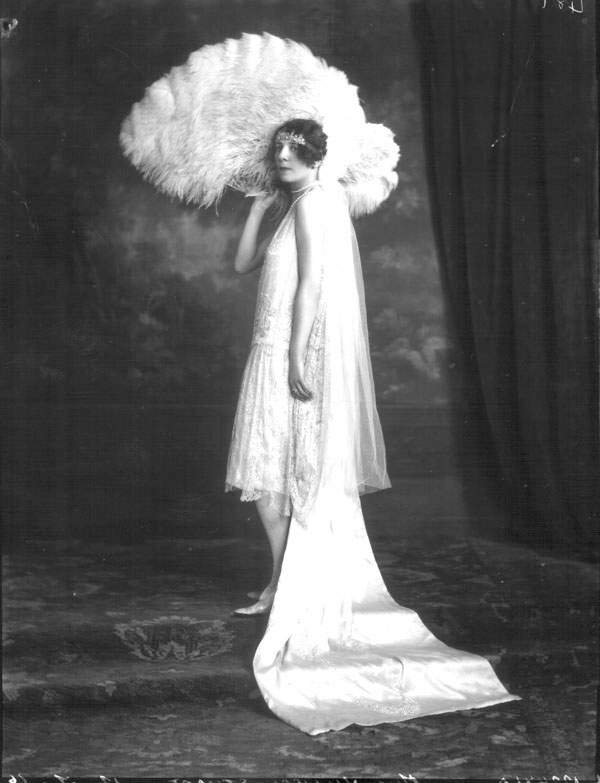 Copyright: V&A Provenance: Pinewood Studios; acquired 1989.

References:

Biog: -

Occasion: The Times, 9 July 1926, p 19d.

Costume: The Times, 8 July 1926, p 10e.

Costume Supplier: The Times, 8 July 1926, p 10e.

Jewellery: The Times, 8 July 1926, p 10e.

Reproduced:-

Additional Information: -

Acknowledgements: -

1. "A gown of pale blue satin beauté, veiled with fine Malines lace, and jewelled with pearls and diamanté. A full train of satin beauté, caught into a tassel ornament" (see: The Times, 8 July 1926, p 10e)