VESTEY, LADY
Neg. No: (GP) 8826
Neg. Size: 12"x10"
Neg. Date: 17-08-1925


Sitter: Lady Evelyn Vestey, née Brodstone (d.1941).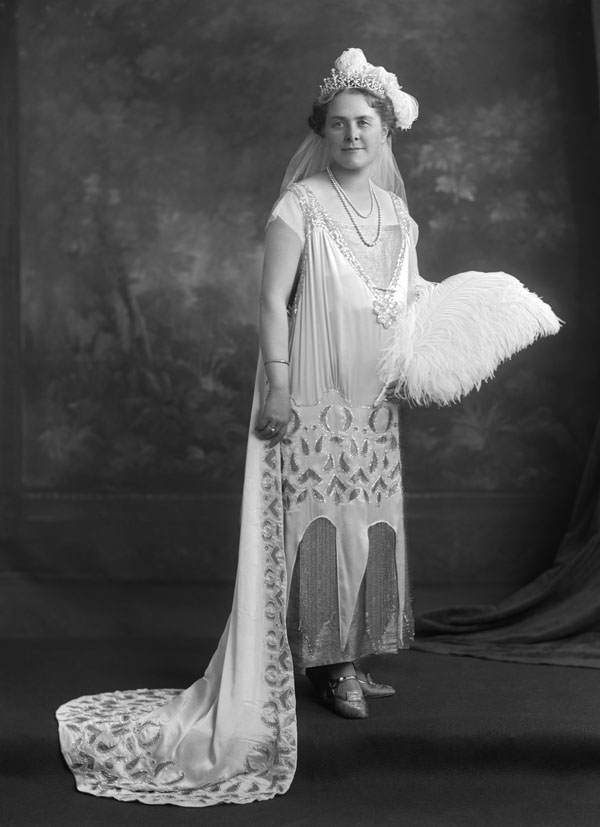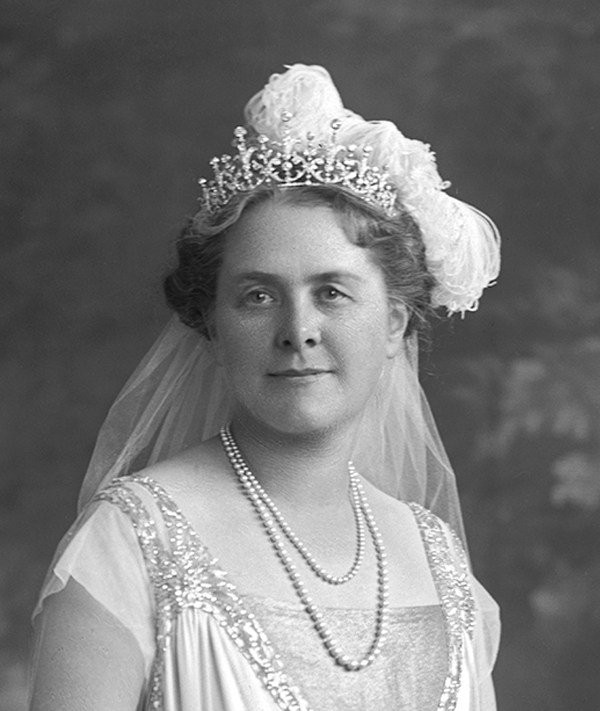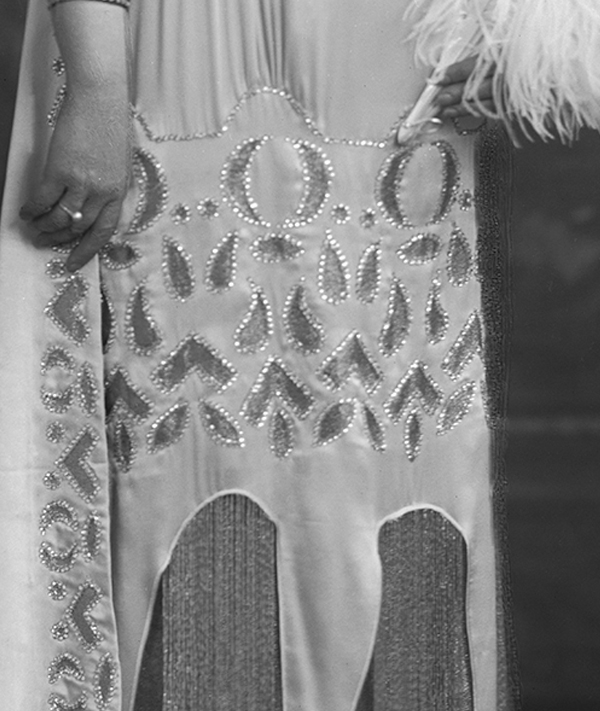 Biog: Daughter of H. Brodstone, of Superior, Nebraska, USA; m. (1924), as his 2nd wife, William Vestey, 1st Baron Vestey, of Kingswood, co Surrey (cr. 1922), Joint Head of Blue Star Line.
Date: 17 August 1925.
Occasion: The Court, 26 June 1925: presented by the Countess Beauchamp. [This appears to be the 2nd photographic session in connection with her presentation at the Court. The first session took place on the 26th of June, 1925, see: neg. nos. 8756,-7,-8,-9.]
Location: The Lafayette Studio, 160 New Bond Street, London, W.
Descr: FL standing.
Costume: Court dress: "A gown of blue crepe satin beaute, with gold applique embroidery, and trimmed with diamante and silver bugles, the fringed hem of the gown falling in points over an underdress of gold tissue; a train of blue crepe beaute, bordered all round with gold applique embroidery and lined with gold tissue" (see: The Times, 27 June 1925, p 19c).
Costume Supplier: Paquin, Ltd.
Jewellery: -
Furniture & Props: Painted backdrop.

Photographer: Lafayette Ltd., 160 New Bond Street, London.

Evidence of photographer at work: Retouched clamp visible behind the sitter.

No of poses: 4.

opyright: V&A

All images on this site are copyright V&A. For further information on using or requesting copies of any images please contact the V&A Picture Library: vaimages@vam.ac.uk including the URL of the relevant page

Provenance: Pinewood Studios; acquired 1989.

References:

Biog: Burke's Peerage; Debrett's Illustrated Peerage, 1985 ed.

Occasion: The Times, 29 June 1925, p 8d.

Costume: The Daily Telegraph, 27 June 1925, p 8a; The Times, 27 June 1925, p 19c.

Costume Designer: The Daily Telegraph, 27 June 1925, p 8a; The Times, 27 June 1925, p 19c.

Costume Supplier: The Daily Telegraph, 27 June 1925, p 8a; The Times, 27 June 1925, p 19c.

Jewellery: -

Reproduced: -