Shaw, Mrs W
Neg. No: L 7968
Neg. Size: CK
Neg. Date:14-06-1923


Sitter: Miss Gwendolen Shaw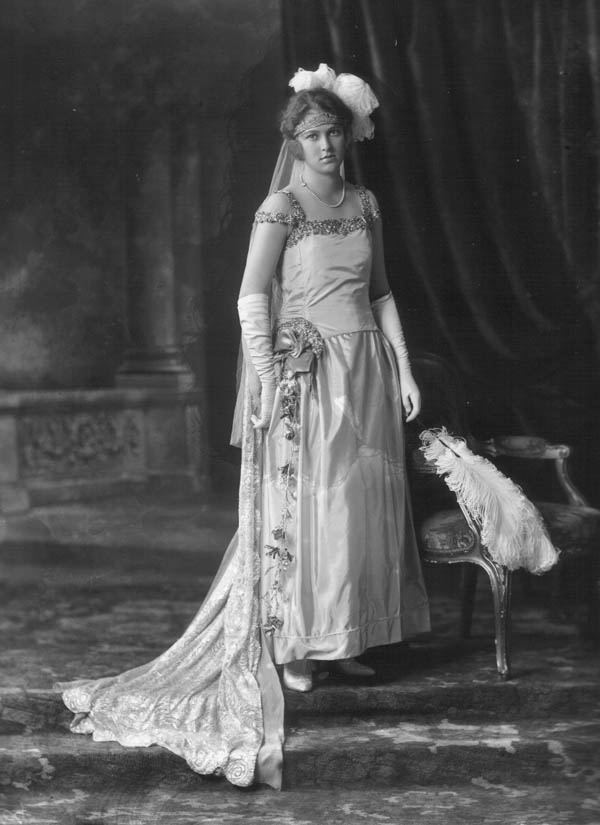 Biog: Only daughter of Captain Walter William Shaw and Mrs Walter William Shaw, née Mary Louise Webb Wakeman.
Date: 14 June 1923
Occasion: The Court, 14 June 1923
Location: -
Descr:-
Costume: Court dress
Orders, Decorations & Medals: -
Furniture & Props: -

Photographer: Lafayette Ltd., 179 New Bond Street, London.

Evidence of photographer at work: -

No of poses: 1.

Copyright: V&A

All images on this site are copyright V&A. For further information on using or requesting copies of any images
please contact the V&A Picture Library: vaimages@vam.ac.uk including the URL of the relevant page

Provenance: Pinewood Studios; acquired 1989.

References:

Biog:

"Walter William Shaw, Esq., late Capt. 3rd Batt.
The Queen's (Royal West Surrey) Regt., M.P. Westbury
Div. Wilts. 1924, b. 1868; m. 1893, Mary Louise, d.
of late William Webb Wakeman of New York, U.S.A. ;
and has issue — Walter Reginald Courtenay Shaw, Gentle-
man, b. ; and Gwendoline Augusta Louise."

http://www.ebooksread.com/authors-eng/arthur- charles-fox-davies/armorial-families--a-directory-of-gentlemen-of-coat-armour-volume-2-dxo/page-177-armorial-families--a-directory-of-gentlemen-of-coat-armour-volume-2-dxo.shtml

Occasion: -

Costume: -

Orders, Decorations & Medals:-

Reproduced: -

Additional Information: -

Acknowledgements: -