RUNDLE, SIR ?
Neg. No: (GP) (00030)
Neg. Size: 15"x12"
Neg. Date: 01-03-1899


Sitter: General Sir (Henry Macleod) Leslie Rundle (1856-1934).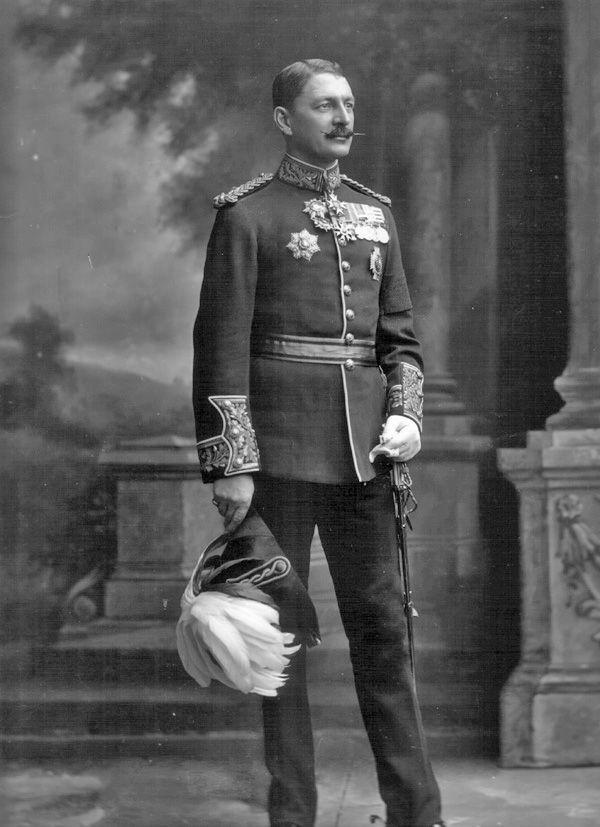 Biog: Major-General 1896; Lieutenant-General 1905; General 1909; Governor of Malta 1909-1915.
Date: 1 March 1899
Occasion: Attendance at Court (?); Lady Rundle presented to Princess Christian of Schleswig-Holstein at 'The Drawing Room' of 1 March 1899, by Lady Wolseley.
Location: The Lafayette Studio, 179 New Bond Street, London W.
Descr: FL standing
Costume: Full Dress uniform, Major General.
Orders, Decorations & Medals:
Badge and Star of a Knight Commander of the Order of the Bath (military division) [K.C.B. cr. 15 November 1898];

Badge of the Order of Medjidjie (2nd class) [Ottoman Empire];

Order of Osmaniah (3rd class) [Ottoman Empire];

Badge of a Companion of the Order of St Michael and St George [C.M.G. cr. 1896];

Distinguished Service Order [London Gazette, 12 August 1887];

Queen Victoria Jubilee Medal 1897; The South Africa Medal 1877-1879 with clasp '1879';

The Egypt Medal 1882-1889 with 3 clasps 'Tel-el-Kebir', 'The Nile 1884-85', 'Toski 1889';

Khedive's Sudan Medal 1896-1908 with 4 clasps 'Firket', 'Hafir', 'The Atbara', 'Khartoum';

Khedive's Star 1882-1891.
Furniture & Props: Painted backdrop.

Photographer: Lafayette Ltd., 179 New Bond Street, London.

Evidence of photographer at work: -

No of poses: 1. See also Lady Rundle:

Copyright: V&A

All images on this site are copyright V&A. For further information on using or requesting copies of any images
please contact the V&A Picture Library: vaimages@vam.ac.uk including the URL of the relevant page

Provenance: Pinewood Studios; acquired 1989.

References:
Biog: Dictionary of National Biography; Who's Who; The Army List, 1899; The Times, 20 November 1934, p 7a. (See also Commander Chas. N. Robinson R.N., Celebrities of the Army, London, 1900.)
Occasion: The Times, 2 March 1899, p 8b.
Costume: Dress Regulations for the Army, London, 1900.
Orders, Decorations & Medals: (Order of the Bath, Order of St. Michael and St. George) Burke's Peerage; (Order of Medjidjie, Order of Osmania) R. Werlich, Orders and Decorations of All Nations, Washington, 1990; (D.S.O.) Sir O'Moore Creagh, The Distinguished Service Order 1886-1923, London, 1978; (Queen Victoria Jubilee Medal) Howard N. Cole, Coronation and Royal Commemorative Medals 1887-1977, London, 1977; (others) E.C. Joslin, A.R. Litherland & B.T. Simpkin, British Battles & Medals, London, 1988.
Reproduced: -

Acknowledgements: (Orders etc.) David Bownes.