RENWICK, MISS ELLA
Neg. No: 7943
Neg. Size: 12"x10"
Neg. Date: 13-06-1923


Sitter: Miss Ella Renwick, later Mrs. Leslie Wilson Barnett ( ).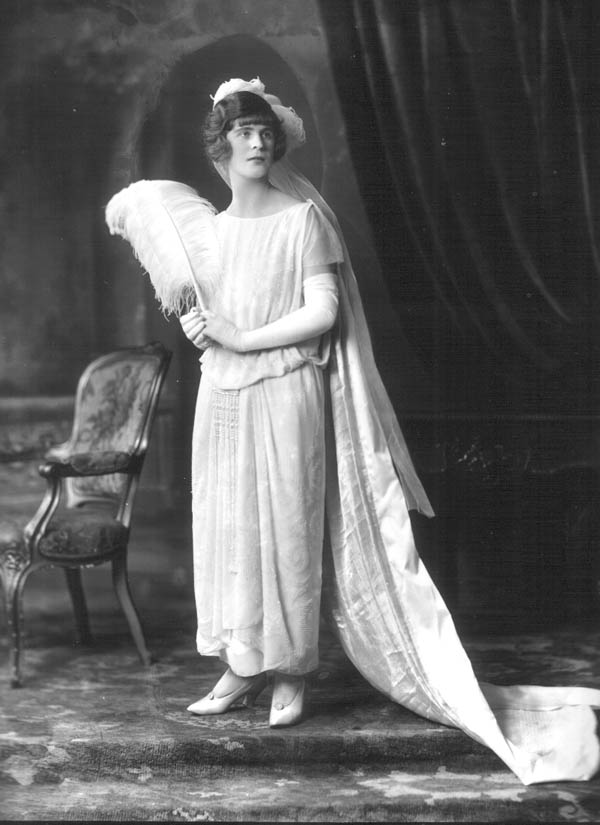 Biog: 3rd daughter of Sir Harry (Benedetto) Renwick, 1st Bt.; m 1stly (1925) Lieut. Richard Reynall, RN; m. 2ndly (1939) Leslie Wilson Barnett.
Date: 13 June 1923.
Occasion: The Court, 13 June 1923: presented by her mother, Lady Renwick.
Location: The Lafayette Studio, 160 New Bond Street, London.
Descr: FL standing.
Costume: Court dress: "A gown in white beaded georgette draped in Egyptian style, the draperies being held with pearl and crystal ornaments. A train of white satin and beaded georgette over silver tissue, lined with crepe cloth of silver" (see: The Times, 14 June 1923, p 20e).
"The 1923 season of presentations showed court fashions straying ever further from the staid. On 13 June 1923 Lady Renwick, wife of Sir Harry, 1st Bt., presented her daughter and took her to the Lafayette photographic studio.
In contrast to her daughter, Ella, who was presented in white beaded georgette "draped in the Egyptian style", Lady Renwick wears a gown of black Milanese net embroidered in diamanté and crystals, over black satin with green and silver panels. A design of birds of paradise was embroidered on her brocade-lined train. Mother and daughter wore costumes supplied by Mme. Gabbetis of Manchester Street, London."
[RH- Presenting a Cooling Image]
Costume Supplier: Mme. Gabbetis, 49 Manchester Street, London.
Jewellery: -
Furniture & Props: Painted backdrop; armchair; side-table.

Photographer: Lafayette Ltd., 179 New Bond Street, London.

Evidence of photographer at work: Head clamp visible.

No of poses: 3.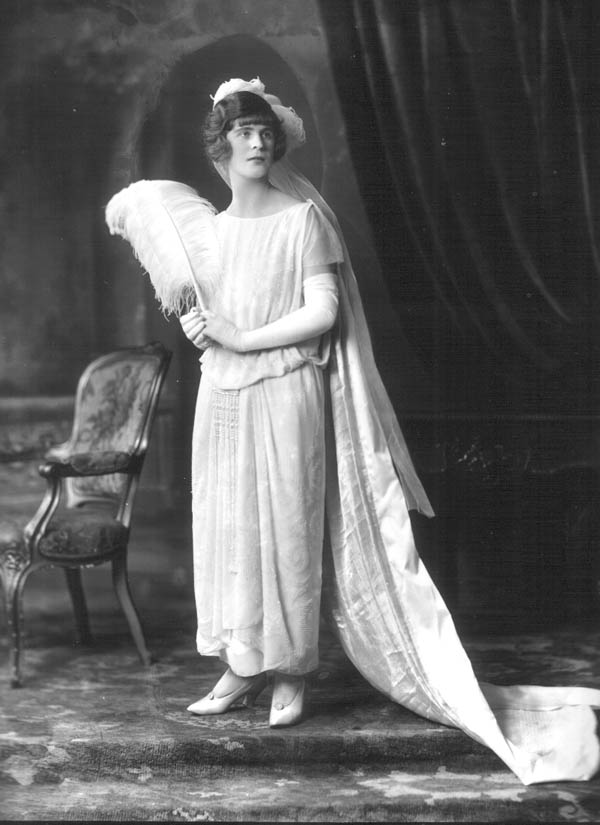 Copyright: V&A

All images on this site are copyright V&A. For further information on using or requesting copies of any images
please contact the V&A Picture Library: vaimages@vam.ac.uk including the URL of the relevant page

Provenance: Pinewood Studios; acquired 1989.

References:

Biog: Burke's Peerage, 1949 ed.

Occasion: The Times, 15 June 1923, p 20d.

Costume: The Daily Telegraph, 14 June 1923, p 7b; The Times, 14 June 1923, p. 20e; The Court Journal, 22 June 1923, p 304b.

Costume Supplier: The Daily Telegraph, 14 June 1923, p 7b; The Times, 14 June 1923, p 20e.

Jewellery: -

Reproduced: -

Additional Information:

Acknowledgements: