NAWANAGAR, JAM SAHEB OF

Neg. No: 8561A

Neg. Size: 15"x12"

Neg. Date: 13-10-1920


Sitter: Colonel HH Shri Sir Ranjitsinhji Vibhaji, Maharaja Jam Saheb of Nawanagar (1872-1933), ruled 1906-1933.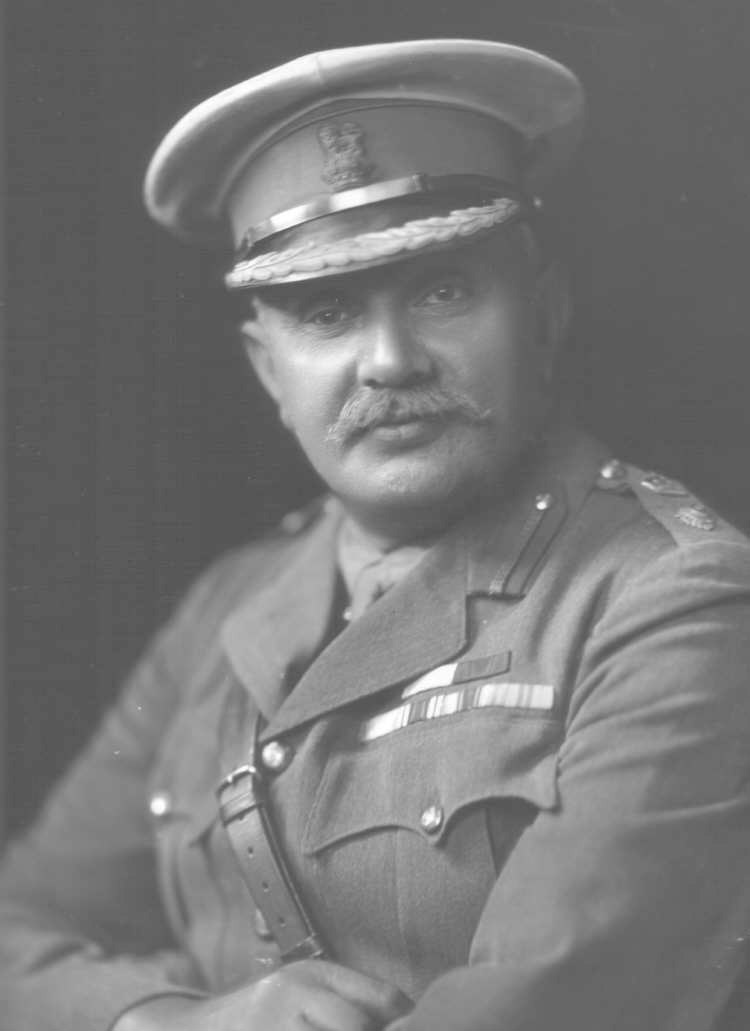 Biog: Colonel H.H. Maharajadhiraj Maharaja Jam Shri Sir Ranjitsinhji Vibhaji Jadeja Bahadur, Maharaja Jam Sahib of Nawanagar, GCSI (2.6.1923, KCSI 1.1.1917), GBE (m 30.12.1919). b. at Sarodar, 10th September 1872, second son of Kumar Shri Jivansinhji Jalamsinhji Jadeja, of Sarodar. Educ. Rajkumar Coll., Rajkot, and Trinity Coll., Cambridge. Adopted as his son and successor by H.H. Maharaja Jam Shri Sir Vibhaji Ranmalsinhji Sahib, 11th December 1878, who subsequently sired a son. Eventually succeeded on the death of his adopted and childless brother, 3rd March 1907 and installed on the gadi, 7th March 1907. Hon Colonel. DGBStJ (28.11.1912). He d. unm. of heart failure at Jamnagar, 2nd April 1933 (succ. by his adopted son).(1)
Date: 13 October 1920.
Occasion: Convalescence trip to London; participation as Indian Representative at the League of Nations in Geneva; reception by King George V, 14 October 1920.
Location: Lafayette studio, 160 New Bond Street, London.
Descr: HL
Costume: Uniform of Lieutenant-Colonel [CK]
Orders, Decorations & Medals: -
Furniture & Props: Painted backdrop.

Photographer: Lafayette Ltd., 179 New Bond Street, London.

Evidence of photographer at work: -

All images of sitter:

Copyright: V&A

All images on this site are copyright V&A. For further information on using or requesting copies of any images
please contact the V&A Picture Library: vaimages@vam.ac.uk including the URL of the relevant page

Provenance: Pinewood Studios; acquired 1989.

References:
Biog: Dictionary of National Biography; Who's Who; The Times, 3 April 1933, p 16d; Roland Wild, Biography of Colonel HH Shri Sir Ranjitsinhji, London, 1937; John Lord, The Maharajahs, London, 1972, pp 62-3.
Occasion: The Times, 14 October 1920, p 13a; Roland Wild, op cit, pp 215, 221-230.
Costume: -
Orders, Decorations & Medals: -
Reproduced: -

Additional Information: -

Acknowledgements: Christopher Buyers

1. "Nawanagar, Sir Ranjitsinhji Vibhaji, Maharaja Jam Sahib of, also called (until 1907) KUMAR SHRI ("Honourable Prince") RANJITSINHJI VIBHAJI (b. Sept. 10, 1872, Sarodar, India--d. April 2, 1933, Jamnagar), one of the world's greatest cricket players and, later, a ruler of his native state in India.
After attending Trinity College, Cambridge (1890-93), he played for the Sussex cricket team in first-class county competition (1895-97, 1899-1904, 1908, 1912) and served as team captain (1899-1903). An unorthodox but graceful batsman, he scored the high total of 3,000 runs in 1899 and again in 1900. In 15 England-versus-Australia test matches, he scored 985 runs.
As maharaja of Nawanagar from March 1907, he was a progressive ruler and statesman and set an example by the simplicity of his personal life. He modernized his capital of Jamnagar, developed the seaport of Nawanagar, and built roads, railways, and irrigation facilities. During World War I he was a British army staff officer in France, attaining the rank of colonel. In 1920 he represented the Indian states at the League of Nations Assembly, Geneva, and in 1932 he became chancellor of the Indian Chamber of Princes. He was knighted in 1917, 1919, and 1923."
Britannica CD, Version 99© 1994-1998. Encyclopędia Britannica, Inc.