MYSORE, YUVARAJA OF

Neg. No: 8441

Neg. Size: 12"x15"

Neg. Date: 14-6-1920


Sitter: Yuvaraja Sri Sir Kanthirava Narasimharaja Wadiyar Bahadur, GCIE (1.1.1915). b. at Mysore Palace, 5th June 1888, second son of H.H. Maharaja Sri Sir Charmarajendra IX Wadiyar Bahadur, Maharaja of Mysore, GCSI, by his wife H.H. Soubhagyavati Maharani Sri Vani Vilasa Sannidhana Kempananjammani Avaru, CI. Educ. Royal Sch., Mysore and Mayo Coll., Ajmer. Extraordinary MEC, 28/1/1914 – 1920 (in charge of Military, Police, Medical, Prisons, and Sanitary Depts.). Granted the personal style of 'Highness', 1st January 1918. Rcvd. Delhi Durbar Medal (1911), Silver Jubilee Medal (1935) and Coron. Medal (1937). Married at Mysore, 17th June 1910, H.H. Soubhagyavati Yuvarani Sri Kempu Chelvajammani Avaru, fourth daughter of The Hon Sardar Delavoi Devaraj Urs, Councillor of State and Inspector General of Police. He d. at Bombay, 11th March 1940, having had issue one son and three daughters.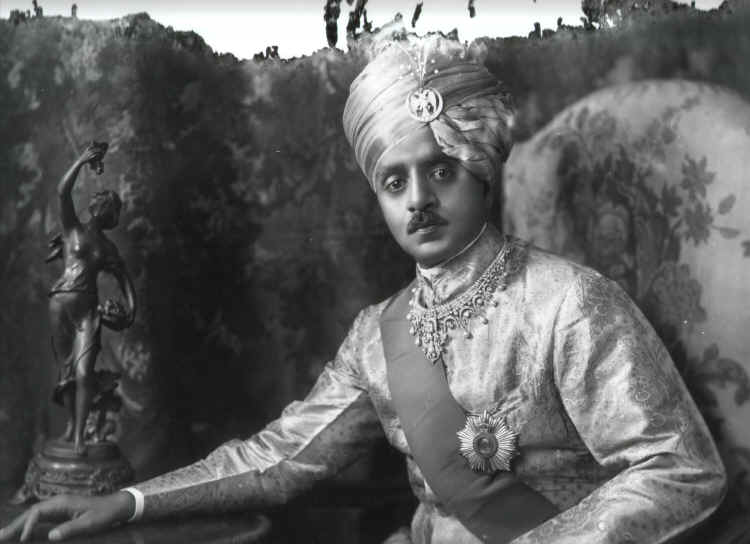 Biog: Son of Maharaja Sri Chamarajendra Wadiyar Bahadur of Mysore [d. 1894].
Date: 14 June 1920.
Occasion: Visit to England, 2 June 1920 ?
Location: The Lafayette studio, 160 New Bond Street, London.
Descr: HL seated.
Costume: "The Yuvaraja wears a shervani probably of Benares brocade. Fine cotton turban with gold brocade edging. Brooch in form of two-headed eagle - emblem of Mysore."
Jewellery: Headdress pin showing state emblem (Ghanbherunda) - double-headed eagle of Mysore.
Orders, Decorations & Medals: Sash and breast star of a Knight Grand Commander of The Most Eminent Order of the Indian Empire, cr. 1915.
Furniture & Props: -

Photographer: Lafayette Ltd., 160 New Bond Street, London.

Evidence of photographer at work:

All images of sitter:

Copyright: V&A

All images on this site are copyright V&A. For further information on using or requesting copies of any images
please contact the V&A Picture Library: vaimages@vam.ac.uk including the URL of the relevant page

Provenance: Pinewood Studios; acquired 1989.

References:
Biog: Who's Who.
Occasion: The Times, 2 June 1920, p 19b.
Costume: Rosemary Crill, V&A
Jewellery: A.N. McClenaghan, Durbar Magazine.
Orders, Decorations & Medals: A.R. Litherland & B.T. Simpkin, Spinks Standard Catalogue of British and Associated Orders, Decorations & Medals, London, 1990, p 37.
Reproduced:

Additional Information: Christopher Buyers

Acknowledgements: (Jewellery) A.N. McClenaghan, Durbar Magazine.