LONDONDERRY, MARCHIONESS OF
Neg. No: GP (L) 1505
Neg. Size: 15"x12"
Neg. Date: 27-07-1897


Sitter: Theresa (Susey Helen), Marchioness of Londonderry, née Chetwynd-Talbot (1856-1919).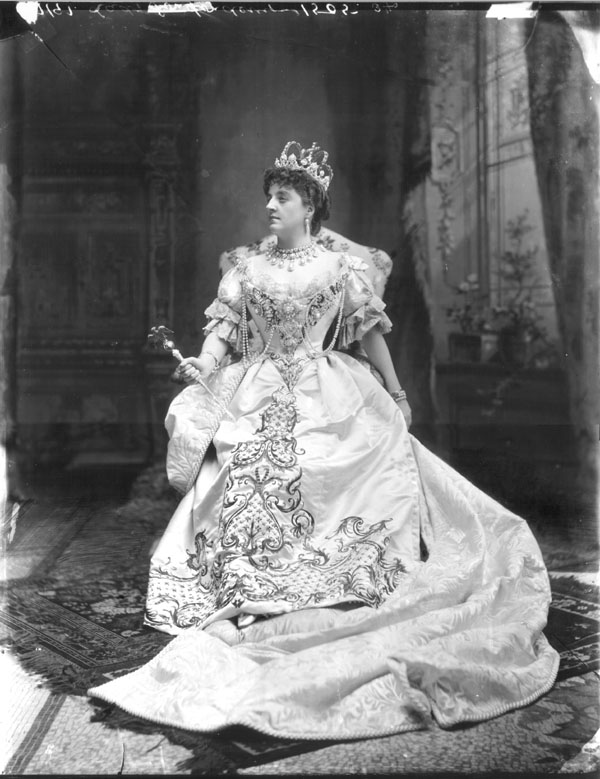 Cracked negative repaired in photoshop
Biog: Political hostess; eldest daughter of 19th Earl of Shrewsbury; m (1875) 6th Marquess of Londonderry, Viceroy of Ireland 1886-1889.
Role: Empress Maria Theresa of Austria.(1)
Date: 27 July 1897.
Occasion: The Devonshire House Ball, 2 July 1897.
Location: (Possibly) The sitter's London residence, Londonderry House, Park Lane London, W.
Descr: FL seated.
Jewellery: Diamond and pearl necklace, earrings and several brooches [part of a suite of jewellery commissioned c. 1821 by Frances Anne, wife of 3rd Marquis of Londonderry]; diamond tiara, stomacher brooch and other items [part of a parure made by Garrard & Co, 1854 from Londonderry heirloom diamonds].

"Lady Londonderry had a real Imperial crown surmounted by an exquisite cross in magnificent brilliants: it was an exact copy of Maria Theresa's own crown, made from her own jewels, and several necklaces and bracelets had been broken up to make it. Then all her beautiful pearl necklaces were looped on the bodice of her dress with a magnificent rivière of huge single stones; in fact, her bodice was a blaze of brilliants, with diamond clasps holding the train on the shoulders and diamonds sewn even to the front of her skirt. All her jewels were diamonds and pearls, except one lovely ruby which blazed on her wrist. Vanity Fair, 8 July 1897 [quoted in Tiaras: A History of Splendour, Geoffrey C Munn, London, 2001]

Costume: "...gown of richest cream satin, copied from a picture in South Kensington Museum, beautifully embroidered in shades of gold and pearls. Stomacher of magnificent diamonds, with ropes of pearls festooned on each side. Train of rich cream acanthus leaf brocade, fastened on the left shoulder with a huge diamond buckle, and at the waist with another, and edged with thick silver cord. Necklace of pear shaped pearls, with another diamond necklace above, and a diamond crown." (The Queen, 10 July 1897, p 65d).
Costume Supplier: Messrs. Durrant, 116 New Bond Street, London, W. (Embroidery by Lady Duncannon's Garry Hill Schools.)
Furniture & Props: Painted backdrop

Photographer: The firm of J. Lafayette, 179 New Bond Street, London, W.

Evidence of studio at work: Elements of the crown and sceptre heavily retouched.

No of poses: 3 [see also neg nos 1506 & 1506B].

Copyright: V&A

All images on this site are copyright V&A. For further information on using or requesting copies of any images
please contact the V&A Picture Library: vaimages@vam.ac.uk including the URL of the relevant page

Provenance: Pinewood Studios; acquired 1989.

References:

Biog: Burke's Peerage; The Complete Peerage; The Times, 17 March 1919, p 14b; Anne de Courcy, Society's Queen: The Life of Edith, Marchioness of Londonderry, London, 1992

Occasion: Sophia Murphy, The Duchess of Devonshire's Ball, London, 1984.

Role and Costume: The Daily Chronicle, 3 July 1897, p 8a; The Daily News, 3 July 1897, p 5g; The Irish Times, 3 July 1897, p 8c; The Morning Post, 3 July 1897, p 7f&g; Pall Mall Gazette, 3 July 1897, p 7b; St. James's Gazette, 3 July 1897, p 9a; The Standard, 3 July 1897, p 4c; The Westminster Gazette, 3 July 1897, p 5a; The Lady, 8 July 1897, p 46a; Truth, 8 July 1897, p 107b; Vanity Fair, 8 July 1897, pp 26b & 27a; The Court Circular, 10 July 1897, p 624b; The Court Journal, 10 July 1897, p 1247b; The Gentlewoman, 10 July 1897, p 48b & p 52 [drawing]; Lady's Pictorial, 10 July 1897, pp 52 & 53 [drawings] & p 53c; Madame, 8 July 1897, p 69b; The Queen, 10 July 1897, p 65 [drawing] & p 76a.

Costume Supplier: (Costume) The Gentlewoman, 10 July 1897, p 58c; The Queen, 10 July 1897, p 65. (Embroidery) Madame, 10 July 1897, p 69b.

Jewellery: (Diamond & pearl jewellery) Diana Scarisbrick, Ancestral Jewels, London 1989 pp 72-3; (diamond jewellery) ibid. pp 173-5. (See also costume above.)

Reproduced: The Ladies Field, 18 June 1898, p 27; Devonshire House Fancy Dress Ball, July 2 1897: A Collection of Portraits in Costume of Some of the Guests, privately printed, 1899, p 111, National Portrait Gallery Archives).

1. Empress Maria Theresa (1717-1780); Archduchess of Austria, Queen of Hungary and Bohemia [reigned 1740-1780]; consort of Holy Roman Emperor Francis I [reigned 1745-1765].