Biog:
Only daughter of Baron Adhémar Rudolph Caesar Conradin von Linden [(* Bühl, Germany 1/2/1845, died in London 1/5/1918) and Helene Euphrosyne Casavetti (*London 7/4/1851, died London 11/15/1921). They married in London 11/9/1875]; Chamberlain to the Emperor of Austria,
m 25 November 1921 Cecil Gosling, diplomat and adventurer (born Stockholm 1870, died Tangier 1943)
"The marriage between Mr Cecil Gosling, his Majesty's Consul-General in Frankfort-on-Main, and Baroness Christine de Linden, was solemnized yesterday afternoon at the Russian Embassy Chapel, 32 Welbeck-street.

The Rev. Father Eugène Smirnoff officiated.Before the ceremony the civil marriage took place before the Registrar of the Chelsea District.

Owing to the very recent death of the bride's mother, only the relatives and a few intimate friends were present."

The Times, 26 November 1921
Date: 13 May 1898.
Occasion: The Drawing Room, 13 May 1898: presented in the Diplomatic Circle by Mme. de Bille, wife of the Danish Minister.
Location: The Lafayette Studio, 179 New Bond Street, London, W.
Descr: FL standing.
Costume: Court dress: "...an undergown of white chiffon over white satin, with lace insertions and frills of chiffon, edged bébé satin ribbons, and long sash ends of chiffon; train of white satin duchesse with white chiffon and lilies of the valley." (see: The Gentlewoman, 21 May 1898, p 722b).
Costume Designer: -
Costume Supplier: -
Jewellery: -
Furniture & Props: Painted backdrop; studio Jacobean-revival mock staircase.

Photographer: Lafayette Ltd., 179 New Bond Street, London, W.
Evidence of photographer at work: -
No of poses: 2 (see also neg no 1722C).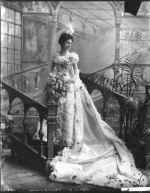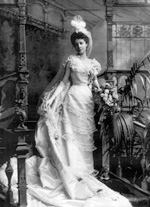 Copyright: V&A
All images on this site are copyright V&A. For further information on using or requesting copies of any images
please contact the V&A Picture Library: vaimages@vam.ac.uk including the URL of the relevant page
Provenance: Pinewood Studios; acquired 1989.

References:
Biog: The Marquis of Ruvigny, The Titled Nobility of Europe, London, 1914, p 722b; The Sketch, 18 March 1903, p 323; Madame, 28 March 1903, p 655, Genealogisches Handbuch des Adels, [place, date]
Occasion: The Times, 14 May 1898, p 9c.
Costume: The Gentlewoman, 21 May 1898, p 722b.
Costume Designer: -
Costume Supplier: -
Jewellery: -
Reproduced: (cropped) Lady's Pictorial, 21 May 1898, p 744; (version) The Ladies' Field, 28 May 1898, p 495.

Acknowledgement: Baroness Cordula v. Linden