KNOLLYS, LADY
Neg. No: 3707
Neg. Size: 15"x12"
Neg. Date: None


Subject: Ardyn Mary, Baroness Knollys and her children, Hon. Louvima Knollys and Hon. Edward Knollys, wearing King Edward VII Coronation medals.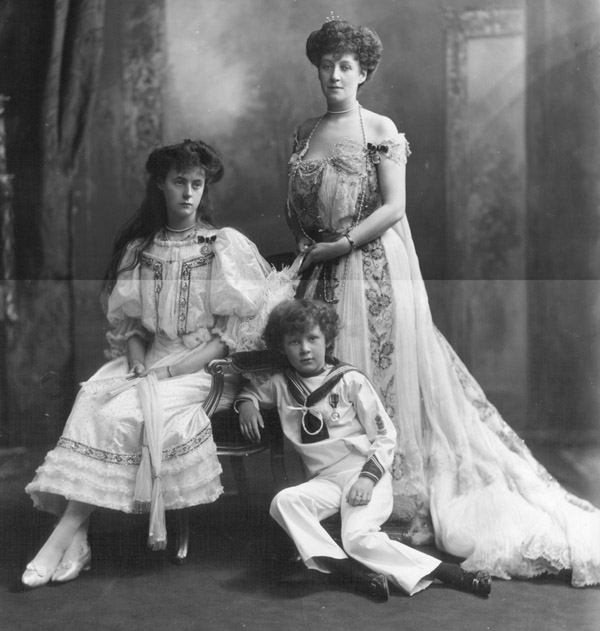 Hon. (Alexandra) Louvima Elizabeth Knollys, later Hon. Mrs R. H. S. Checkley (d. 1958);
m. (1911) Captain Allan Keith Mackenzie (d. 1916); m. (1922) Richard Henry Spencer Checkley.
Ardyn Mary, Baroness Knollys (1860-1922), née Tyrwhitt, later Viscountess Knollys;
m. (1887) 1st Viscount Knollys, Private Secretary to King Edward VII & King George V.
Hon. Edward George William Tyrwhitt Knollys, later 2nd Viscount Knollys (1895-1966); business man and public servant; Chairman, Northern & Employer's Assurance Co., B.O.A.C., Vickers Ltd., English Steel Corporation etc.; Governor and Commander-in-Chief of Bermuda 1941-1943, Minister, British Embassy Washington 1951-1952.
Date: 19 December 1902.
Occasion: Receipt of King Edward VII Coronation medals, (King Edward VII, crowned 9 August, 1902).
Location: The Lafayette Studio, 179, New Bond Street, London.
Descr: FL standing.
Costume: -
Costume Supplier: -
Jewellery, Orders & Medals : King Edward VII, Coronation medals.
Furniture & Props: Painted backdrop.

Photographer: Lafayette Ltd., 179 New Bond Street, London.

Evidence of photographer at work: -

No of related negatives: 5

Copyright: V&A

All images on this site are copyright V&A. For further information on using or requesting copies of any images
please contact the V&A Picture Library: vaimages@vam.ac.uk including the URL of the relevant page

Provenance: Pinewood Studios; acquired 1989.

References:

Biog: (Checkley) Burke's Peerage; The Times, 27 December 1922, p.13. (Viscountess Knollys) Burke's Peerage; The Times, 27 December 1922, p.13. (2nd Viscount Knollys) Dictionary of National Biography; The Times, 5 December 1966, p. 12d; 7 December 1966 p. 14d.

Date: See neg. no. 3708.

Occasion: -

Costume: -

Costume Supplier: -

Jewellery, Orders & Medals: -

Reproduced: -

Acknowledgements: