KHETRI, RAJA AJIT SINGH OF

Neg. No: GP (L) 1245B

Neg. Size: 15"x12"

Neg. Date:18-06-1897

Sitter: Raja Ajit Singh of Khetri (c. 1864-1900) son of Thakur CHATAR SINGH of Alsisar.[India] married 1875, the daughter of Thakur DEVI SINGH of Auwa,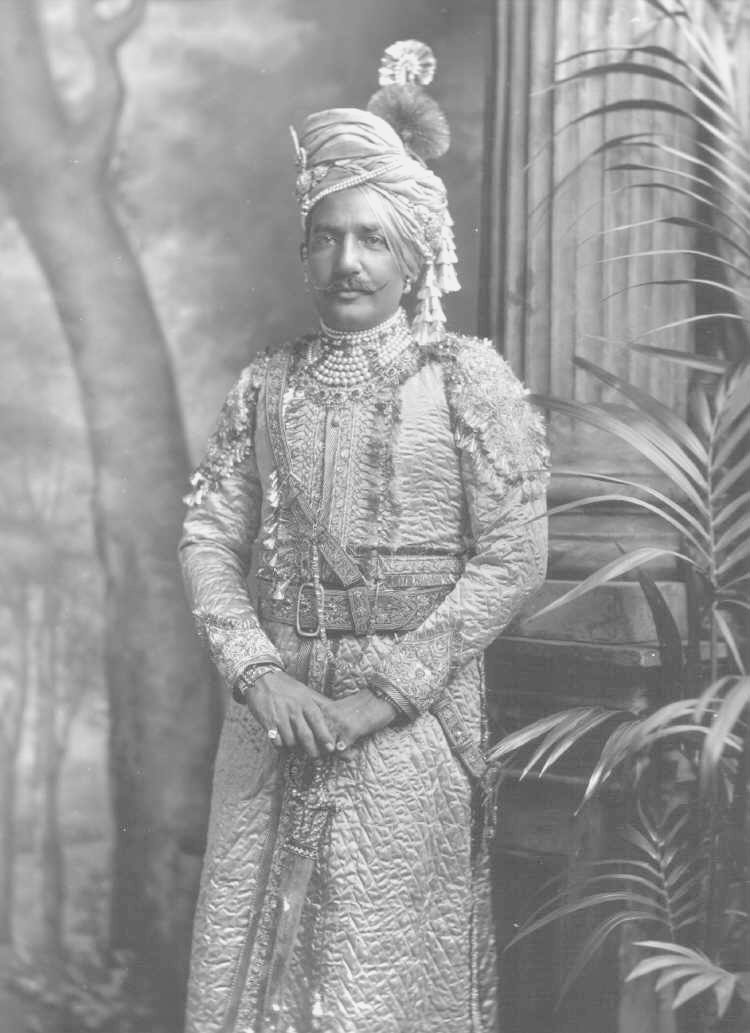 Image published in The Lafayette Studio
and Princely India, Roli Books, New Delhi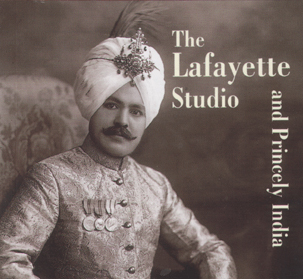 Biog: Ruler of Khetri (Jaipur district of Rajasthan) 1870-1900.
Chiefs and Leading Families in Rajputana, Calcutta, Office of the Superintendent of Government Printing, India, 1894 [pp 76-7] :
Raja Ajit Singh of Khetri is, like the Rao Raja of Sikar, a Shaikhawat, being descended from Bhojraj, a son of Raja Rai Sal of Khandela. He holds from the Jaipur Darbar the estate of Khetri which lies 90 miles to the north of the capital and pays a tribute of R75,000 a year. From the British Government he holds as a free grant the pargana of Kot Putli which was conferred on Thakur Akhay Singh during the reign of Maharaja Jagat Singh (1803-1818). This Chief bestowed the title of Raja on Abhay Singh. Raja Ajit Singh, who is thirty years of age, is by birth the son of Thakur Chatar Singh of Alsisar. He succeeded to Khetri by adoption in 1870 on the death of Raja Fath Singh. He has one son and no other near relative. The families of Harina, Alsisar, Aruka, and Badangarh are the most closely connected with Khetri.
Date: 18 June 1897
Occasion: Visit to Britain for Queen Victoria's Diamond Jubilee.
Location: The Lafayette Studio, 179 New Bond Street, London, W.
Descr: TQL standing.
Costume: "The Raja wears a quilted silk coat decorated with fringed cuffs and epaulettes and embroidered with gold thread and sequins. His cotton turban is also embellished with dangling tassels."
Accessories: -
Furniture & Props: Painted backdrop with landscape, after Reynolds;(1) studio column

Photographer: The firm of J. Lafayette, 179 New Bond Street, London, W.

Evidence of photographer at work: -

All images of sitter:

Copyright: V&A

All images on this site are copyright V&A. For further information on using or requesting copies of any images
please contact the V&A Picture Library: vaimages@vam.ac.uk including the URL of the relevant page

Provenance: Pinewood Studios; acquired 1989.

References:
Biog: Chiefs and Leading Families in Rajputana, Calcutta, 1894; The Illustrated London News, 10 July 1897, p 46; The Imperial Gazetteer of India, Oxford, 1908, Vol XV pp 276-7; Imperial Durbar Album of Indian Princes, Chiefs and Zamindars, Bombay, 1911, Vol I; Pauline Rohatgi, Portraits in the India Office Library and Records, London, 1963, p 303.
Occasion: The Times, 25 June 1897, p 9e; 29 June 1897, p 8b; & 1 July 1897, p 6b
Costume: Rosemary Crill, V&A
Accessories: -
Reproduced: -

Acknowledgements: -

1. Backdrop after landscape in Sir Joshua Reynolds, Elizabeth Catharine Rivett, Mrs Carnac, (c. 1775), Wallace Collection. (See John Ingamells, The Wallace Collection Catalogue, Vol I, London, 1985.)