KAPURTHALA, SIRDAR CHARANJIT SINGH OF

Neg. No: 8369

Neg. Size: 15"x12"

Neg. Date: 28-4-1920


Sitter:The Hon Raja Charanjit Singh. b. 1883, son of Kanwar Suchet Singh and cousin of Major-General H.H. Farzand-i-Dilband Rasikh-al-Iqtidad-i-Daulat-i-Inglishia, Raja-i-Rajagan, Maharaja Sir Jagatjit Singh, Bahadur, Maharaja of Kapurthala, GCSI, GCIE, GBE. Educ. Jullunder and Govt. Colls., Lahore. Mbr. of the Council of State 1903 and 1923-1932. Granted the personal title of 'Raja' 1932. Rcvd. Durbar Silver Medals 1903 and 1911, Coronation Medals 1911 and 1937, and Silver Jubilee Medal 1935. He d. 1970, having had issue four sons.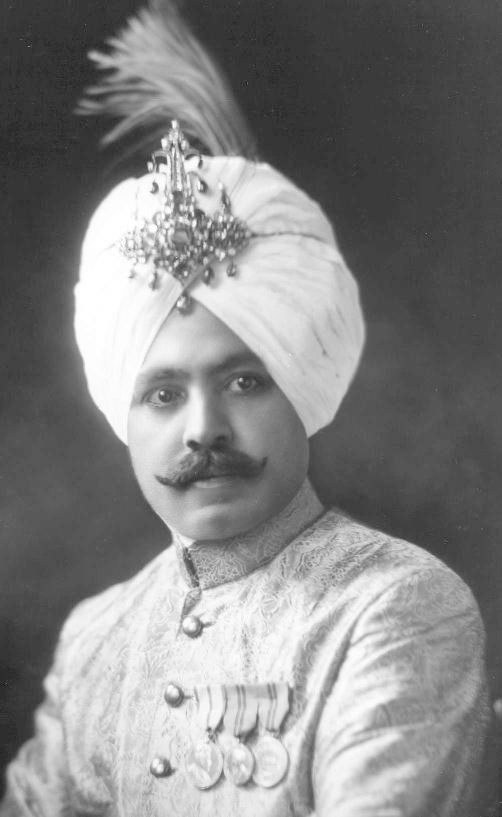 Date: 28 April 1920.
Occasion: Visit to London, c. May-June 1920.
Location: The Lafayette studio, 160 New Bond Street, London.
Descr: HL seated.
Costume: The Punjabi prince wears a shervani of (gold ?) brocade, probably from Benares, and a typically Punjabi turban with a splendid sarpech (turban ornament) and a feather plume.
Jewellery: -
Orders, Decorations & Medals: (1) Delhi Darbar Medal 1903; (2) Coronation Medal 1911; (3) Delhi Darbar Medal 1911.
Furniture & Props: -

Photographer: Lafayette Ltd., 160 New Bond Street, London.

Evidence of photographer at work: -

All images of sitter:

Copyright: V&A

All images on this site are copyright V&A. For further information on using or requesting copies of any images
please contact the V&A Picture Library: vaimages@vam.ac.uk including the URL of the relevant page

Provenance: Pinewood Studios; acquired 1989.

References:
Biog: W.L. Conran & H.D. Craik ed, Chiefs and Families of Note in the Punjab, Lahore, 1909, Vol II, pp 421-3.-
Occasion: The Times, 18 May 1920, p 17b, 2 June 1920, p 19b & 9 June 1920, p 20b.
Costume: -
Jewellery: -
Orders, Decorations & Medals: (1) A.R. Litherland & B.T. Simpkin, Spinks Standard Catalogue of British and Associated Orders, Decorations & Medals, London, 1990, p 150. (2) ibid, p 152. (3) ibid, p 152. (See also, Howard N. Cole, Coronation and Royal Commemorative Medals 1887-1977, London, 1977.)
Reproduced: -

Acknowledgements: (Costume) Rosemary Crill, Indian Department, V&A.