Sitter: Mrs William (Willie) Dodge James (1868-1929), later Mrs John Chaytor Brinton, (d 1929), née Evelyn Elizabeth Forbes .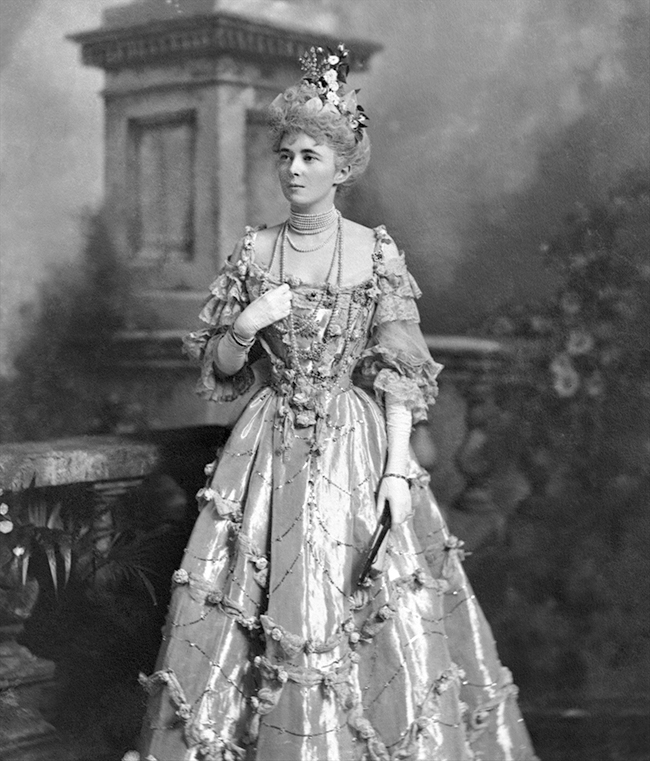 Biog: Society hostess; C.B.E. [cr. 1922]; eldest daughter of Charles Forbes, 4th Bt. of Newe;
Image published in Daisy of Pless: The Happy Years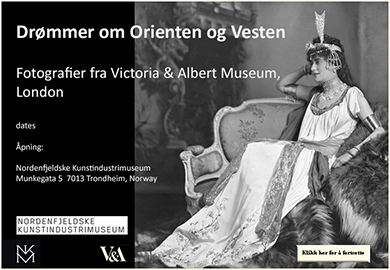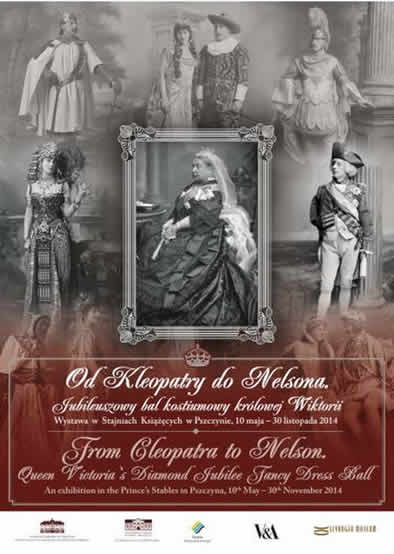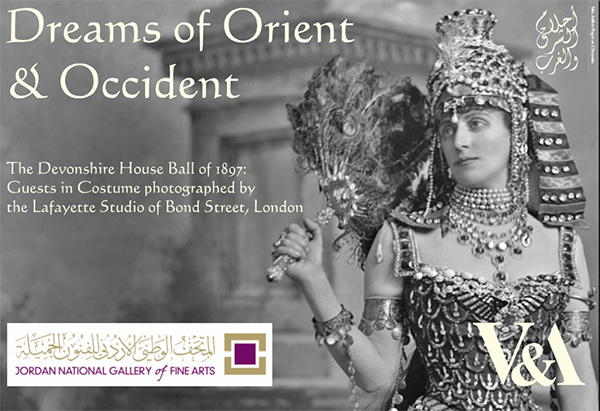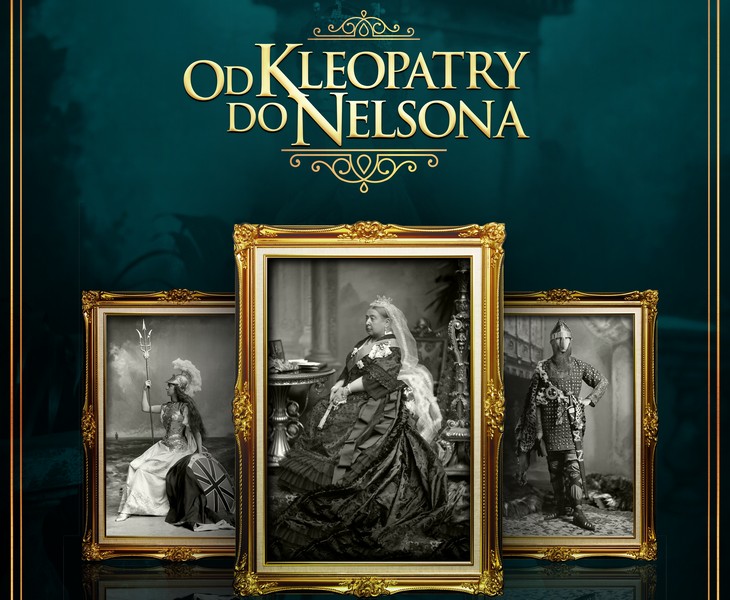 m 1stly (1889) William (Willie) Dodge James of West Dean Park, Sussex; m 2ndly (1913) Lt. Col. John Chaytor Brinton (div 1927).
Role: Archduchess Elizabeth, Court of Maria Theresa.
Elisabeth Christine
Empress, wife of Emperor Karl VI
Born 28/8/1691 in Wolfenbuttel
Died 21/12/1750 in Vienna

Elisabeth Christine was the daughter of Ludwig Rudolf (1671-1735), duke of Braunschweig-Wolfenbüttel and younger son of duke Anton Ulrich (1633-1714). As the result of her grandfather's political maneuvering, she was married to Archduke Karl of Austria (1711-1740) in 1708. Archduke Karl had previously tried to the win the hand of Caroline of Ansbach (1683-1737), the future queen of Great Britain. But Caroline refused to convert to Catholicism, which was a necessary precondition of any union with the Catholic prince from the House of Habsburg. Anton Ulrich was so impressed with Caroline's stand in defense of the Protestant cause that he wrote to Leibniz telling him that he wished to make Caroline a heroine in one of his romantic novels.1 The irony here is that, as we have seen, duke Anton Ulrich later helped to arrange the marriage between Archduke Karl and his granddaughter, Elisabeth Christine. Elisabeth Christine, unlike Caroline, would apparently be persuaded to accept Catholicism on the assurance of Leibniz, among others, that she could always give an Evangelical meaning to Catholic ceremonies. It was through this marriage connection with the later emperor that Anton Ulrich was able to secure for Leibniz the position of imperial privy counselor in 1712. Elisabeth Christine's daughter, Maria Theresa (1717-1780), became the archduchess of Austria and queen of Hungary and Bohemia (1740-80) upon the death of her father.
Date: 2 July 1897.
Occasion: The Devonshire House Ball, 2 July 1897.
Location: Devonshire House, Piccadilly, London, W.
Descr: TQL standing.
Pose: Countess von Braunschweig-Wolfenbüttel.

Image Source: Brigitte Hamann, Die Habsburger: Ein biographisches Lexicon, p. 89. München: Piper, 1988.
Costume: "...costume of stiff silver tissue, through which glimmered an underdress of antique cerise taffeta. The reproduction was quite a chef-d'oeuvre; the long pointed corsage being enhanced by priceless point lace entwined with roses in palest pink; those flowers, in various sizes, were scattered over the entire toilette and gave to it a charming pre-Raphaelite effect." (The Court Journal, 10 July 1897, p 1249b).
Costume Supplier: The Maison Lucille.
Furniture & Props: Backdrop, painted to suggest the garden statuary at Devonshire House

Photographer: The firm of J. Lafayette, 179 New Bond Street, London, W.
Evidence of photographer at work: -
No of poses: 2.
| | |
| --- | --- |
| See partial reproduction in W H Wilkins, Our King and Queen ,London, ND | |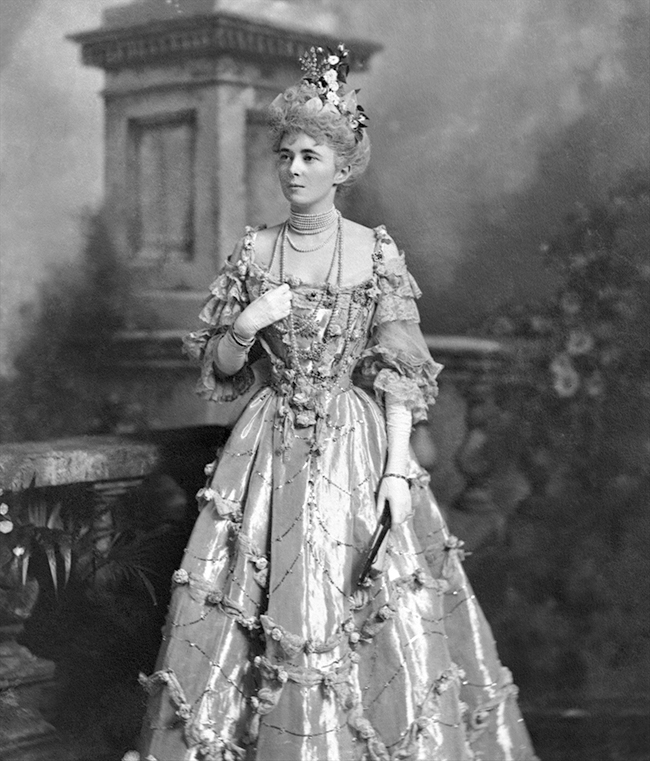 Copyright: V&A

All images on this site are copyright V&A. For further information on using or requesting copies of any images please contact the V&A Picture Library: vaimages@vam.ac.uk including the URL of the relevant page

Provenance: Pinewood Studios; acquired 1989.

References:
Biog: Burke's Landed Gentry (see James); Burke's Peerage (see Forbes of Newe); The Times, 14 May 1929, p 18e; (see also, A Foreign Resident [T.H.S. Escott], Society in the New Reign, London 1904; Edward James: A Surrealist Life, John Lowe, London, 1991; A Foreign Resident [T.H.S. Escott], Society in the Country House, London 1907; Philip Magnus, King Edward VII, London, 1964.
NB: The Tatler, 30 July 1902, p 186
"A Charming Hostess": West Dean Park near Chichester, where the Duke and Duchess of Devonshire are to be the guests of Mr and Mrs Willie James during Goodwood week, is a fine old house, purchased by Mr James shortly after his marriage in 1889. Since that time it has been noted for its hospitality, and Mrs Willie James has acquired the reputation of being the most admirable hostess in the shires… Her Goodwood parties are always select and not infrequently lively. A dainty little brunette, Mrs James is herself lively and amusing, and though rather short she is so beautifully proportioned and so charmingly dressed that her guests cannot help thinking her the ideal of social perfection. Queen Alexandra entertains a warm and longstanding friendship for the mistress of West Dean Park and the King himself has many times enjoyed her hospitability. Mrs James was the eldest daughter of the late Sir Charles Forbes of Newe, her mother having been one of the beautiful Moncreiffes who queened it in society for back in the sixties. Her sisters, Lady St. Oswald and Mrs Blundell Leigh, curiously, are as fair as Mrs James is dark, with the Titianesque style that is characteristic of the majority of the old Scottish families. Mrs Willie James is, of course, a sister of present Sir Charles Forbes, and a cousin of Mr "Jim" Forbes… Castle Newe, the country seat of Sir Charles, is an old place not far from Abergeldie, which has been in possession of his progenitors for centuries, and there is some fine shooting to be had in the neighbourhood, The family of the present is very wealthy, but a few generation ago the Forbes's fortunes had fallen rather low. An energetic son of the house however, went into the East Indian trade, established the great mercantile house in Bombay, now known as Sir Charles Forbes and Co., and proved the truth of the family motto, Altius ibunt, qui ad summa nituntur.
Occasion: Sophia Murphy, The Duchess of Devonshire's Ball, London, 1984;
Role and Costume: The Times, 3 July 1897, p 12a; The Morning Post, 3 July 1897, p 7f; Vanity Fair, 8 July 1897, p 27a; The Court Journal, 10 July 1897, p 1249b.
Costume Supplier: The Court Journal, 10 July 1897, p 1249b..
Photographer: The Daily Telegraph, 3 July 1897, p 9f; Black & White, 10 July 1897, p 38b
Reproduced: -

Acknowledgements: -