DE GREY, LORD & LADY

Neg. No: 4712

Neg. Size: 15"x12"

Neg. Date: None


Sitters: Frederick Oliver Robinson, 2nd Marquis of Ripon (1852-1923) & (Constance) Gladys, Marchioness of Ripon (d. 1917) when Earl and Countess de Grey.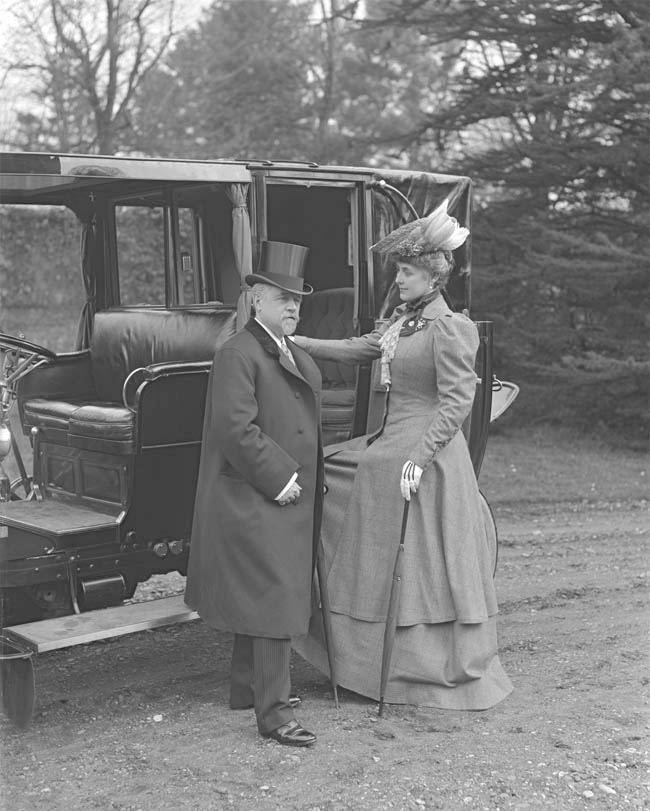 Biog: -

Image published in Daisy of Pless: The Happy Years

Image published in:
Samochody Wytwornego Towarzystwa – Miodowe Lata Automobili 1902-1905
Automobiles of English High Society – The Honeymoon Years 1902-1905

When in April 1905 they bought the 40 hp six-cylinder Napier landaulette with a body made by the renowned Muhlbacher firmof Paris (seen in the two Lafayette photographs where Lord and Lady de Grey appear together), they became the owners of the most luxurious car of the time!

The engineering firmof D. Napier & Son Ltd en-tered the motorcar business in 1899, after a famous racing driver, Selwyn Edge, asked Montague Stanley Napier to modify his second-hand Panhard et Le-vassor. Edge was so impressed with the new engine designed by Napier that he contracted him to produce more cars and became the Napier's sole distributor. Edge's marketing skills (he pioneered the use of owners' testimonies in advertisements) and his fame, which culminated in winning the Gordon Bennett Trophy in 1902 in the four-cylinder Napier, attracted such publicity for Napier that his machines dominated the prestigious car trade in Britain until challenged by Rolls-Royce after 1906. Moreover, the victorious green Napier of 1902 resulted in green becoming the official British racing colour.

In 1904, persuaded by Edge, Montague Napier built the world's first successful six-cylinder model, which was soon sold in a variety of motor capa-cities. The Napier 'Six' cars had pressed steel chassis frames and were fittedwith the side-valve engines. They were among the fastest, quietest and most sought after automobiles on the market.

In 1912 Napier and Edge parted company. Montague Napier was sidetracked to design aeroplane engines in response to the Air Ministry's need at the be-ginning of World War I. Although he enjoyed great success with his 450 hp Lion airplane engine, he was not able to catch up with innovations in the motor-car industry. Production of the Napier car ceased in 1924.The de Greys' car, being such a famous vehicle in 1905, was photographed and commented upon in a number of society and professional magazines and Lafayette's photographs of the de Greys with their Napier were reproduced in The Bystander, The Car Illustrated, The King and His Army & Navy and The Autocar.

Date: April 1905.
Occasion: Sitting for The Car Illustrated magazine.
Location: Coombe Court.
Descr: Full length, exterior, with 6 cylinder, 5 litre, Napier motor car, coach work by Muhlbacher et Fils of Paris.
Costume: -

Photographer: Lafayette Ltd., 179 New Bond Street, London, W.

No of poses: 3.

Copyright: V&A

All images on this site are copyright V&A. For further information on using or requesting copies of any images
please contact the V&A Picture Library: vaimages@vam.ac.uk including the URL of the relevant page

Provenance: Pinewood Studios; acquired 1989.

References:
Biog: (Lord Ripon): Burke's Peerage; Who's Who; The Times, 24 September 1923, p 15d. (Lady Ripon): Burke's Peerage; The Times, 29 October 1917, p 10e & 1 November, p 9e.
Occasion: -
Location: Charles Neelson Gattey.
Costume: -
Motor Car: (Muhlbacher) see maker's plate; (Napier) see below.
Reproduced: The Bystander, 3 May 1905, p 209; (version) The Car Illustrated, 26 April 1905, front page.

Acknowledgements: Clive Devereaux; Charles Neelson Gattey.