EDWARD VII, KING

Neg No: GP (00425)

Neg. Size: 15"x12"

Neg. Date: None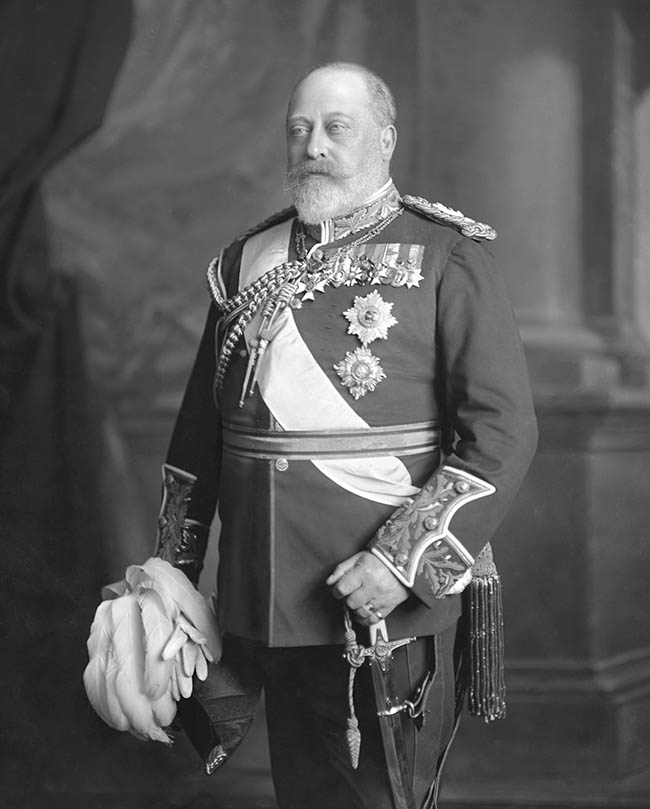 Sitter: King Edward VII (1841-1910).
Biog: Reigned 1901-1910.
Date: July/August 1903.
Occasion: Royal Visit to Ireland 20 July - 2 August 1903.
Location: -
Descr: TQL standing.
Costume: -
Orders, decorations & medals: Order of St Patrick, (Sash and Star) [inv. 18 March 1868]; Order of the Bath (Star and Badge); Order of The Star of India; Order of St Michael and St. George; Order of the Indian Empire; Royal Victorian Order; Queen Victoria Jubilee medal 1887 (with 1897 Jubilee bar); Volunteer Officer's decoration; Imperial Service Order; Royal Victorian chain.
Furniture & props: Painted backdrop.

Registered Photographer: James Stack Lauder (1853-1923), Lafayette Ltd.
No of poses: 3 [see also neg. nos. 00424 ck & 00426]
Copyright: V&A
All images on this site are copyright V&A. For further information on using or requesting copies of any images
please contact the V&A Picture Library: vaimages@vam.ac.uk including the URL of the relevant page
Provenance: Pinewood Studios; acquired 1989.

References:
Biog: Dictionary of National Biography; Hugh Montgomery-Massingberd ed., Burke's Royal Families of the World, Vol 1, p. 308-309.
Costume: -
Orders, Decorations & Medals : Burke's Peerage.
Photog: Copyright Records, Public Record Office, Kew, COPY 1/465, 19 September 1903. (2 poses registered).
Reproduced: Sir Richard Holmes, King Edward VII: His Life and Times, Vol II, London 1911, opp p 538 "In the uniform of Field Marshal of the British Army"; (Version) frontispiece.
Acknowledgements: -