DUDLEY WARD, HON MRS (GODFREY-FAUSSETT)

Neg. No: (GP) (L) 5279

Neg. Size: 15"X12"

Neg. Date: 12-4-1907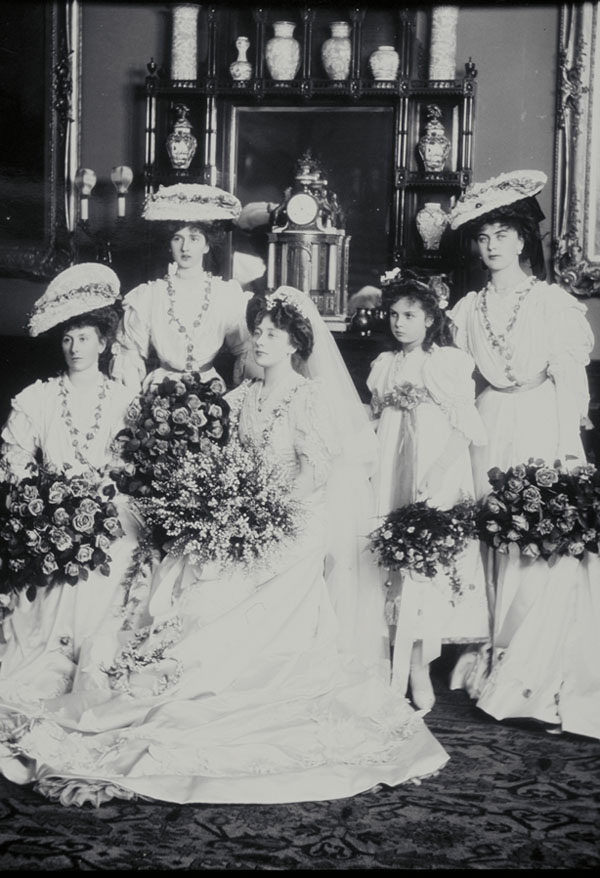 Sitters: (3) Mrs Bryan Godfrey-Faussett, later Lady Godfrey-Faussett (d. 1956), née Eugenie Fanny Eveline Dudley Ward; 3rd dau of William Humble Dudley Ward; m. (1907) Captain Sir Bryan Godfrey Godfrey-Faussett R.N., Equerry to King George V and Extra Equerry to King Edward VIII and King George VI.
(4) Miss Enid Violet Ida Dudley Ward ( ); m. (1919) Major-General Sir Allan Henry Shafto Adair, 6th Bt.
(5) Miss Georgiana Viola Eleanor Dudley Ward, later Lady Erskine (d. 1972); m. (1908)
Rt. Hon. Sir William Augustus Forbes Erskine; Diplomat, Ambassador to Poland 1928-1934.
Date: -
Occasion: Wedding 11 April 1907
Location: 43 Lowndes Square London, (lent by Mrs Keith Fraser, the bride's aunt, for the reception) or 63 Cromwell Rd, London, (home of the bride).
Descr: FL standing.
Costume: Princess-line gown of white Duchesse satin, trimmed with raised satin flowers; bodice veiled with Brussels/Limerick lace; court train with Louise Seize (lover's knot) of orange blossom; tulle veil held with coronal of orange-buds; bouquet of white heather and lilies of the valley.
Jewellery: Peridot and diamond pendant (gift of bride-groom).
Costume Supplier: Messrs Phillips & Sons, Quadrant House, 58 Regent Street, W.
Furniture & Props: -

Photographer: Lafayette Ltd., 179 New Bond Street, London.
Evidence of photographer at work: -
No of poses: 2.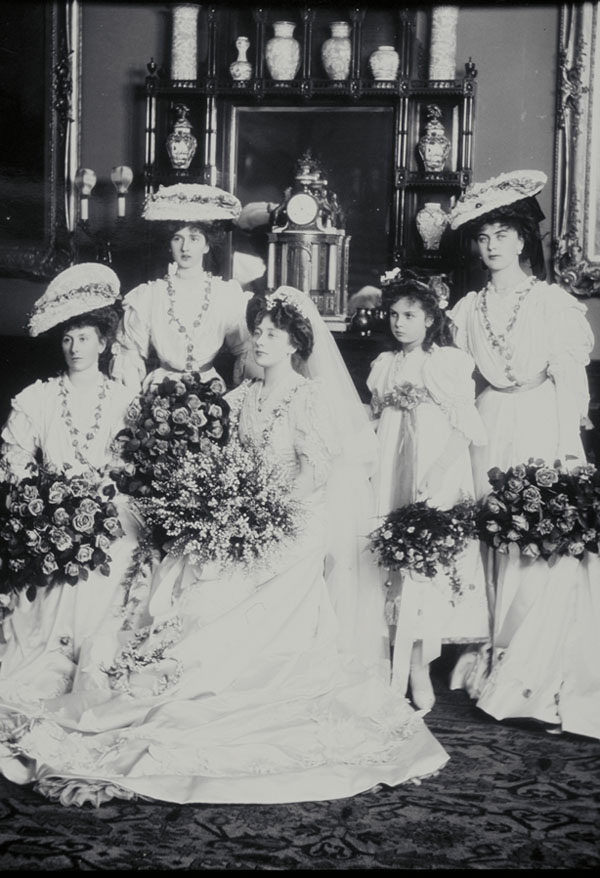 Copyright: V&A

All images on this site are copyright V&A. For further information on using or requesting copies of any images
please contact the V&A Picture Library: vaimages@vam.ac.uk including the URL of the relevant page

Provenance: Pinewood Studios; acquired 1989.

References:
Biog: Burke's Landed Gentry (see Godfrey-Faussett); Burke's Peerage; The Times, 10 April 1956, p 13d
Occasion: The Times, 12 April, p ?
Costume: The Times, 12 April, p ? ; The Gentlewoman, 20 April 1907, p 552 & 27 April 1907, p 573 (with line drawing); The Throne, 20 April 1907, p 89; The Lady, 18 April 1907, p 686; Ladies Pictorial, 20 April 1907, p 651.
Costume Supplier: The Gentlewoman, 27 April 1907, p 573.
Jewellery: The Gentlewoman, 20 April 1907, p 552.
Reproduced: -

Acknowledgements: -