CREAGH, SIR G M
Neg. No: (GP) 6384 A
Neg. Size: 15x12
Neg. Date: 22-07-1909


Sitter: General Sir Garrett O'Moore Creagh V.C. (1848-1923).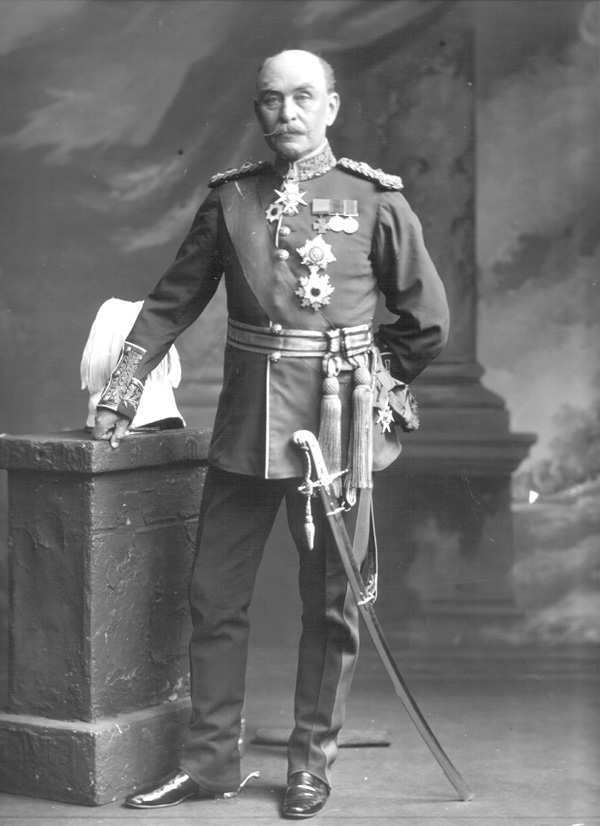 Biog: Major-General 1903; Lieutenant-General 1904; General 1907; Secretary of Military Department of India Office, 1907-09; Commander-in-Chief, India 1909.
Award of VC as Captain, Bombay Staff Corps
21 April 1897 - At Kam Dakka in the Khyber Pass, he retired his detachment of 150 into a cemetery and repelled an Afghan force of fifteen hundred with the bayonet until a charge by the 10th BEngal Lancers routed the enemy.
He was the author of The Victoria Cross 1856-1920
Source: Arthur
Date: 22 July 1909.
Occasion: Investiture at Buckingham Palace, 22 July 1909, as a Knight Commander of The The Order of The Bath.
Location: The Lafayette Studio, 179 New Bond Street, London, W.
Descr: FL standing.
Costume: Full Dress uniform, General.
Orders, Decorations & Medals: Victoria Cross (1879); Star, Sash and Badge of a Knight Grand Cross of the Order of the Bath (military division) [G.C.B. cr. 1909]; Star and Badge of the Order of the Rising Sun, (1st class) [Japan cr. 1906]; Afghanistan War Medal 1878-1880; China War Medal 1900.
Furniture & Props: Painted backdrop.

Photographer: Lafayette Ltd., 179 New Bond Street, London.

Evidence of photographer at work: -

No of poses: 3. See neg nos. 4754, 6384 A & 6385]

Copyright: V&A

All images on this site are copyright V&A. For further information on using or requesting copies of any images
please contact the V&A Picture Library: vaimages@vam.ac.uk including the URL of the relevant page

Provenance: Pinewood Studios; acquired 1989.

References:

Biog: Dictionary of National Biography; Who's Who; The Army List, 1909; The Times, 11 August 1923, p 12c; Max Arthur, Symbols of Courage: A Complete History of the Victoria Cross, London, 2004

Occasion: The Times, 23 July 1909, p 13a.

Costume: Dress Regulations for the Army, London, 1900.

Orders, Decorations & Medals: (Victoria Cross, Order of The Bath) Burke's Peerage; (Order of the Rising Sun) Marquis de Ruvigny ed., The Nobilities of Europe, London, 1909; R. Werlich, Orders and Decorations of All Nations, Washington, 1990; (Others) E.C. Joslin, A.R. Litherland & B.T. Simpkin, British Battles & Medals, London, 1988.

Reproduced: -

Acknowledgements: -