BURDWAN, MAHARAJADHIRAJA OF

Neg. No: 5102

Neg. Size: 15"x12"

Neg. Date: 11-07-1906


Sitter: The Hon Maharajadhiraja Maharaja Shri Sir Bijay Chand Mahtab Bahadur, Maharaja of Burdwan, GCIE (1.1.1924, KCIE 1.1.1909), KCSI (12.12.1911), IOM 3rd Cl (c 1909). b. 19th October 1881, son of Raja Bun Behari Kapur Rajah Bahadur. Succeeded on the death of his maternal uncle, 1887. d. 1941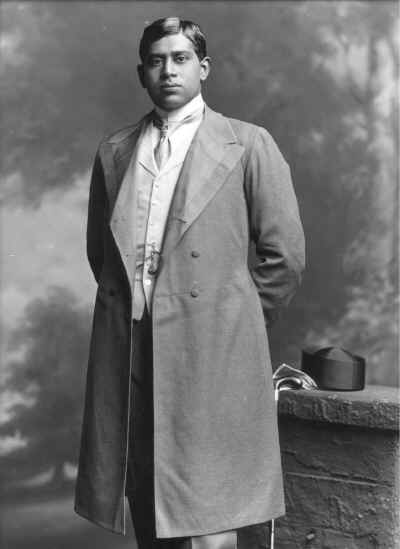 Biog:
Received by HM The King-Emperor Edward VII at Buckingham Palace 1906, and HM The King-Emperor George V 1926. Member Imperial LC 1909-1912, MLC Bengal 1907-1918, MEC Bengal 1918 and 1919-1924, Member Indian Reforms Enquiry Committee 1924, Indian Taxation Enquiry Committee 1924-1925. President British-Indian Assoc. 1911-1918, 1925-1928, and 1935-1941. Trustee Victoria Memorial, Calcutta 1914-1941. President Bengal Volunteer Ambulance Committee, Bengali Regimental Committee and the Agricultural-Horticultural Society of India. Chairman Calcutta Imperial Reception Committee 1911-1912. Rcvd. Freedom of the Cities of Edinburgh, Manchester and Stoke-on-Trent, 1926. FRGS, FRSA, FRCI, FNBA, MRAS, FZS, FRHortS. Hon LLD (Edinburgh and Cambridge University). Poet, Author and Dramatist. He d. 20th August 1941, having had issue two sons and two daughters.
Date: 11 July 1906.
Occasion: Visit to England; reception by King George VI.
Location: The Lafayette Studio, 179 New Bond Street, London.
Descr: TQL standing.
Costume: -(1)
Orders, Decorations & Medals: -
Furniture & Props: -

Photographer: Lafayette Ltd., 179 New Bond Street, London.

Evidence of photographer at work: -

All images of sitter:

Copyright: V&A

All images on this site are copyright V&A. For further information on using or requesting copies of any images
please contact the V&A Picture Library: vaimages@vam.ac.uk including the URL of the relevant page

Provenance: Pinewood Studios; acquired 1989.

References: Biog: Who's Who; The Times, 1 September 1941, p 6, Who's Who in India, Lucknow, 1911, Part VIII, pp 9-11.
Occasion: Who's Who.
Costume: -
Orders, Decorations & Medals: -
Reproduced: -

Acknowledgements: (Costume) Rosemary Crill, Indian Department, V&A; Christopher J Buyers.

1. The Maharaja wears a formal suit topped by an elegant topi of the type worn in Bengal.