BIBESCO, PRINCESS
Neg. No: 8507
Neg. Size: 15"x12"
Neg. Date: 09-07-1920


Sitter: Princess Marthe Bibesco, née Marthe Lucie Lahovary (1886-1973 ).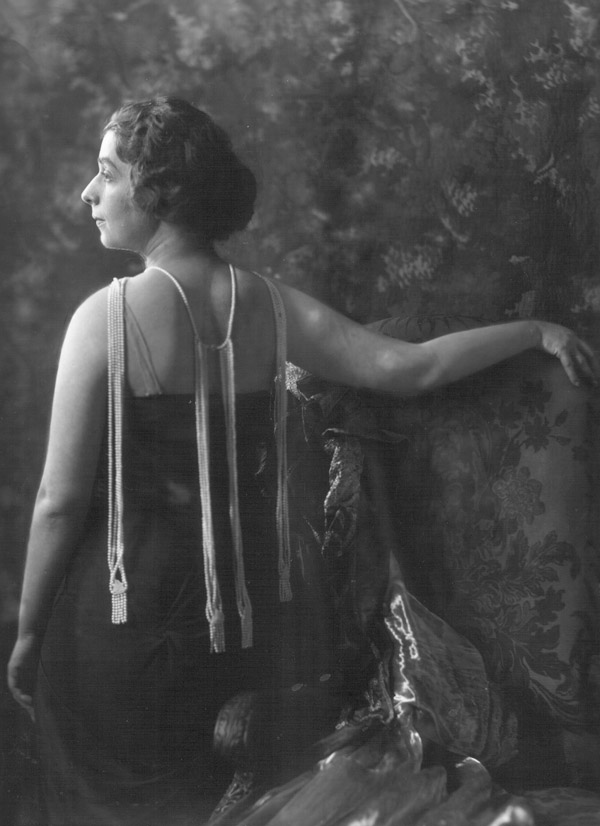 Biog: Authoress; Daughter of H.Ex. Jean Lahovary, Minister of Foreign Affairs of Romania; m. (1902) George Valentine, 3rd Prince Bibesco.
Date: 9 July 1920.
Ghislain de Diesbach, La Princesse Bibesco: La Dernière Orchidée, Paris, 1986

[p 294] ...Marthe part au début de mars 1920, pour la Suisse... Quinze jours à peine après son arrivée à Paris, elle apprend le suicide de Mme Lahovary, le 16 avril 1920, dans les toilettes de la gare de Lausanne, nouvelle tragédie sobrement notée dans son Journal, sans aucun commentaire....

[p 295] Marthe nourrit d'autres ambitions. A trente-quatre ans, libre de son cœur, indépendante sur le plan matériel, elle peut encore envisager l'avenir avec confiance, avec l'espoir d'autres [p 296] aventures, intellectuelles ou sentimentales. Signe de cet extra-ordinaire destin auquel, depuis son enfance, elle n'a cessé de croire, un appel téléphonique la réveille un matin, au Ritz de Londres, où elle séjourne. Le réceptioniste lui annonce le duc de Tolède, titre sous lequel Alphonse XIII, si facilement reconnaissable, s'imagine voyager incognito.

- Georgette, est-ce que vous me reconnaissez? demande la voix.

Il est assez piquant que le roi l'ait baptisée Georgette, en hommage à ce mari lointain qu'elle va cette fois encore tromper avec d'autant moins de remords qu'il s'agit d'un monarque. Celui-ci, en effet, précise ses intentions san équivoque possible: "Voulez-vous être à moi... Tout à fait?" Pour une fois elle n'est pas en retard au rendez-vous fixé par le souverain: à dix heures et demie, elle est sous les armes et se rend au vainqueur. Dans son Journal, à la date du 9 juillet 1920, elle relate pudiquement cette capitulation par cette seule phrase: The whole day with the thought. The fact, then.
| | | |
| --- | --- | --- |
| | | |
| | | |
| | | |
Occasion: Visit to London for the christening of Prince Antoine Bibesco's daughter.
Location: The Lafayette Studio, 179 New Bond Street, London.
Descr: TQL standing.
Costume: -
Costume Designer: -
Costume Supplier: -
Jewellery: -
Furniture & Props: Drapery in floral design; Rococo highbacked armchair.

Photographer: Lafayette Ltd., 179 New Bond Street, London.

Evidence of photographer at work: -

No of poses: 7

Copyright: V&A

All images on this site are copyright V&A. For further information on using or requesting copies of any images
please contact the V&A Picture Library: vaimages@vam.ac.uk including the URL of the relevant page

Provenance: Pinewood Studios; acquired 1989.

References:
Biog: Marquis of Ruvigny, The Titled Nobility of Europe, London, 1914, p 346; Ghislain de Diesbach, La Princesse Bibesco: La Dernière Orchidée, Paris, 1986; Christine Sutherland, Enchantress: Marthe Bibesco and Her World, London, 1996.
Occasion: The Times, 7 July 1920, p 17c.
Costume: -
Costume Designer: -
Costume Supplier: -
Jewellery: -
Reproduced: (version) The Queen, 31 July 1920, front page; (version) The Gentlewoman, 14 August 1920, p 234; (version) The Country Life Illustrated, 18 December 1920, front page.

Additional Information: -

Acknowledgements: -