BASS, LADY
Neg. No: (GP) 4518B
Neg. Size: 15"x12"
Neg. Date: 21-07-1904


Sitter: Lady Noreen Bass, née (Wilmot Ida) Noreen Hastings (1880-1949).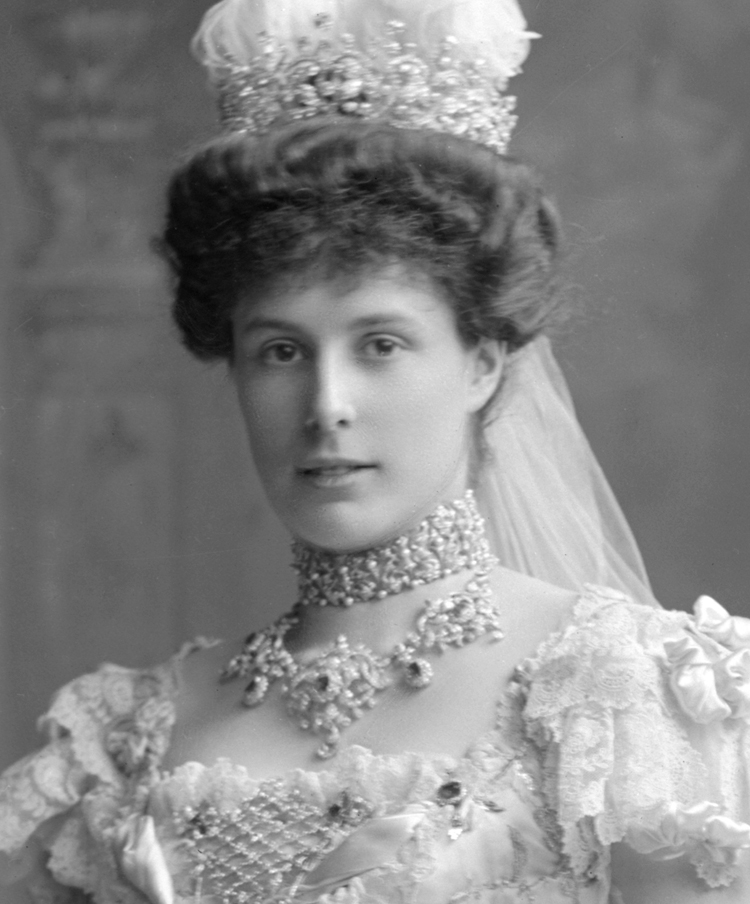 Lady Noreen Bass, née Lady (Wilmot Ida) Noreen Hastings (1880-1949) was the youngest daughter of the 14th Earl of Huntington. In 1903 she married Major William Arthur Hamar Bass, later 2nd Bt. of Stafford. Lady Noreen and her husband appear to have been a perfect match as both were ardent sportspeople and he was very active in the racing industry.

Presented at the last Court of the Season on 22 June in connection with her recent marriage, Lady Noreen's gown has a structured bodice, trimmed with chiffon, but the skirt follows a much more relaxed "tea dress" model. Although the train is still enormous, it is much less heavy and hints at a more manageable type of court wear. Lady Noreen also carries an ostrich-feather fan and wears the jewellery given to her by her husband at the time of their wedding: "a beautiful diamond tiara in a design of shamrocks, a pearl necklace, an emerald and diamond necklace and brooch to match…"

Two months before this image, a newspaper reported the arrival from India of "Mr William Bass, who, with his wife, Lady Noreen Bass… has an income of about £85,000 a year [circa £10 million/49,000,000 zl in today's value]."

The Bass family's huge fortune derived from the brewery opened in Burton-upon-Trent in 1777, famous for its Pale Ale. A beer producer himself, Prince Hans Heinrich XV of Pless and his wife Daisy had an opportunity to taste its special edition, called "King's Ale" and to meet Lady Noreen, when in January 1907 they accompanied Edward VII to Rangemore Hall, the Basses' residence in Staffordshire.

Biog: One of the best English sportwomen of the time; youngest daughter of 13th Earl of Huntington; m. (1903) William Arthur Hamar Bass, 2nd Bt.
Date: 21 July 1904.
Occasion: The Court, 22 June 1904: presented by the Hon. Mrs. Bernard Shaw.
Location: The Lafayette Studio, 179 New Bond Street, London, W.
Descr: FL standing.
Costume: Court dress.
Costume Designer: -
Costume Supplier: -
Jewellery: -
Furniture & Props: Painted backdrop.

Photographer: Lafayette Ltd., 179 New Bond Street, London.

Evidence of photographer at work: -

No of poses: 2.

Copyright: V&A

All images on this site are copyright V&A. For further information on using or requesting copies of any images
please contact the V&A Picture Library: vaimages@vam.ac.uk including the URL of the relevant page

Provenance: Pinewood Studios; acquired 1989.

References:
Biog: Burke's Peerage; The Gentlewoman, art.: "Lady Noreen Bass", 17 July 1920, p 94.
Occasion: The Times, 24 June 1904, p 7b; The Court Circular, 25 June 1904, p 645a.
Costume: -
Costume Designer: -
Costume Supplier: -
Jewellery: -
Reproduced: -

Additional Information: -

Acknowledgements: -