BARODA, MAHARAJA OF

Neg. No: 8151

Neg. Size: 15"x12"

Neg. Date: 26-11-1919


Sitter: H.H. Farzand-i-Khas-i-Daulat-i-Inglishia, Shrimant Maharaja Sir Sayajirao III Gaekwad, Sena Khas Khel Shamsher Bahadur, Maharaja of Baroda, GCSI (15.12. 1887), GCIE (1.1.1919).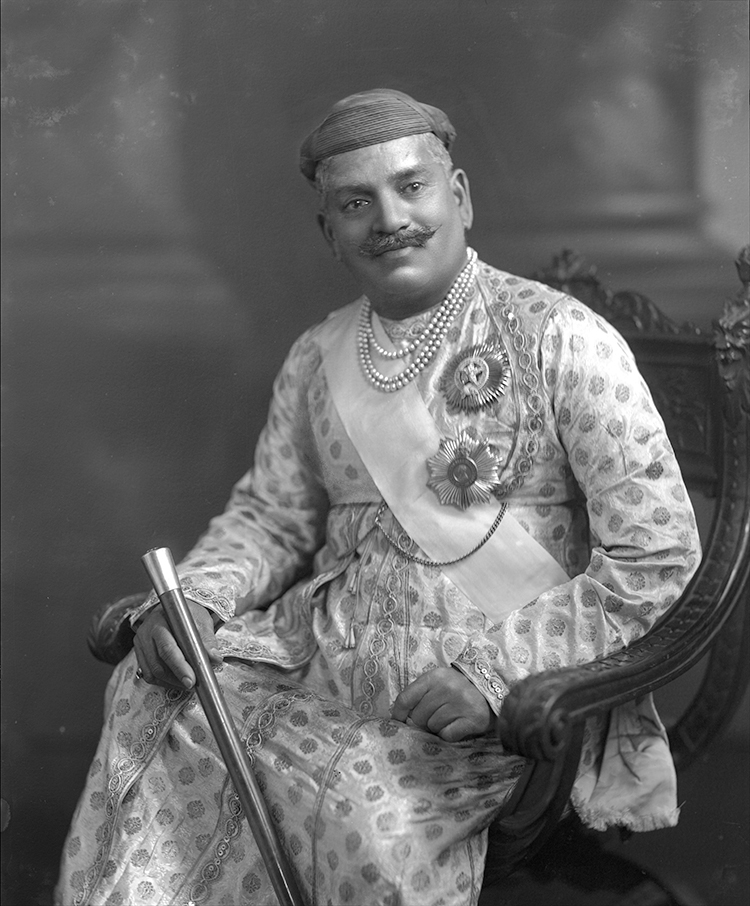 Image published in: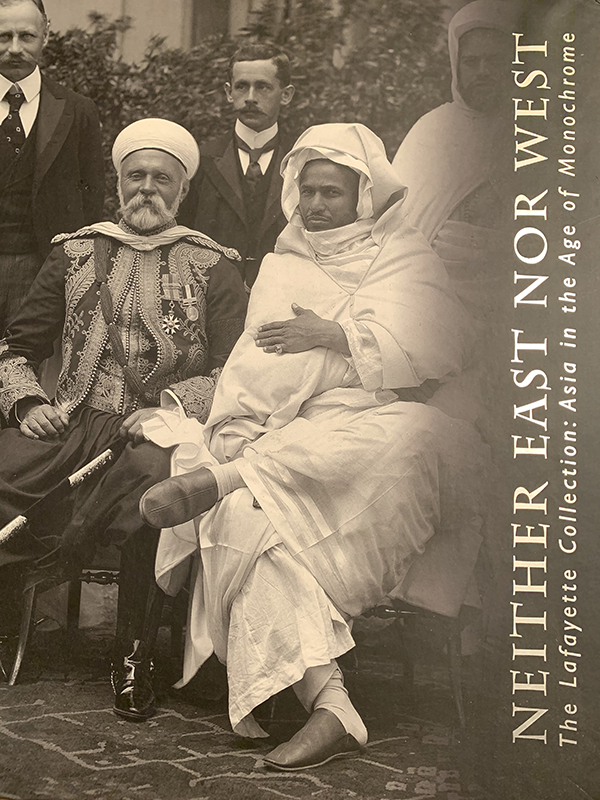 b. at Kavlana, 10th March 1863 as Shrimant Gopalrao Gaekwad, second son of Meherban Shrimant Kashirao Bhikajirao alias Baba Sahib Gaekwad, by his wife Shrimant Akhand Soubhagyavati Umma Bai Sahib. Chosen and proclaimed by the GOI, 25th May 1875.
Adopted by H.H. Maharani Jamna Bai, widow of H.H. Maharaja Sayajirao, 27th May and installed on the gadi at Baroda, 16th June 1875. Reigned under a Council of Regency until he came of age and was invested with full ruling powers, 28th December 1881. Received H.M. The King-Emperor Edward VII at Baroda when he was Prince of Wales, 1876 (rcvd POW's Medal). Granted the title of 'Farzand-i-Khas-i-Daulat-i-Inglishia', 29th December 1876. Attended the Delhi Durbars of 1877, 1903 and 1911 (rcvd. KIH Medal and Gold Durbar Medals 1903 and 1911). Rcvd. Silver Jubilee Medal (1935) and Coronation Medal (1937). DGBStJ (20.5.1932).
Acquired the 262 carat diamond 'Star of the South'.
Married (firstly) at Nazar Bagh Palace, Baroda, 6th January 1880, H.H. Shrimant Akhand Soubhagyavati Maharani Chimna Bai I alias Lakshmi Bai Sahib (b. at Tanjore, 1864; d. at Baroda, 7th May 1885), daughter of Shrimant Sardar Daji Sahib Mohite, Amir Rao, by his wife, Shrimant Akhand Soubhagyavati Nagamma Bai Sahiba, daughter of Shrimant Abaji Rao Ghatge, Serjirao, of Tanjore. Married (secondly) at Baroda, 28th December 1885, H.H. Shrimant Akhand Soubhagyavati Maharani Chimna Bai II alias Gajra Bai Sahib, CI (2.8.1892) (b. 1872; d. at Bombay, 194X), daughter of Shrimant Sardar Baji Rao Amrit Rao Ghatge, of Dewas. He d. at Gopal Bhavan, Malabar Hill, Bombay, 6th February 1939, having had issue four sons and three daughters.
NB: The Times, 12 December 1911, p 3e: Maharaja cited as correspondant in suit for the dissolution of marriage Staham v. Statham
Date: 26 November 1919.
Occasion: -
Location: The Lafayette Studio, 179 or 160(1) New Bond Street, London.
Descr: TQL seated.
Costume: The Gaekwar wears the small, neat turban favoured by the Maratha rulers of western Central India since the early 19th century. This example is unusually plain. He is also wearing a magnificent brocade angarkha (robe). The fabric was probably woven in one of the western Indian centres of textile production such as Ahmedabad or Surat. The design would probably be purple and gold on a yellow or white ground. The robe is embellished with sequins and silk piping around the cuffs and front opening. The angarkha is a traditional man's robe characterised by the round opening on the chest and a somewhat high waist. It is fastened on one side of the neck and tied at the front.

Orders, Decorations & Medals: (1) Star & Riband (pale blue) of The Most Exalted Order of the Star of India; (2) Star of The Most Emminent Order of the Indian Empire.
Griffith, pp 153-4: "The Gaekwar, who speaks English fluently, and is most hospitable and kind to European travellers, is an ardent reformer... The Gaekwar wears on state occasions a velvet tunic - usually crimson - almost covered with precious stones; a turban with a diamond aigrette in front, the centre of which is one large stone, said to be one of the finest diamonds in the world. It was bought by the late Gaekwar, and is considered to be the gem in the collection.
Jewellery: -
Furniture & Props: Painted studio backdrop.

Photographer: Lafayette Ltd., 179 New Bond Street, London.

Evidence of photographer at work: -

All images of sitter:

Copyright: V&A

All images on this site are copyright V&A. For further information on using or requesting copies of any images please contact the V&A Picture Library: vaimages@vam.ac.uk including the URL of the relevant page

Provenance: Pinewood Studios; acquired 1989.

References:
Biog: M Griffith, India's Princes: Short Life Sketches of the Native Rulers of India, London, 1894; The Times, 7 February 1939, p 16d; Dictionary of National Biography; Who's Who; Who's Who In India, Lucknow, 1911; P.W. Sargeant, Ruler of Baroda, [CK], 1928; P. Stanley Rice, Life of Sayaji Rao III, Maharaja of Baroda, Oxford, 1931; John Lord, The Maharajahs, London, 1972, pp 142-147; Maharajah of Baroda, The Palaces of India, London, 1981, pp 154-156; Pauline Rohatgi, Portraits in the India Office Library and Records, London, 1893, pp 264-265; Charles Allen & Sharada Dwivedi, Lives of the Indian Princes, London, 1984, pp 99-102.
Occasion: -
Costume: -
Orders, Decorations & Medals: (1) A.R. Litherland & B.T. Simpkin, Spink's Standard Catalogue of British and Associated Orders, Decorations & Medals, London, 1990, p 36. (2) ibid, p 37.
Reproduced: -

Acknowledgements: (Costume) Rosemary Crill, Indian Department, V&A.

1. The Lafayette studio moved from 179 to 160 New Bond Street during 1919.