ASHBURTON, LADY

Neg. No: GP (L) 1486C

Neg. Size: 12"x15"

Neg. Date: 23-07-1897


Sitter: Lady Ashburton (1866-1904), née Mabel Edith Hood.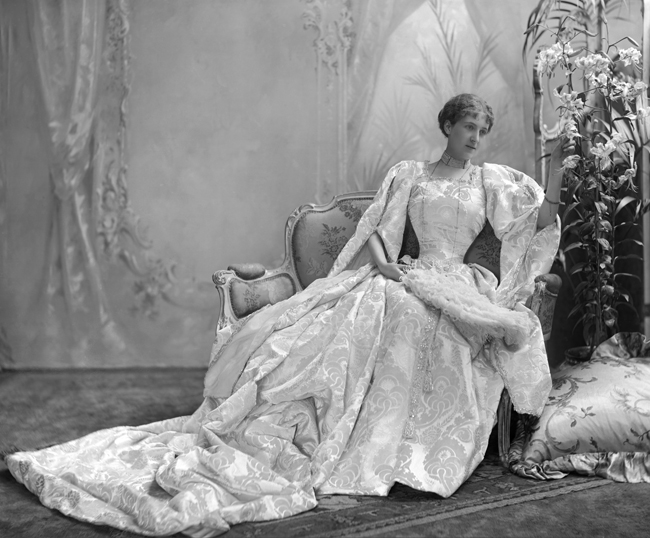 Biog: Eldest daughter of 4th Viscount Hood; m (1889) 5th Baron Ashburton.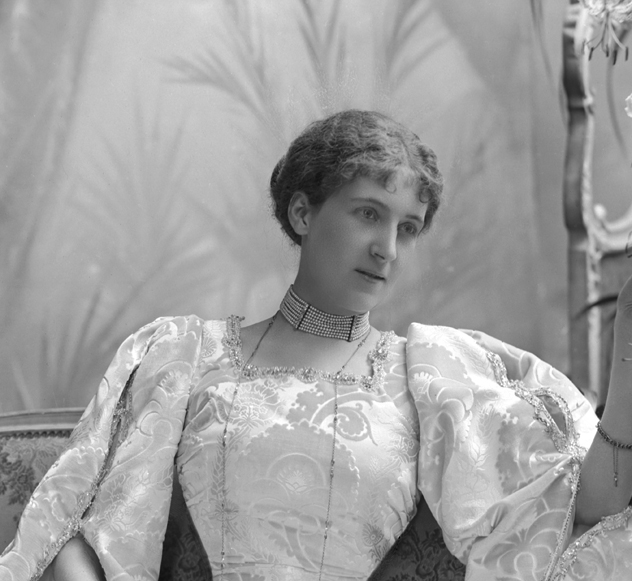 Role: [Tennyson's] Enid.(1)
Date: 23 July 1897.
Occasion: The Devonshire House Ball, 2 July 1897.
Location: The Lafayette Studio, 179 New Bond Street, London, W.
Descr: FL seated.
Costume: "...gown was of white satin, with a raised design in brocaded white velvet, edged with silver, and finished at the waist with a girdle of diamonds."(2) (Madame, 10 July 1897, p 69b)
Costume Supplier: Mrs. Mason, 4 New Burlington Street, London W.
Jewellery: -
Furnishings and props: Painted backdrop.

Photographer: The firm of J. Lafayette, 179 New Bond Street, London, W.

Evidence of photographer at work: -

No of poses: 3 (see also neg nos 1486A & 1486B).

Copyright: V&A

All images on this site are copyright V&A. For further information on using or requesting copies of any images
please contact the V&A Picture Library: vaimages@vam.ac.uk including the URL of the relevant page

Provenance: Pinewood Studios; acquired 1989.

References:
Biog: Burke's Peerage; The Complete Peerage.
Occasion: Sophia Murphy, The Duchess of Devonshire's Ball, London, 1984.
Role and Costume: (Role only) The Daily News, 3 July 1897, p 5g; (Costume) The Daily Telegraph, 3 July 1897, p 10b; Pall Mall Gazette, 3 July 1897, p 7c; Truth, 8 July 1897, p 107b; The Court Circular, 10 July 1897, p 625a; Lady's Pictorial, 10 July 1897, p 53c; Madame, 10 July 1897, p 69b; The Queen, 10 July 1897, pp. 75 [drawing] & 76c.
Costume supplier: The Queen, 10 July 1897, p 75.
Jewellery: -
Reproduced: (Version) Devonshire House Fancy Dress Ball, July 2 1897: A Collection of Portraits in Costume of Some of the Guests, privately printed, 1899, p 135 (National Portrait Gallery Archives).

1. Some published reports referred to "Tennyson's Enid". NB Alfred, Lord Tennyson, Idyll of Geraint and Enid, 1st published London, 1859, later published in Idylls of the King, London,
2. In this studio portrait, Lady Ashburton does not wear the veil and gloves.