AMPTHILL, LORD & LADY
Neg No: (GP) (L) 1345
Neg Size: 15"x12"
Neg Date: 03-07-1897


Sitter: Arthur Oliver Villiers Russell, 2nd Baron Ampthill (1869-1935).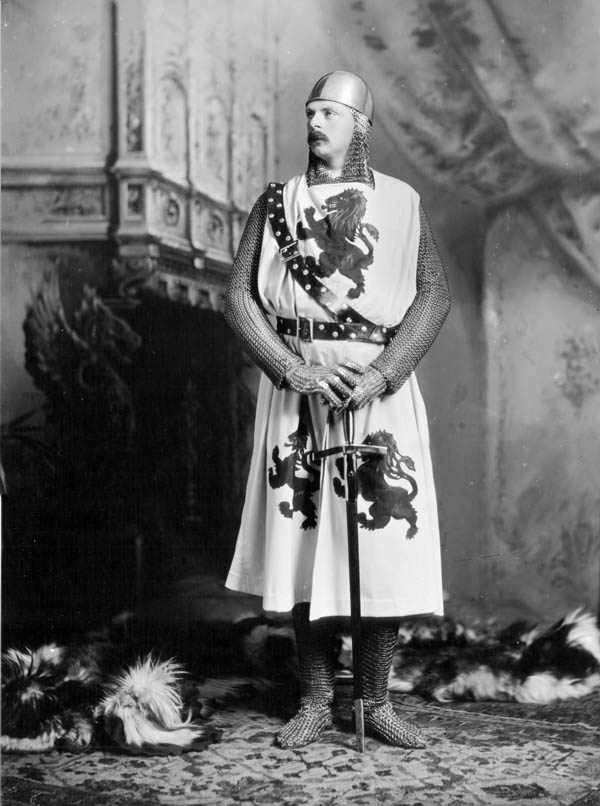 Biography: Governor of Madras 1900-1906; interim Viceroy and Governor-General of India 1904; Pro Grand Master of English Freemasonry; Hon. Colonel, 3rd (Militia) Battalion, The Bedfordshire Regiment.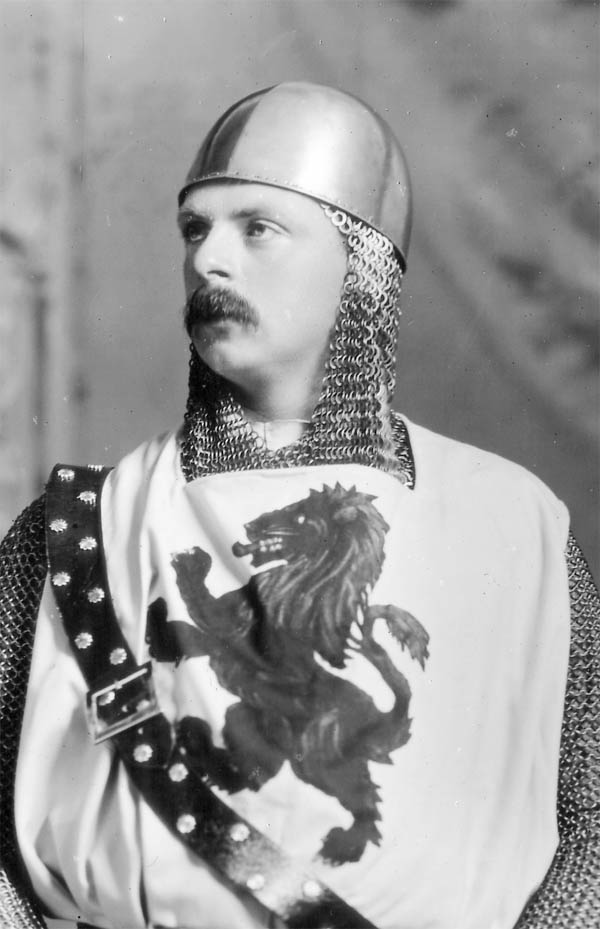 Role: Knight of King Arthur's Round Table.
Date: 2 July 1897.
Occasion: The Devonshire House Ball, 2 July 1897.
Location: Devonshire House, Piccadilly, London, W.
Descr: FL standing.
Costume: "...white surcoat, with three lions rampant embroidered in scarlet, chain armour on the arms and legs" (The Gentlewoman, 10 July 1897, p 58c)
Costume Supplier: J. Simmons & Sons, 35 Haymarket, London W.
Furniture & Props: Painted backdrop with 'baronial fireplace'.

Photographer: The firm of J. Lafayette, 179 New Bond Street, London, W.
No of poses: 2 [see also neg no 1342]
Copyright: V&A
All images on this site are copyright V&A. For further information on using or requesting copies of any images
please contact the V&A Picture Library: vaimages@vam.ac.uk including the URL of the relevant page

Provenance: Pinewood Studios acquired 1989.

References:
Biog: Dictionary of National Biography; Burke's Peerage; The Complete Peerage; Who's Who; The Times, 8 July 1935, p 16a.
Occasion: Sophia Murphy, The Duchess of Devonshire's Ball, London, 1984.
Role and Costume: The Daily News, 3 July 1897, p 5g; The Standard, 3 July 1897, p 4d; The Morning Post, 8 July 1897, p 8a; The Gentlewoman, 10 July 1897, p 50a & p 58c; The Queen, 10 July 1897, p 76c.
Costume Supplier: The Daily Graphic, 3 July 1897, p 13b.
Photog: The Daily Telegraph, 3 July 1897, p 9f; Black and White, 10 July 1897, p 38b.
Reproduced: Devonshire House Fancy Dress Ball, July 2 1897: A Collection of Portraits in Costume of Some of the Guests, privately printed, 1899, (National Portrait Gallery Archives), p 220; (Version with Lady Ampthill) The Graphic, 10 July, 1897, p 78a.

Acknowledgements -