Photographic News, April 10 1891 p 286
"A compliment is paid to photography in the statue of the Princess of Wales, by Prince Victor Hohenlohe, recently on view at St. James Palace. The statue is almost a literal reproduction of the admirable portrait of the Princess taken by Mr. Lafayette, of Dublin, and representing her in the doctor's cap and university gown. The photograph, it is well known, has influenced fashion - not the only photograph, by the way, which has had this effect..."
The statue as it now (2013) stands in the lobby of the Royal College of Music
Biog: Consort of King Edward VII.
Date: April 1885.
Occasion: Royal visit to Ireland, 8-27 April 1885; conferral of Hon. Doctorate of Music by the Royal University of Ireland, 10 April 1885.
Location: Viceregal Lodge (?), Dublin.
Pose: TQL standing, looking to her right, with scroll.
Costume: Academic robes, made in Dublin.
Jewellery: Diamond brooch in shape of lyre.

Photographer: G. Lafayette (professional alias for George Marsh Lauder) working for the firm of J. Lafayette, 30 Westmoreland St., Dublin.
No of poses: 1 [but see also neg no (D)(00439)]
Published versions as postcards:
Image published in: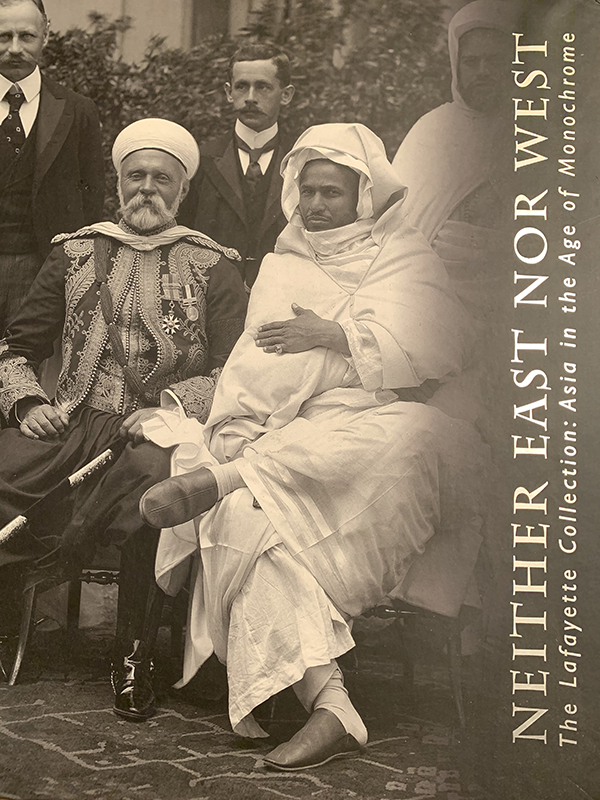 Copyright: V&A Provenance: Pinewood Studios; acquired 1989.

References:
Biog: Dictionary of National Biography; Hugh Montgomery-Massingberd ed., Burke's Royal Families of the World, Vol 1, London, 1977, pp 70 & 308-309.
Occasion: The Times, 11 April 1885, p 12; The Irish Times, 11 April 1885, p 6; Sir George Arthur, Queen Alexandra, London, 1934, p 152; Georgina Battiscombe, Queen Alexandra, London, 1969, p 167.
Costume: The Irish Times, 10 April 1885, p 4h; The Lady, 16 April 1885, p 255b.
Photog: Copyright Records, Public Record Office, Kew, COPY 1/372, 28 April 1885, (2 poses registered); The Times, 25 May 1885, p 11f.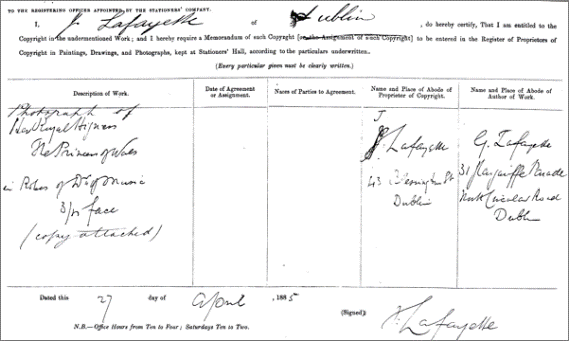 The copyright form, filed at Stationers' Hall, for the best-selling portrait of the Princess of Wales. The pose is described thus: "Photograph of Her Royal Highness The Princess of Wales in Robes of Dr of Music ¾ face (copy attached)"
Reproduced: The Queen, 11 July 1896, front cover; The Gentlewoman, 28 June 1902, p 899; The Graphic, 2 September 1916, p 276; The Gentlewoman, 28 November 1925, p X.

Additional Information: Photograph from negative (or version) used by Count Gleichen (1833-1891) for statue of Queen Alexandra as Dr. of Music (1891), Royal College of Music, London. Refs: The Photographic News, 10 April 1891, p 286; Elaine Kilmurray comp., Dictionary of British Portraiture, Vol III, London, 1981, p 4.