ABERCORN, DUKE OF
Neg. No: 3392
Neg. Size: 15"x12"
Neg. Date: 11-09-1902


Sitter: James Hamilton, 2nd Duke of Abercorn (1838-1913).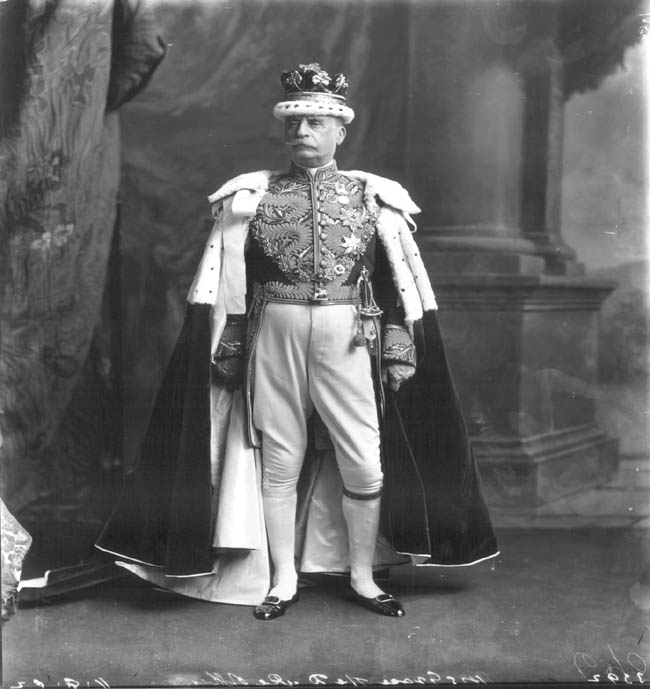 Biog: Irish Landowner; 1st President Ulster Unionist Association; President of the British South Africa Company; Lord of the Bedchamber & Groom of the Stole to King Edward VII as Prince of Wales; served as High Constable of Ireland at the Coronations of King Edward VII and King George V.
Date: 11 September ? 1902
Occasion: The Coronation of King Edward VII, 9 August 1902.
Location: The Lafayette Studio, 179 New Bond Street, London.
Descr: FL standing.
Costume: Peer's Robes over Full Dress, Civil Uniform.
Orders, Decorations & Medals: Insignia of the Order of the Garter [K.G., cr. 10 August 1892]; Star of a Knight Grand Cross of the Order of Dannebrog (Denmark) [G.C.E.D. cr. 10 March 1888]; Badge of a Companion of the Order of the Bath, (Civil Division), [C.B. cr. 15 June 1885]; Queen Victoria Jubilee Medal 1887 with 1897 bar.
Furniture & Props: Painted backdrop.

Photographer: Lafayette Ltd., 179 New Bond Street, London.

Evidence of studio at work: Baton drawn in or extensively retouched.

No of poses: 2.

Copyright: V&A

All images on this site are copyright V&A. For further information on using or requesting copies of any images
please contact the V&A Picture Library: vaimages@vam.ac.uk including the URL of the relevant page

Provenance: Pinewood Studios; acquired 1989.

References: Biog: Dictionary of National Biography; Burke's Peerage; The Complete Peerage, Alan Sutton, 1987; Who's Who; The Times, 4 January 1913, p 9; (See also Brian A. Masters, The Dukes, London, 1980).
Occasion: The Times, 9 August 1902, p 8a & 11 August 1902, p 6e; J.E.C. Bodley, The Coronation of Edward the Seventh: A Chapter of European and Imperial History, London, 1903, pp 295, 347 & 356.
Costume: H. Graham Bennet, "Dress worn by Gentlemen at His Majesty's Court and on occasions of ceremony", London, 1903.
Orders, Decorations & Medals: (K.G. & C.B.) Burke's Peerage. (Order of Dannebrog) Marquis de Ruvigny ed., The Nobilities of Europe, London, 1909; (Jubilee medal) Howard N. Cole, Coronation and Royal Commemorative Medals 1887-1977, London, 1977.
Reproduced: The Throne and Country, 14 June 1911, p. 41.

Acknowledgements: (Orders etc) David Bownes.