SCOTT MONTAGU, HON J

Neg. No: 2545

Neg. Size: 10"x12"

Neg. Date: -


Sitters: Ivor Bertie Guest, 1st Baron Wimborne (1835-1914); Hon. Oscar Montague Guest (1888-1958) (?); mechanic or chauffeur.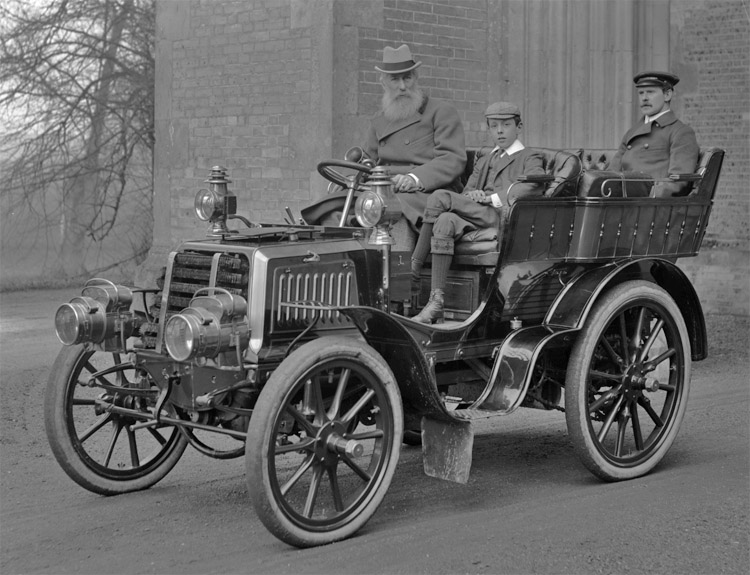 Image published in:
Samochody Wytwornego Towarzystwa – Miodowe Lata Automobili 1902-1905
Automobiles of English High Society – The Honeymoon Years 1902-1905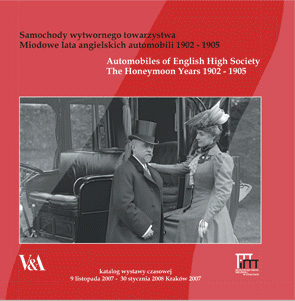 Ivor Bertie Guest, 1st Baron Wimborne (1835-1914) and his youngest son, the Hon. Oscar Montague Guest (1888 – 1958), photographed in the 1902 model of 12 hp Panhard motor car with a Muhlbacker body. In the back sits one of Lord Wimborne's chauffeurs.

Lord Ivor Wimborne, who married the aunt of Winston Churchill, was the son of the great Victorian industrialist, Sir Josiah John Guest. Upon his death, Lord Ivor inherited 84,000 acres of land and the Dowlais Ironworks. These ironworks in Glamorganshire, with which the Guest family had been associated since 1767, were by 1845 the biggest in the world with 18 blast furnaces producing 88,400 tons annually and employing 8,800 people – its success greatly due to many foreign orders for railways. In 1856 Dowlais, was one of the first concerns to be converted to steel production, allowing it to prosper well into 1930s. The importance of Dowlais Ironworks for the nation was acknowledged when in 1912 King George V and Queen Mary chose to visit them as part of their official tour of South Wales.

The family house was Canford Manor, an imposing Victorian stately home in Dorset, adorned by many specimens and curiosities brought from the ancient Assyrian city of Nimrud by Lord Wimborne's brother-in-law. Canford Manor provided an appropriate scenic setting for this portrait, which – together with the photographs of the Manor and the other automobiles from Lord Wimborne's stud – was reproduced in the first issue of the new society magazine The Car Illustrated on 28 May 1902.

The Car Illustrated's editor, the Hon. John Scott Montagu was Lord Wimborne's neighbour. When he arranged for the future King Edward VII to visit his own home and to enjoy a motor car excursion, Lord Wimborne lent his new Panhard for the Prince's entourage. The Prince was driven, and subsequently photographed by Lafayette, in Scott Montagu's 24 hp Daimler.

The French firm Panhard et Levassor started building their automobiles shortly after acquiring the licence for the Daimler engine in 1887. Soon the whole industry was revolutionised when the front engine beneath a bonnet, developed by Levassor, superseded the rear-engine design. The numerous successes of their cars in the early motoring competitions caught the public imagination and established their reputation. At the time of this photograph, Panhard et Levassor cars were categorised in two classes, namely the light and the heavy. To the light class belonged the 5, 7, 10 and 15 hp, while in the other were included the 4, 6, 8, 12, and 16. Of these10 hp (light class) and 6, 8 and 12 hp (heavy class) were considered as the ideal touring cars.

Panhard et Levassor were taken over by Citroën in 1967 and since then have concentrated on producing light armoured vehicles.
Biog: (Wimborne) Landowner & Ironmaster.
Descr: Exterior with 12 h.p. Panhard motor car, (coach built by Muhlbacher et Fils, Paris).
Date: c. 1902
Occasion: Photograph for The Car Illustrated magazine, edited by Hon. J. Scott Montagu, later 2nd Baron Montagu of Beaulieu.
Location: Canford Manor, Wimborne, Dorset, seat of Baron Wimborne.
Costume: -

Photographer: -
No of poses: 1. [See neg 2544]
Copyright: V&A
All images on this site are copyright V&A. For further information on using or requesting copies of any images
please contact the V&A Picture Library: vaimages@vam.ac.uk including the URL of the relevant page

Provenance: Pinewood Studios; acquired 1989.

References:
Biog: (Wimborne) Burke's Peerage; The Complete Peerage (especially Vol V, Appendix B);
Who's Who; The Times, 23 February 1914, p 11d.
Occasion: -
Location: The Car Illustrated, Vol 1, No 1, 28 May 1902, p 10 & Vol 1, No 3, 11 June 1902, p 81.
Costume: -
Reproduced: The Car Illustrated, Vol 1, No 1, 28 May 1902, p 10.

Acknowlegements: Lord Montagu of Beaulieu; Clive Devereux.