STONE, LIEUT. H
Neg. No: (GP) 8186
Neg. Size: 15"x12"
Neg. Date: 30-07-1916


Sitter: Sub-Lieutenant, later Lieutenant Horace G. Stone (1891–1918).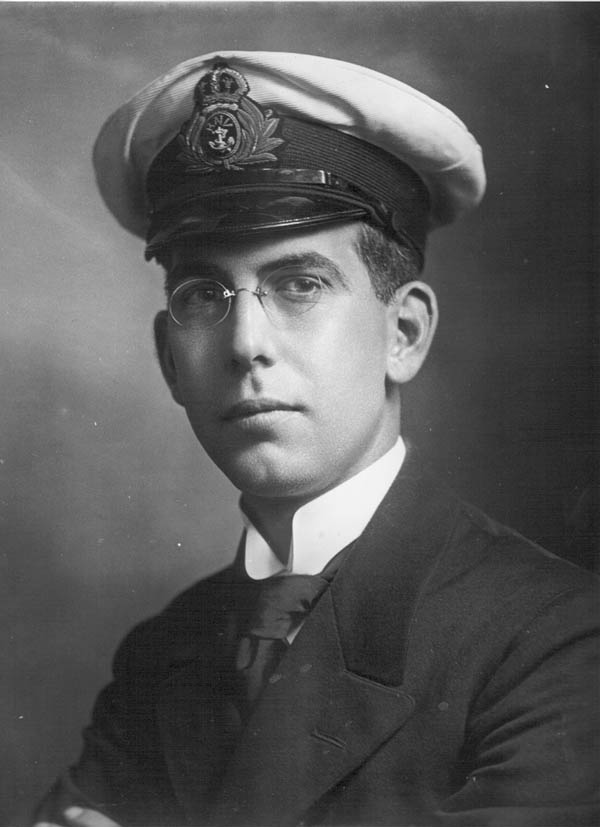 Biog: Entered Royal Naval Volunteer Reserve, 1916; Lieutenant, 1917.
"Horace was born in Toronto in 1891 to Henry and Beatrice Stone (nee Hetty) and had two sisters, Francis (Mathews) and Elsie (Gentles). In 1899 Horace move with his family to Vancouver when his father became the Managing Director of Gault Bros. Ltd., a Canadian cloth wholesale and distribution company based in Toronto.
He was a bright and active youth. At the age of 17 he built an 18 foot sailboat, the Adanac, and successfully raced his boat in many of the Royal Vancouver Yacht Club events. In 1912, when he was 21, he won the keenly contested Graveley Cup for yachts under twenty feet. Horace won this cup for three consecutive years and it has never been challenged since.
Horace Stone attended McGill University Vancouver campus in 1911 and 1912 before moving to Montreal to complete his degree in Applied in Science. He is listed as a member of the McGill 1915 graduating class.
...Additional historical records of life aboard M.L.'s can be found in the memoir; "The Motor Launch Patrol", by Gordon Maxwell, Lieut., RNVR. The author recounts his life in the Motor Launch Patrol during the First World War (commanding ML 314). He includes numerous humorous and horrifying anecdotes, provides insights into the details of life aboard these small vessels. The book provides a vivid portrait o f the life of an RNVR officer during the Great War. There are additional accounts of; The "Movies" - The Ship and Men of the Royal Navy Motor Launch Patrol 1914 - 1919. Note that the term "Movies" referred to the motor launches." [Carl Hunter: http://digital.westvanlibrary.ca/3566876/data
Date: 30 July 1916.
Occasion: -
Location: -
Descr: HL.
Costume: Uniform, Sub-Lieutenant, Royal Naval Volunteer Reserve.
Orders, Decorations & Medals: -
Furniture & Props: -

Photographer: Lafayette Ltd., 160 New Bond Street, London.

Evidence of photographer at work: -

No of poses: 1.

Copyright: V&A

All images on this site are copyright V&A. For further information on using or requesting copies of any images
please contact the V&A Picture Library: vaimages@vam.ac.uk including the URL of the relevant page

Provenance: Pinewood Studios; acquired 1989.

References:
Biog: The Navy List, 1916-19. http://digital.westvanlibrary.ca/3566876/data
Occasion: -
Costume: -
Orders, Decorations & Medals: -
Reproduced: -

Additional Information: -

Acknowledgements: -