STANLEY, HON GRACE, MRS EDWARD BARFORD
Neg. No: 11530
Neg. Size: 15"x12"
Neg. Date: 30-10-1928


Subject: The marriage of Hon. Grace Lowrey Stanley to Mr Edward James Barford M.C.; bridal group at Claridge's Hotel.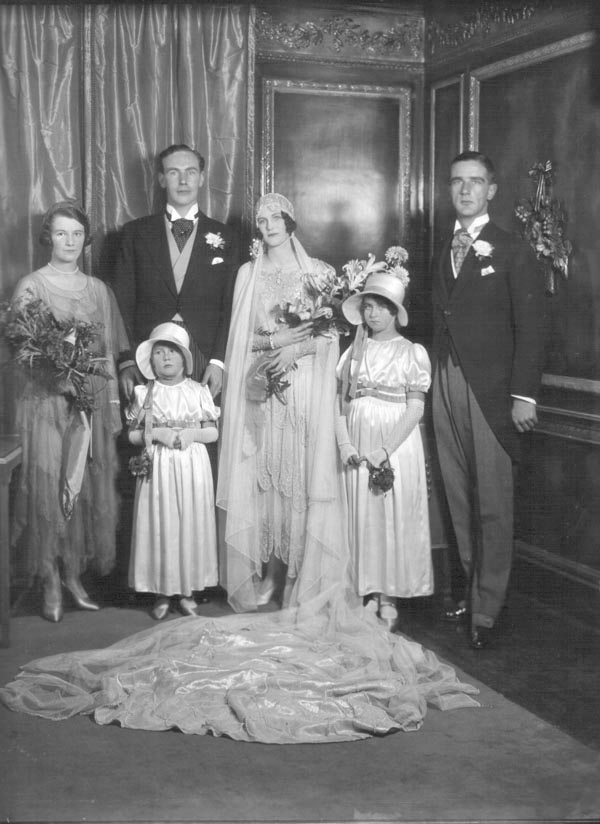 Sitters: (left to right)
| | |
| --- | --- |
| | (Bridesmaid) Miss Helen Millicent Robertson, later Lady Vincent (1905- ); 2nd daughter of Field Marshal Sir William Robert Robertson, 1st Bt.; m. (1938) Sir Lacey Eric Vincent, 2nd Bt. |
| | (Child bridesmaid, niece of bridegroom) Miss Mary Barford; daughter of W. G. Barford (?) |
| | (Bridegroom) Mr Edward James Barford M.C. (1898-1979); construction equipment manufacturer. |
| | (Bride) Mrs Edward James Barford, née Grace Lowrey Stanley, later Mrs Herbert John Buckmaster (1907- ); 2nd dau. of 1st Baron Ashfield; m. 1stly (1928) Edward James Barford, (div. 1940); m. 2ndly (1940) Capt. Herbert John Buckmaster. |
| | (Child bridesmaid) Miss Patricia Unity Rank, later Mrs John Scrivener; daughter of Rowland Rank of Aldwick Place, West Sussex; m. 1stly (1941) Lieut. Charles Compton R.N. (div 1943); m. 2ndly (1947) Major John Percy Scrivener. |
| | (Best man) Mr John Boyce; Head Master of Wellesley House Preparatory School, Broardstairs, Kent (CK). |
Date: 30 October 1928
Location: Claridge's Hotel, Brook Street, London W.
Descr: FL standing.
Costume: -
Costume Supplier: -
Furniture & Props: -

Photographer: -

Evidence of photographer at work: -

No of poses: 1 CK

Copyright: V&A

All images on this site are copyright V&A. For further information on using or requesting copies of any images
please contact the V&A Picture Library: vaimages@vam.ac.uk including the URL of the relevant page

Provenance: Pinewood Studios; acquired 1989.

References:

Biog: (Lady Vincent, née Robertson) Burke's Peerage. (Edward J. Barford) Dictionary of Business Biography, Vol I, p 152, Who's Who, The Daily Telegraph, 8 July 1979, p 16f, (see also Edward James Barford, Reminiscences of a Lance Corporal of Industry, PLACE, 1972. (Mrs H.J. Buckmaster, née Stanley, formerly Mrs Barford) Burke's Peerage. (Mrs J.P. Scrivener, née Rank, formerly Mrs C. Compton) Burke's Peerage (see Rank, Baron). (John Boyce) PRO FORMA ?

Occasion & Location: The Times, 31 October 1928, p 17c.

Costume: (Bride & Bridesmaids) The Times 31 October 1928, p 17c.

Costume Supplier: -

Reproduced: (uncredited) The Queen, 7 November 1928, p 3.

Acknowledgements: (Research) Lady Julia Craig-Harvey. (Biog.) Mr. Tom Boyce; Mrs John Scrivener; Mr. Richard Steel.