LIEUT.- GEN. SIR THOMAS E. SCOTT
Neg. No: (GP) 8761
Neg. Size: 12"x10"
Neg. Date: 04-07-1925


Sitter: Lieutenant-General Sir Thomas Edwin Scott (1867-1937).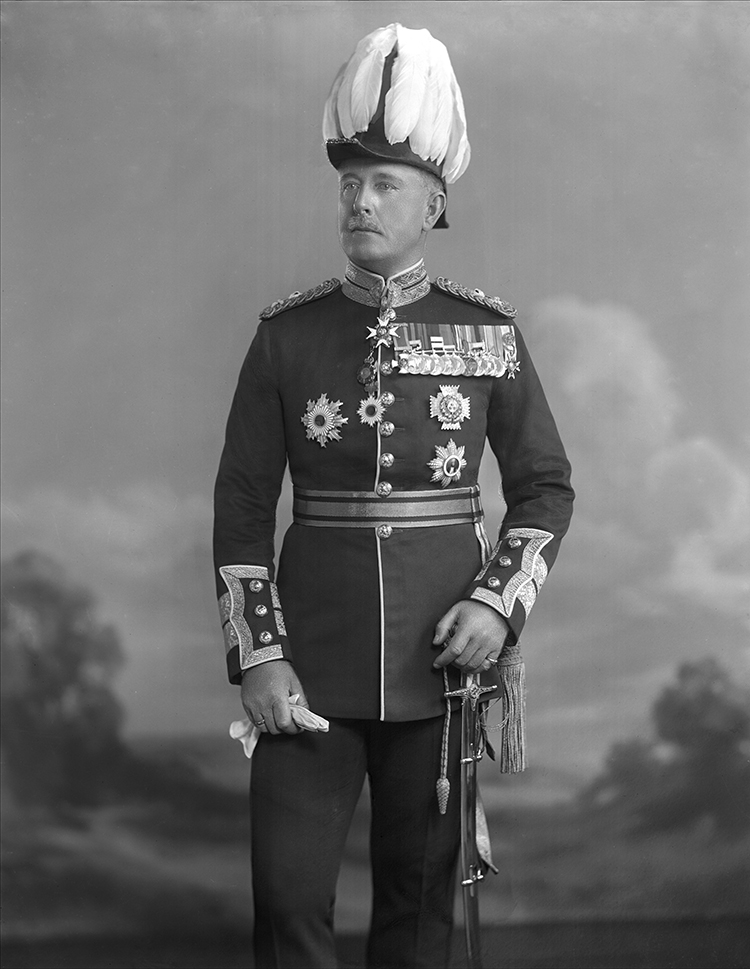 Biog: Brigadier-General, 1918; Lieutenant-General, 1924; Military Secretary to the Commander in Chief, India, 1914-17 and 1918-19; Brigade Commander India 1919-1920; Commander Aden Field Force 1920-1921; General Officer Commanding and Political Resident Aden 1920-1925.
Date: 4 July 1925.
Occasion: The Investiture, 4 July 1925: Knight Commander of The Most Honourable Order of The Bath.
Location: The Lafayette Studio, 160 New Bond Street, London, W.
Descr: TQL standing.
Costume: -
Orders, Decorations & Medals: Star and Badge of a Knight Commander of the Order of The Bath (military division) [K.C.B cr. 1925]; Badge of a Companion of the Order of the Indian Empire [C.I.E cr. 1900]; Star and badge of the Order of the Rising Sun [Japan]; Star of the Order of the Brilliant Star of Zanzibar (1st Grade, 2nd Class); The Distinguished Service Order [London Gazette 11 November 1897]; India General Service medal 1854-95, with clasp "Waziristan 1894-5"; East and West Africa medal 1887-1900; East and Central Africa medal 1897-99, with two clasps; China War medal 1900, with clasp "Relief of Pekin"; British War medal 1914-20; Allied Victory medal 1914-19; India General Service medal 1908-35, with clasp; Coronation medal, 1902; Delhi Darbar medal, 1903; Coronation medal, 1911; Badge of the Order of the Sacred Treasure (4th Class) [Japan].
Furniture & Props: Painted backdrop.

Photographer: Lafayette Ltd., 160 New Bond Street, London.

Evidence of photographer at work:-

No of poses: 1.

Copyright: V&A

All images on this site are copyright V&A. For further information on using or requesting copies of any images
please contact the V&A Picture Library: vaimages@vam.ac.uk including the URL of the relevant page

Provenance: Pinewood Studios; acquired 1989.

References:

Biog: Who's Who; The Army List, 1925; The Times, 8 April 1937, p 18c.

Occasion: The Times, 6 July 1925, p 17b.

Costume: -

Orders, Decorations & Medals: (Orders of the Bath and Indian Empire) Burke's Peerage; (Orders of the Rising Sun, Brilliant Star, and Sacred Treasure) R. Werlich, Orders and Decorations of All Nations, Washington, 1990; (D.S.O) Sir O'Moore Creagh, and E.M. Humphris, The Distinguished Service Order 1886-1923, (facsimile edition), London, 1978; (Coronation medals) Howard N. Cole, Coronation and Royal Commemorative Medals 1887-1977, London, 1977; (Campaign medals) E.C. Joslin, A.R. Litherland & B.T. Simpkin, British Battles & Medals, London, 1988.

Reproduced: -

Acknowledgements: -