SANDWICH, EARL OF
Neg. No: GP (L) 1381
Neg. Size: 15"x12"

Neg. Date: 03-07-1897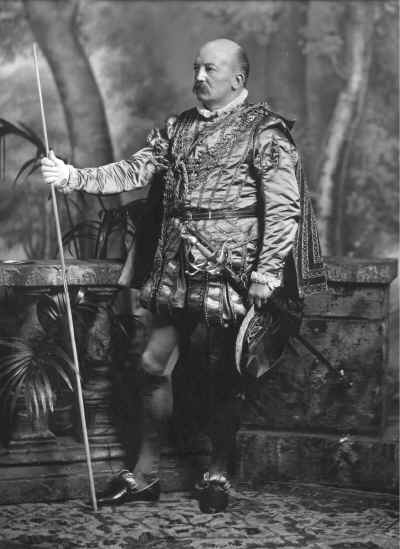 Sitter: Edward George Henry Montagu, 8th Earl of Sandwich (1839-1916).
Biog: Colonel, Grenadier Guards; Military Secretary at Gibralter; attached to several special embassies; M.P., Huntingdon; philanthropist; exponent of spiritual healing.
Role: Lord Burleigh, Court of Queen Elizabeth.1
Date: 3 July 1897.
Occasion: The Devonshire House Ball, 2 July 1897.
Location: Devonshire House, Piccadilly, London, W.
Descr: FL standing, with white wand of office.
Costume: "...blue grey satin embroidered in silver, order of the garter." (The Court Journal, 10 July 1897, p 1248c).
Furniture & Props: Painted backdrop with landscape after Reynolds;2 studio balustrade; studio Persian rug.

Photographer: J. Lafayette, 179 New Bond Street, London, W.

Evidence of photographer at work: -

No of poses: 1.

Copyright: V&A

All images on this site are copyright V&A. For further information on using or requesting copies of any images
please contact the V&A Picture Library: vaimages@vam.ac.uk including the URL of the relevant page

Provenance: Pinewood Studios; acquired 1989.

References:
Biog: Burke's Peerage; Who's Who; The Times, 27 June 1916, p 11b; Reign of George V: Representative Subjects of the King, Dod's Peerage, London, 1913, Vol ii, p 19
Occasion: Sophia Murphy, The Duchess of Devonshire's Ball, London, 1984.
Role and Costume: The Daily News, 3 July 1897, p 5g; The Daily Telegraph, 3 July 1897, p 10b; The Morning Post, 3 July 1897, p 8a; The Court Journal, 10 July 1897, p 1248c; Lady's Pictorial, 10 July 1897, p 70b; The Queen, 10 July 1897, p 76b.
Costume Supplier: -
Orders, Decorations & Medals: -
Reproduced: Devonshire House Fancy Dress Ball, July 2 1897: A Collection of Portraits in Costume of Some of the Guests, privately printed, 1899, p 218, (National Portrait Gallery Archives).

Acknowledgements: -

1 William Cecil, 1st Baron Burghley (variant sp. Burleigh) (1520-1598); Chief Secretary of State and Lord High Treasurer of England.
2 Painted backdrop, after landscape in Joshua Reynolds, Elizabeth Catharine Rivett, Mrs Carnac, c. 1775, Wallace Collection. (John Ingamells, The Wallace Collection Catalogue of Pictures, Vol I, London, 1985.)