ROBINSON, SIR C.
Neg. No: (GP) 4858A
Neg. Size: 15"x12"
Neg. Date: 24-07-1905


Sitter: Sir Clifton Robinson (1849-1910)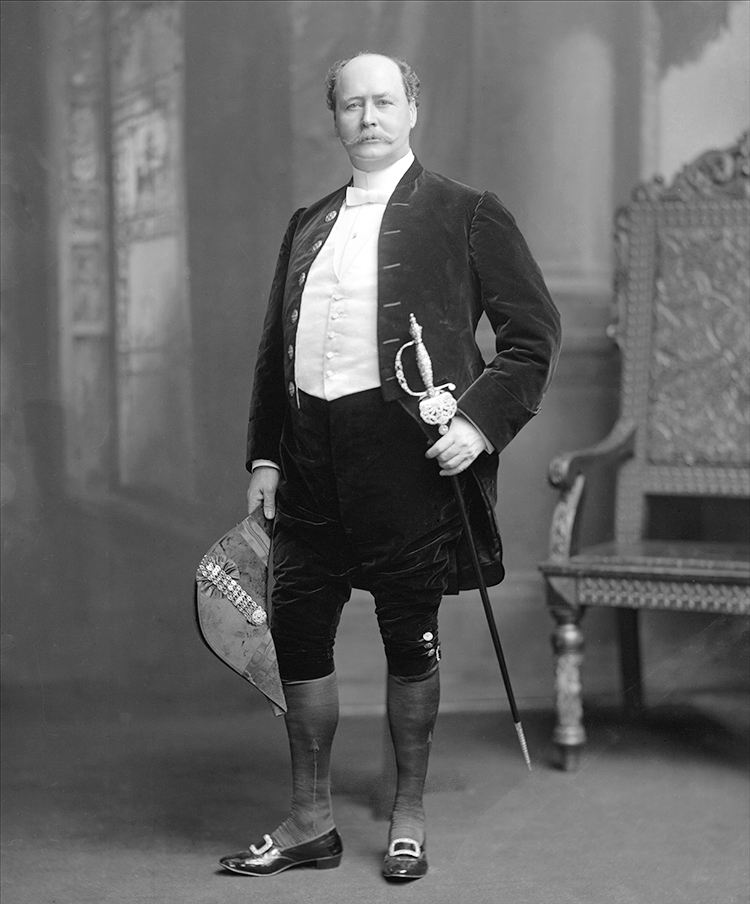 Sir Clifton Robinson (1849-1910) was known as the "Tramway King", having been involved in the operating of street tramways in New York, London, Liverpool and Los Angeles. For his services in the developing of the underground systems in London he was knighted in 1905 and is seen here photographed on 24 July, just after he had received his knighthood.

The regulations are surprisingly detailed for a new, more restrained, style of male court dress:

Coat — Black Silk Velvet, stand collar, single-breasted. The fronts are cut small and cannot be buttoned: to be worn open. Plain gauntlet cuffs. Pocket flaps, with three points on the waist seam. Six buttons are placed on the Right forepart, and a similar number of notched holes on the Left. Two buttons at the waist behind, and two at the bottom of the back skirts. Pockets in the breast and in the tails. Body of the coat should be lined with White Silk and the skirts with Black.

Buttons — Cut Steel

Waistcoat — White Satin or Black Silk Velvet. No collar. Four buttons of small size, to match the coat.

Breeches — Black Silk Velvet, with three small steel buttons, and steel buckles at the knees.

Hose — Black Silk.

Shoes — Black Patent Leather, with steel buckles.

Hat — Black Beaver or Silk Cocked Hat, with a steel loop on a black silk cockade or rosette.

Sword — Steel hilt, black scabbard with steel mountings.

Sword Belt — Black Silk Web Waistbelt worn under the waistcoat, with Black Velvet frog.

White Bow Necktie and White Gloves.

Biog: Kt. (cr 1905); Managing director and Engineer, Imperial Tramways; Director Metropolitan District, Underground Electric Railways of London and Corris Railways.
Date: 24 July 1905.
Occasion: Investiture, 24 July 1905: the honour of Knighthood conferred upon him.
Location: The Lafayette Studio, 179 New Bond Street, London, W.
Descr: FL standing.
Costume: Velvet Court Dress (New Style).
Costume Supplier: -
Orders, Decorations & Medals: -
Furniture & Props: Painted backdrop.

Photographer: Lafayette Ltd., 179 New Bond Street, London.
Evidence of photographer at work: clamp visible behind the sitter.
No of poses: 1.
Copyright: V&A
All images on this site are copyright V&A. For further information on using or requesting copies of any images please contact the V&A Picture Library: vaimages@vam.ac.uk including the URL of the relevant page
Provenance: Pinewood Studios; acquired 1989.

References:
Biog: Who's Who.
Occasion: The Times, 25 July 1905, p 10b.
Costume: H. Graham Bennet, ed, Dress Worn by Gentlemen at His Majesty's Court and on Occasions of Ceremony, London, 1903.
Costume Supplier: -
Orders, Decorations & Medals: -
Reproduced: -

Additional Information: -

Acknowledgements: -