PERAK, SULTAN OF
Neg. No: (GP) 7063
Neg. Size: 15"x12"
Neg. Date: 30-06-1911


Sitter: Colonel HH Maulana Paduka Sri Tuanku Sultan Sir Idris Murshid al-Azzam Shah Rahmatu'llah ibni al-Marhum Raja Bendahara Alang Iskandar, Sultan and Yang di-Pertuan of the State of Perak, GCMG, KCMG, CMG, GCVO (1849-1916) [Malaysia].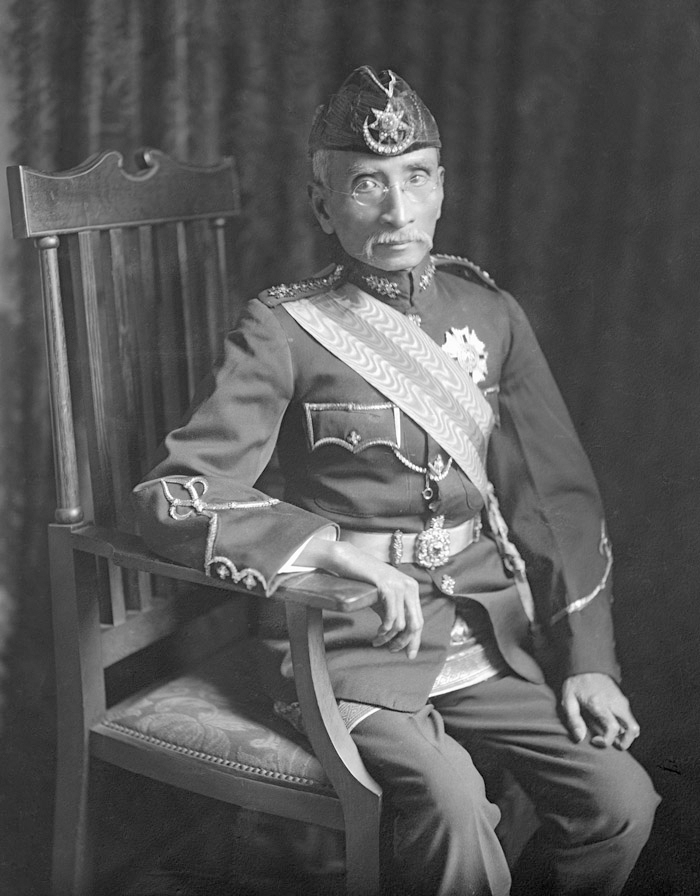 Biog: Reigned 1887-1916.
J M Gullick, Malay Society in the Late Nineteenth Century, Oxford 1989, p 69 n 92

Sultan Idris was the only one of the four FMS rulers who was able to take part in the debates at the first meeting of the new FMS Federal Council in 1909... As a young man he was one of the rather raffish circle around his cousin, Sultan Abdullah... He was an opium smoker whom Birch judged 'rather a debauchee' (J W W Birch, The Journals of J.W.W. Birch, First British Resident to Perak 1874-1875, edited by P.L. Burns, Kuala Lumpur, 1976). The turning point perhaps came with the arrival in Perak of Hugh Low in 1877. Within weeks Low concluded that this was a prominent figure whom he would recommend - 'a good berth to be provided for him' (H. Low, 'The Journal of Sir Hugh Low, Perak 1877', edited by E. Sadka, Journal of the Malayan/Malaysian Branch of the Royal Asiatic Society, 27(4), 1954). Thereafter, there was an unbroken flow of high praise from senior figures of the colonial regime - 'stands for all that is best in the Malay ruling class... intelligence... experience... great charm of manner... a fluent speaker... a very earnest Muhammadan, without a trace of bigotry... a high authority on questions of Muhammadan law and religion' (F A Swettenham, British Malaya: An Account of the Origin and Progress of British Influence in Malaya, London, 1907, p 343). Significantly Swettenham continues that 'In all the Malay states there is no one who... has done so much to promote the success of the new system of administration' (ibid). Clifford's verdict is in similar terms - 'among the most enlightened rulers of the Native States of the East, and a convinced apostle of British rule' (H Clifford, Bushwhacking and Other Asiatic Tales and Memories, New York, 1929, p 192).
Date: 30 June 1911.
Occasion: Royal guest for the Coronation of King George V, 23 June 1911.
Location: -
Descr: TQL seated.
Costume: -
Costume Designer: -
Costume Supplier: -
Orders, Decorations & Medals: Star & sash of an Honorary Knight Grand Cross of the Order of St. Michael & St. George (GCMG cr 1901).
Furniture & Props: -

Photographer: Lafayette Ltd., 179 New Bond Street, London.
Evidence of photographer at work: -
No of poses: 1.
Copyright: V&A Provenance: Pinewood Studios; acquired 1989.

References:
Biog: Who's Who; The Times, c. March 1916, p [ck]; J.M. Gullick, Malay Society in the Late Nineteenth Century, Oxford, 1989, p 38.
Occasion: The Times, 20 June 1911, p 8c; Hugh Montgomery, The Coronation of Their Majesties King George V and Queen Mary in Westminster Abbey, on 22 June 1911, London, 1912 (?), p 78.
Costume: -
Costume Designer: -
Costume Supplier: -
Orders, Decorations & Medals: A.R. Litherland & B.T. Simpkin, Spinks Standard Catalogue of British and Associated Orders, Decorations & Medals, London, 1990, pp 35-36.
Reproduced: -

Acknowledgements
: Christopher Buyers, Royalark:
http://www.4dw.net/royalark/Malaysia/perak11.htm