ORTON, CAPT. J
Neg. No: (GP) 7897
Neg. Size: 12"x10"
Neg. Date: 05-06-1923


Sitter: Captain John Overton Cone Orton (1889-1962).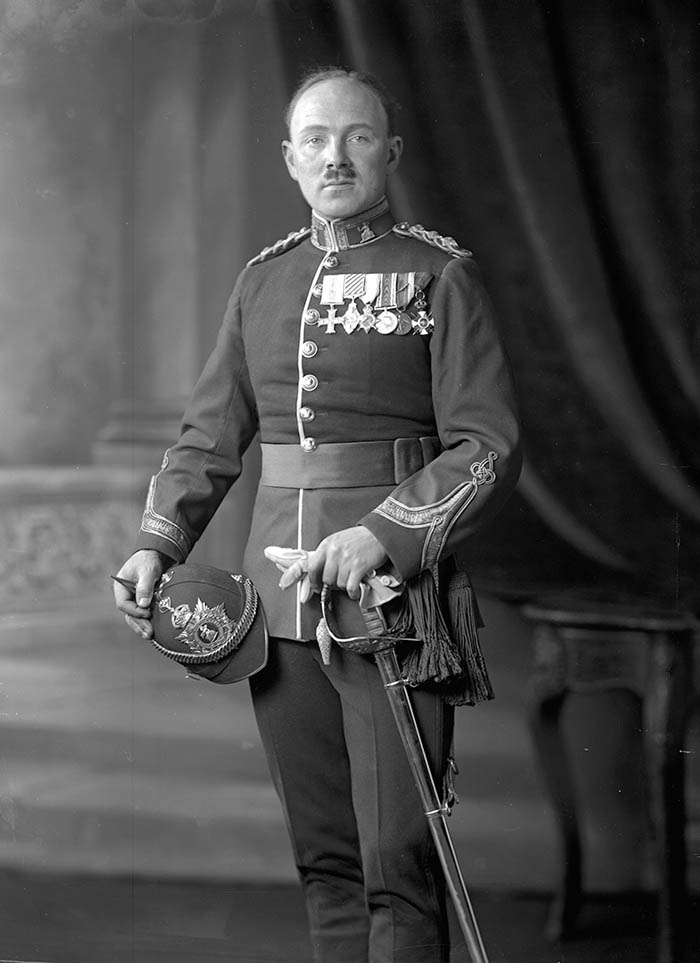 Biog: Entered Norfolk Regiment 1909; Lieutenant, 1913; Captain, 1915; served with The Royal Flying Corps 1915-1918; Adjutant, Territorial Army, 1920.
http://1914-1918.invisionzone.com/forums/index.php?/topic/
222817-2lt-horace-gregory-cleaver-199-n-training-squadron/
"Born on 30 August 1889, he lived in the US between 1896 and 1901 (resident in Larchmont, New York), he was commissioned into the Norfolk Regiment on 6 November 1909 (Gazette Issue 28304), and served with them in Italy.

Initially appointed a Flying Officer (Observer) in January 1916, he was seconded to No.30 Squadron, RFC, in Mesopotamia, where the Norfolk Regiment were then serving. While with them he received the Order of Karageorge, 4th Class (with Swords) from the King of Serbia.

Issued a Flying Certificate (RAeSoc) 30 April 1917, he was part of Home Defence with 39 and 76 Sqns before being made up to Squadron Commander (temp. Major) on 9 February 1918, when he assumed command of 199 NTS at Retford.

He was awarded the Military Cross on December 1918 (Gazette Issue 31043), for actions in Mesopotamis:

"For conspicuous gallantry and devotion to duty during three months' operations. He showed splendid qualities as an observer and rendered most valuable service. His intimate knowledge of the country enabled his reports to be most accurate throughout. He was three times in action against enemy aircraft, and on the last occasion returned with twenty bullet holes in his machine, after one and a half drums of ammunition from a Lewis gun had been emptied at the adversary."

followed by the Air Force Cross in June 1919 (Gazette Issue 31378).

He relinquished his RAF commission in December 1919 and returned to Army Duties with the Norfolk Regiment as Adjutant, retiring in January 1925.

Then it gets interesting with his career as a film screen writer. At last count I had him associated with 55 individual films, from early Gainsborough pictures in 1925 , making Australia's The Flying Doctors film in 1926, to Wil Hay films of the thirties and forties.

Still writing for the screen into the 50s, he died during May 1962"
Date: 5 June 1923.
Occasion: The King's Levée, 4 June 1923: Captain in attendance.
Location: The Lafayette Studio, 160 New Bond Street, London, W.
Descr: TQL standing.
Costume: Full Dress uniform, Captain, The Norfolk Regiment.
Orders, Decorations & Medals: The Military Cross; The Air Force Cross; 1914-15 star; British War medal 1914-20; Allied Victory medal 1914-19, with oak leaf; badge of the Order of the Star of Karageorg, with crossed swords, (4th class) [Serbia].
Furniture & Props: Painted backdrop.

Photographer: Lafayette Ltd., 160 New Bond Street, London.
Evidence of photographer at work: Face and knees retouched.
No of poses: 1.
Copyright: V&A
All images on this site are copyright V&A. For further information on using or requesting copies of any images
please contact the V&A Picture Library: vaimages@vam.ac.uk including the URL of the relevant page
Provenance: Pinewood Studios; acquired 1989.

References:
Biog: The Army List, 1909-1924.
Occasion: The Times, 5 June 1923, p 9c.
Costume: Dress Regulations for the Army, London, 1900.
Orders, Decorations & Medals: (The Military Cross, The Air Force Cross) A.R. Litherland & B.T. Simpkin, Spinks Standard Catalogue of British and Associated Orders, Decorations & Medals, London, 1990; (campaign medals) E.C. Joslin, A.R. Litherland & B.T. Simpkin, British Battles & Medals, London, 1988; (Order of Karageorg) R. Werlich, Orders and Decorations of All Nations, Washington, 1990.
Reproduced: -

Acknowledgements: -