MOUNTBATTEN, LADY LOUIS
Neg. No: 8877
Neg. Size: 15"x12"
Neg. Date: NONE


Sitter: Edwina, Countess Mountbatten of Burma, née Edwina (Cynthia Annette) Ashley (1901-1960) when Lady Louis Mountbatten.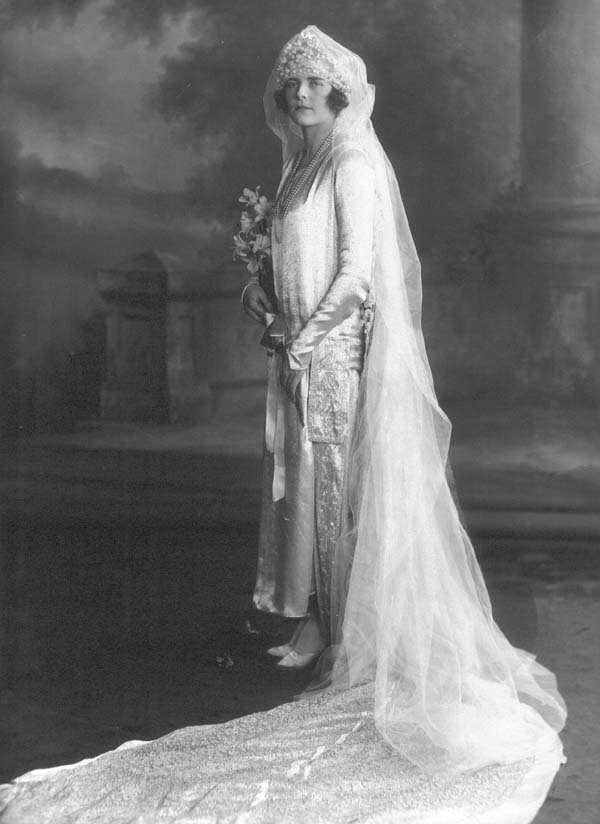 Biog: Elder daughter of 1st and last Baron Mount Temple; m. (1922) 1st Earl Mountbatten of Burma.
Date: Tuesday 18 July 1922.
Occasion: Wedding portrait.
Location: Brook House, Park Lane, London W.
Descr: FL standing.
Costume: Low-waisted wedding dress of silver tissue with round neck, mitten sleeves and trailing stole panels embroidered in crystal and diamanté with a key-pattern and leaves; train, four yards long, lined with silver tissue, with two panels of fifteenth century Pointe de Venise lace, under waist-length mantle of old Spanish rose-point lace; tulle veil with headress of orange blossoms; bouquet of lilies.
Costume Supplier: Reville ......
Furniture & Props: Painted backdrop.

Photographer: Lafayette Ltd., 160 New Bond Street, London.

Evidence of photographer at work: -

No of related negatives: 4.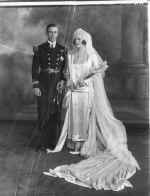 Copyright: V&A

All images on this site are copyright V&A. For further information on using or requesting copies of any images
please contact the V&A Picture Library: vaimages@vam.ac.uk including the URL of the relevant page

Provenance: Pinewood Studios; acquired 1989.

References:

Biog: Hugh Montgomery-Massingberd ed., Burke's Royal Families of the World, Vol 1, London, 1977, p 214; Burke's Peerage; Who's Who; The Times, 22 February 1960, p 14c; Richard Hough, Edwina: Countess Mountbatten of Burma, London, 1983

Occasion: The Times, 19 July 1922, pp 1e & 10c.

Costume: The Yorkshire Evening Post, 18 July 1922, p 8; The Times, 19 July 1922, pp 1e; The Gentlewoman, 22 July 1922, p. 348 (with line drawing).

Costume Supplier: The Gentlewoman, 22 July 1922, p. 348.

Costume Location: Veil extant at Broardlands, Romsey, Hampshire.

Reproduced: (version) The Sketch, 26 July 1922, p 131; (version with groom, best man & bridesmaids) Eve The Ladies Pictorial, 26 July 1922 p. 98;

The Gentlewoman, 29 July 1922, p. 378.

Acknowledgements: Molly Chalk, Archivist, Broardlands Archives, Romsey, Hampshire.