MARY, QUEEN
Neg No: GP (00438)
Neg. Size: 12"x10"
Neg. Date: None


Sitter: Queen Mary (1867-1953).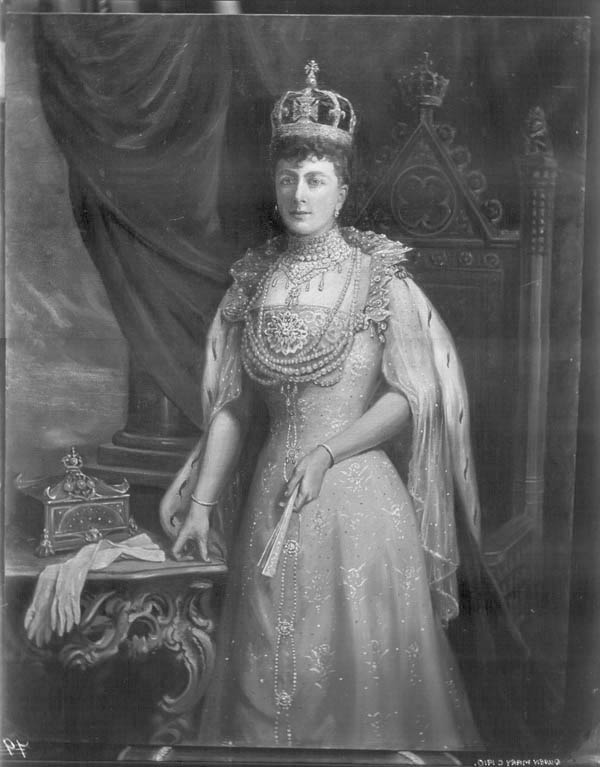 Biog: Consort of King George V.
Date: c. 25 October 1910.
Occasion: Forthcoming coronation.
Location: None.
Descr: TQL standing; contact print from negative image of a 'combined photograph and painting.'
Costume: Coronation robes.
Registered Author of Work: James Stack Lauder (1853-1923), Lafayette Ltd, 179 New Bond Street, London.
No of poses: 1 [see also neg. no. (00407)]
Copyright: V&A Provenance: Pinewood Studios; acquired 1989.

References:
Biog: Dictionary of National Biography; Hugh Montgomery-Massingberd ed., Burke's Royal Families of the World, Vol 1, London, 1977, p 309.
Photog: Copyright Records, Public Record Office, Kew, COPY 1/550, 25 Oct. 1910.
Reproduced: Programme and Souvenir of the Royal Visit July, 1911, Hely's Ltd., Dublin, 1911; Versions reproduced for postcards, published by The Photocrom Co. Ltd., London and Tunbridge Wells, c 1910-1911 (National Portrait Gallery Collection).
Additional Information: Dress and jewellery based on those worn by Queen Alexandra for the Coronation of 1902.