LUGARD
Neg. No: COPY (SF) LE 10586
Neg. Size: 15"x12"
Neg. Date: NONE


Sitter: Frederick Dealtry Lugard, 1st Baron Lugard (1853-1945).(1)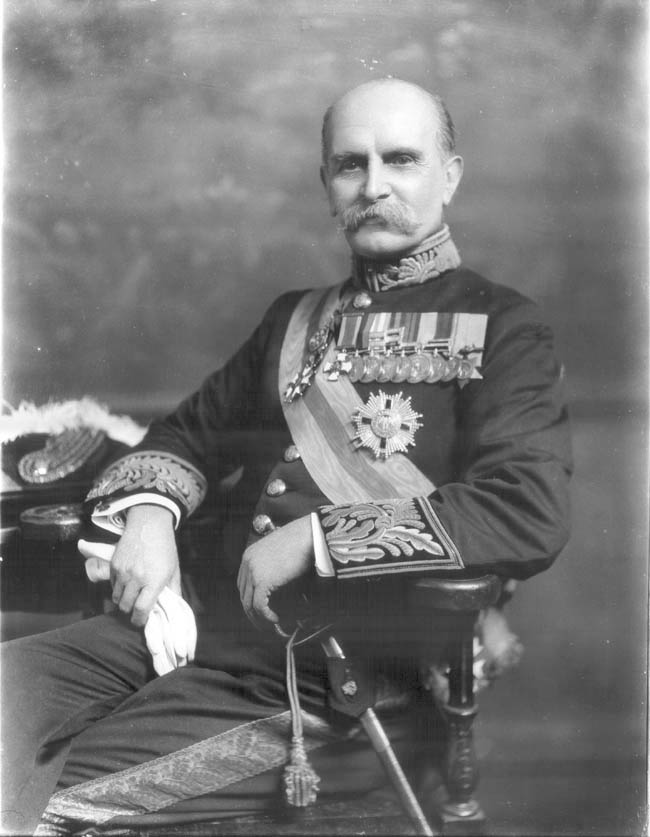 Biog: Soldier, Administrator, Colonial Governor and Writer.
Wikipedia: "between 1901 and 1928, was a British soldier, mercenary, explorer of Africa and colonial administrator. He was Governor of Hong Kong (1907–1912), the last Governor of the Southern Nigeria Protectorate (1912–1914), the first High Commissioner (1900–1906) and last Governor (1912–1914) of the Northern Nigeria Protectorate and the first Governor-General of Nigeria (1914–1919)."
Date: 1917-1929
Occasion: -
Location: The Lafayette Studio, 160 New Bond Street, London. W.
Descr: TQL seated.
Costume: Civil Uniform, Levée Dress (1st class).
Orders, Decorations & Medals: Star, sash and Badge of a Knight Grand Cross of the Order of St. Michael and St. George [G.C.M.G. cr. 19 June 1911]; Badge of a Companion of the Order of the Bath (civil division) [C.B. cr. 2 July 1895]; Badge of a Commander of the Legion of Honour (France) [1917]; Distinguished Service Order [London Gazette, 25 November 1887]; Afghanistan War medal 1878-1880; Egypt medal 1882-1889 with 2 clasps, 'Suakin 1885', 'Tofrek'; India General Service medal 1854-1895 with 2 clasps, 'Burma 1885-7', 'Burma 1887-89'; East and West Africa medal 1887-1900 with clasp; The Imperial British East Africa Company's medal 1888-1895; Africa General Service medal 1902-1956 with 2 clasps; Coronation medal, 1911; Khedive's Egyptian Star 1882-1891.
Furniture & Props: Painted backdrop.

Photographer: Lafayette Ltd., 160 New Bond Street, London.

Evidence of photographer at work: -

No of poses: 1. [Copy from original neg. no. 140872]

Copyright: V&A

All images on this site are copyright V&A. For further information on using or requesting copies of any images
please contact the V&A Picture Library: vaimages@vam.ac.uk including the URL of the relevant page

Provenance: Pinewood Studios; acquired 1989.

References:

Biog: Dictionary of National Biography, Who's Who; The Times, 12 April 1945, p 7d.

https://en.wikipedia.org/wiki/
Frederick_Lugard,_1st_Baron_Lugard

Occasion: -

Costume: Herbert A.P. Trendell, ed, Dress and Insignia Worn at His Majesty's Court, London, 1921.

Orders, Decorations & Medals: (Order of St. Michael and St. George & Order of the Bath) Burke's Peerage; (Legion of Honour), R. Werlich, Orders and Decoration of All Nations, Washington, 1990; (D.S.O.) Sir O'Moore Creagh, and E.M. Humphris, The Distinguished Service Order 1886-1923, (facsimile edition), London, 1978; (Coronation Medal 1911) Howard N. Cole, Coronation and Royal Commemorative Medals 1887-1977, London, 1977; (Others) E.C. Joslin, A. R. Litherland and B.T. Simpkin, British Battles and Medals, London, 1988.

Reproduced: The Times, 12 April 1945, p 7d.

Acknowledgements: -

1. See portrait by W. J. Carrow (1936), probably based on photograph from this negative [of 1929], National Portrait Gallery. (See K.K. Yung, National Portrait Gallery: Complete Illustrated Catalogue 1856-1979, London, 1981, register number 3306.)