LONDONDERRY, LADY
Neg. No: (GP) 3493
Neg. Size: 15"x12"
Neg. Date: NONE


Sitter: Theresa (Susey Helen), Marchioness of Londonderry (1856-1919), née Chetwynd-Talbot.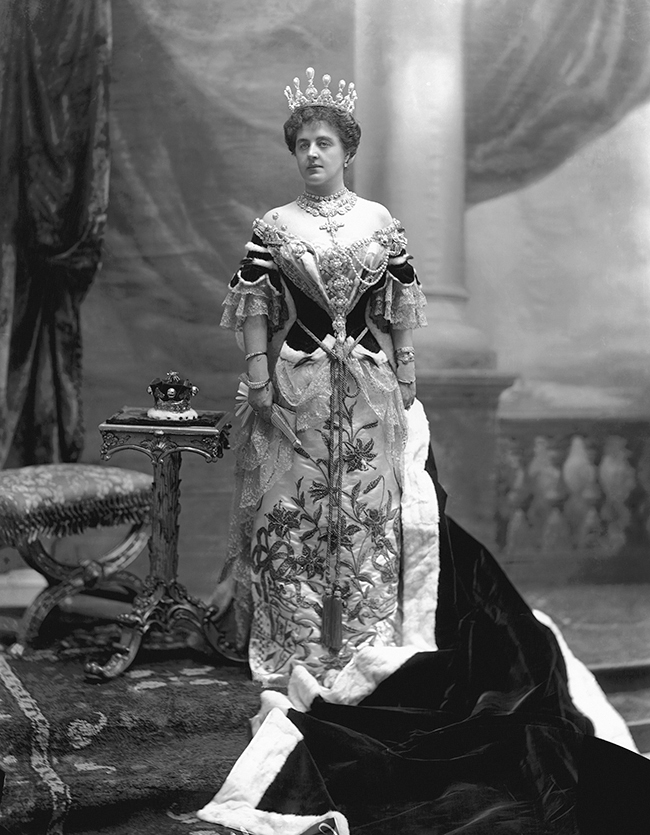 Biog: Eldest daughter of 19th Earl of Shrewsbury; m. (1875) Charles Stewart Vane-Tempest-Stewart, 6th Marquess of Londonderry.
Date: 1902.
Occasion: The Coronation of King Edward VII, 9 August 1902.
Location: The Lafayette Studio, 179, New Bond Street, London, W.
Descr: FL standing.
Costume: Coronation robes. ["...worn one of the most wonderful robes in the Abbey, the gown being an exact reproduction of one worn by one of her ancestors at the Coronation of George II. The petticoat of white satin was superbly embroidered with gold, the design being a large cluster of lilies tied with Louis XVI. bows in heavy embroidery, supported at the hem by two shields, with the Londonderry coat of arms exquisitely executed in fine gold, and each supported by a coronet. Over the real velvet kirtle, bordered with ermine drawn back on either side of the front with knots of gold cords, fell a soft fall of old point d'Alencon blending the whole satin. The corsage was pointed, outlined to the shoulder with a narrow edge of ermine and diamonds, also forming a berthe with clasp of pearls, and gold girdle with long tassel at end, the sleeves being arranged with little points edged with fur and clasp of point d'Alencon ruffles. The Regulation robe, bordered with ermine and ermine cape, was lined with white satin and fastened to the shoulders with knots of heavy gold and tassels (The Standard, 11 August 1902, p 7f-g).]
Costume Supplier: Madame Durrant, 116 & 117, New Bond Street, London, W.
Jewellery: A triple necklace of diamonds and pearls, with large diamond cross; high diamond tiara.
Furniture & Props: Painted backdrop.

Photographer: Lafayette Ltd., 179 New Bond Street, London, W.

Evidence of photographer at work: -

No of poses: 1.

Copyright: V&A

All images on this site are copyright V&A. For further information on using or requesting copies of any images
please contact the V&A Picture Library: vaimages@vam.ac.uk including the URL of the relevant page

Provenance: Pinewood Studios; acquired 1989.

References:

Biog: Burke's Peerage; The Times,17 March 1919, p 14b.

Occasion: -

Costume: The Observer, 10 August 1902, p 6e; The Standard, 11 August 1902, p 7f-g; The Court Journal, 16 August 1902, p 13b; The Queen, 16 August 1902, p 256c.

Costume Supplier: The Court Journal, 16 August 1902, p 24b.

Jewellery: The Standard, 11 August 1902, p 7g.

Reproduced: (cropped version) The Gentlewoman, 8 April 1911, p 459.