LEIGHTON, J ESQ.
Neg. No: (GP) 7204
Neg. Size: 15"x12"
Neg. Date: 11-03-1912


Sitter: 2nd Lieutenant, later Captain John Burgh Talbot Leighton (1892-1917).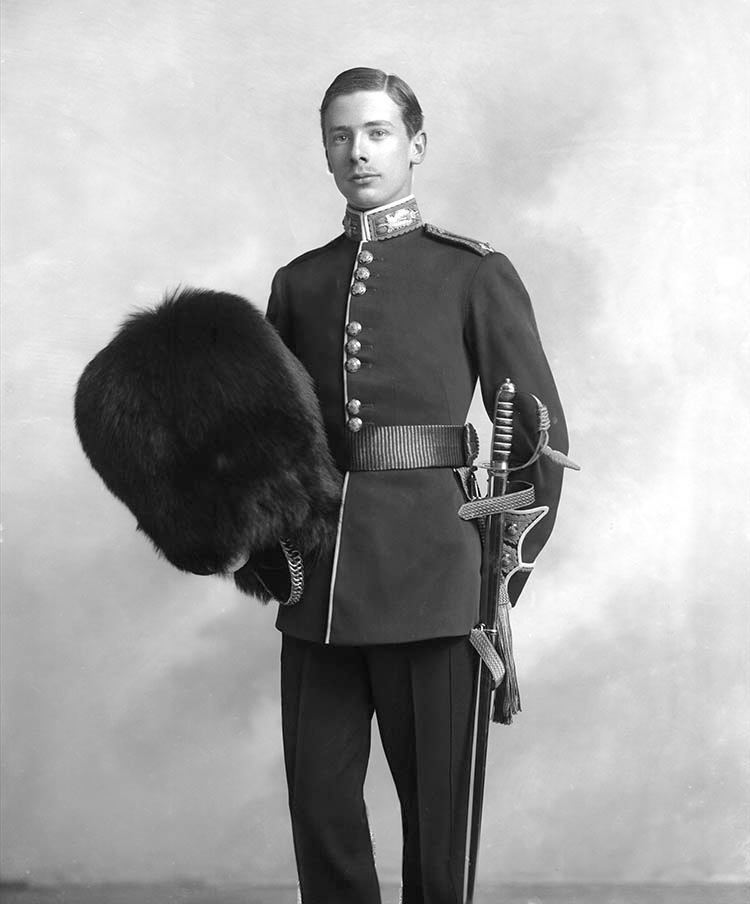 The 20-year old John Burgh Talbot Leighton (d. 1917) is seen here in Full Dress uniform, 2nd Lieutenant, Scots Guards. The tunic is bright scarlet and he carries an 18-tall bearskin cap. In 1997 the British Minister for Defence Procurement stated that he would like to see the use of bearskin phased out for ethical reasons.

Leighton, was educated at Eton and Sandhurst. He entered the Scots Guards in 1912. At the outbreak of World War One he was seconded to the Royal Flying Corps in which his father too was a Flying Officer. Leighton was appointed captain in 1915 and temporary major in 1917. He was awarded the Military Cross for taking "photographs at a height of 200 feet while his observer engaged the enemy with rifle fire." In that same year he died of wounds received in action 1917 and was buried at Varennes Military Cemetery, France.

The character of a young man summoned to attend the King's Levee on 11 March, just two years away from the conflagration of a world war in which he would die, was remembered on his memorial plaque as follows:

The Perfection of an English Gentleman,

a Soldier and a Friend

Nothing is Here for Tears,
Nothing to Wail or Knock the Breast,
no Weakness, no Contempt, Dispraise, or Blame,
Nothing but Well and Fair,
and What May Quiet us on a Death so Noble.

John Milton, Samson Agonistes (1671)

Biog: Entered Scots Guards 1912; Lieutenant, 1914; served Royal Flying Corps 1914-1917; Captain, 1915; Squadron Commander, 1917; temporary Major, 1917; died of wounds received in action 1917.
Date: 11 March 1912.
Occasion: The King's Levée, 11 March 1912: presented by Colonel E. Guthbert.
Location: -
Descr: TQL standing.
Costume: Full Dress uniform, 2nd Lieutenant, Scots Guards.
Furniture & Props: Backdrop.

Photographer: Lafayette Ltd., 179 New Bond Street, London.
Evidence of photographer at work: Face retouched.
No of poses: 1.
Copyright: V&A
All images on this site are copyright V&A. For further information on using or requesting copies of any images please contact the V&A Picture Library: vaimages@vam.ac.uk including the URL of the relevant page
Provenance: Pinewood Studios; acquired 1989.

References:
Biog: The Army List, 1912-1917.
Occasion: The Times, 12 March 1912, p 12b.
Costume: Dress Regulations for the Army, London, 1911.
Reproduced: -

Acknowledgements: -