LEGGE, MAJOR & MRS
Neg. No: (GP) 4995
Neg. Size: 12"X10"
Neg. Date: 18-03-1912


Sitters: Major, later Brigadier-General Reginald Francis Legge (1873-1955); Major 1911; Lt.-Col. 1919; T/Brigadier-General 1918; Director, Radio and Television Trust Ltd & several electricity companies.
Mrs Reginald Francis Legge, née Rose Eleanor Faris ( ); only child of HE Selim Faris (1826-1908); m. (1900), as his 1st wife, Brigadier-General Reginald Francis Legge; div. 1924 "on the ground of her adultery with William Landolf, a servant..." (The Times, 8 Feb 1924, p 5, col. b).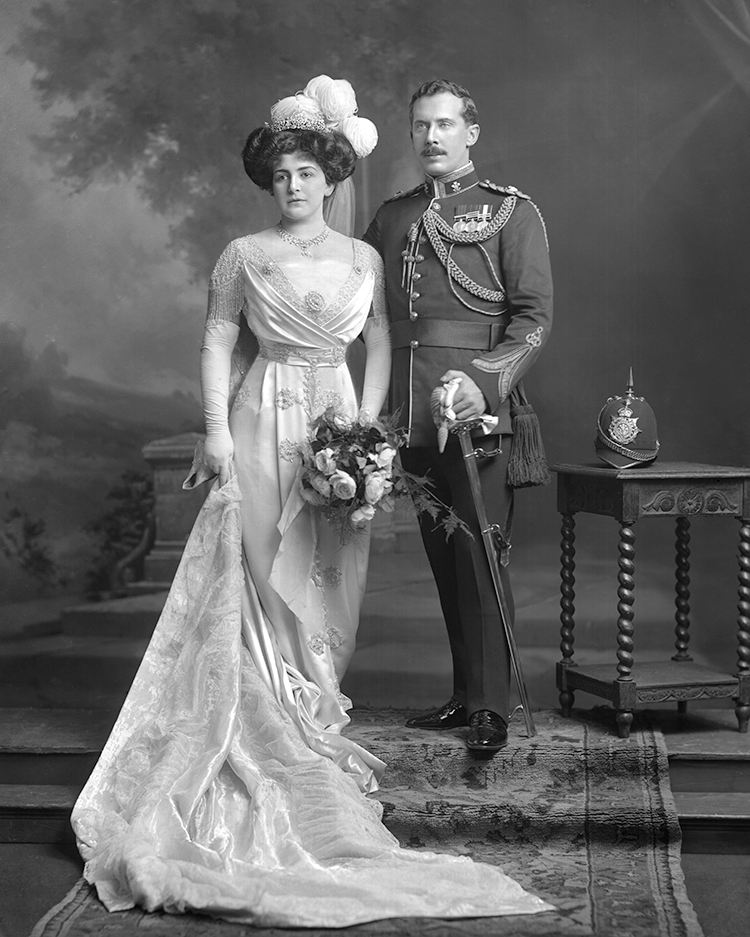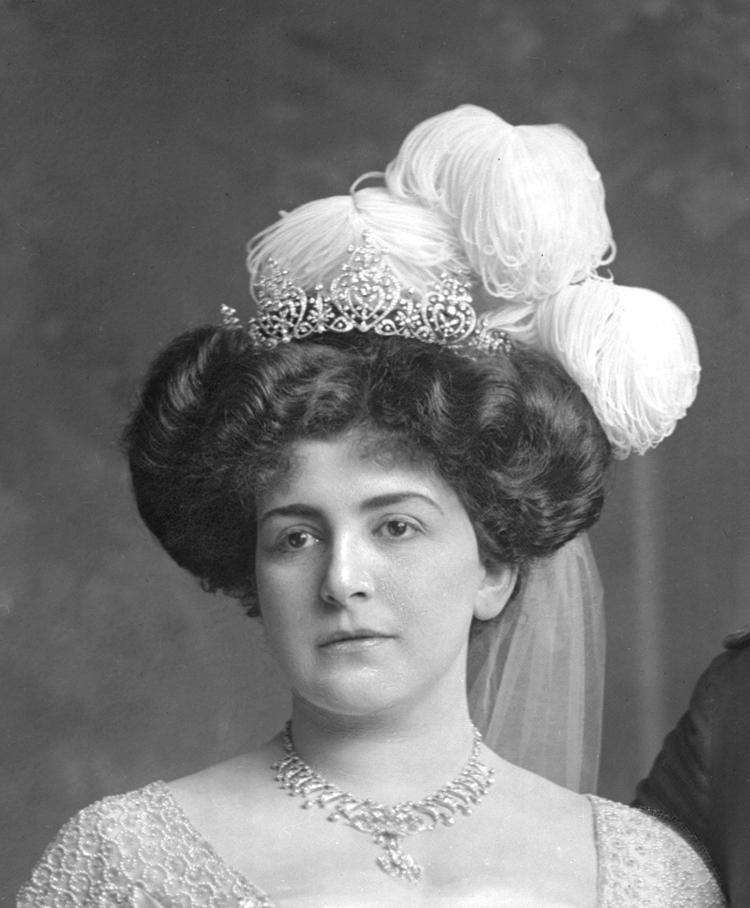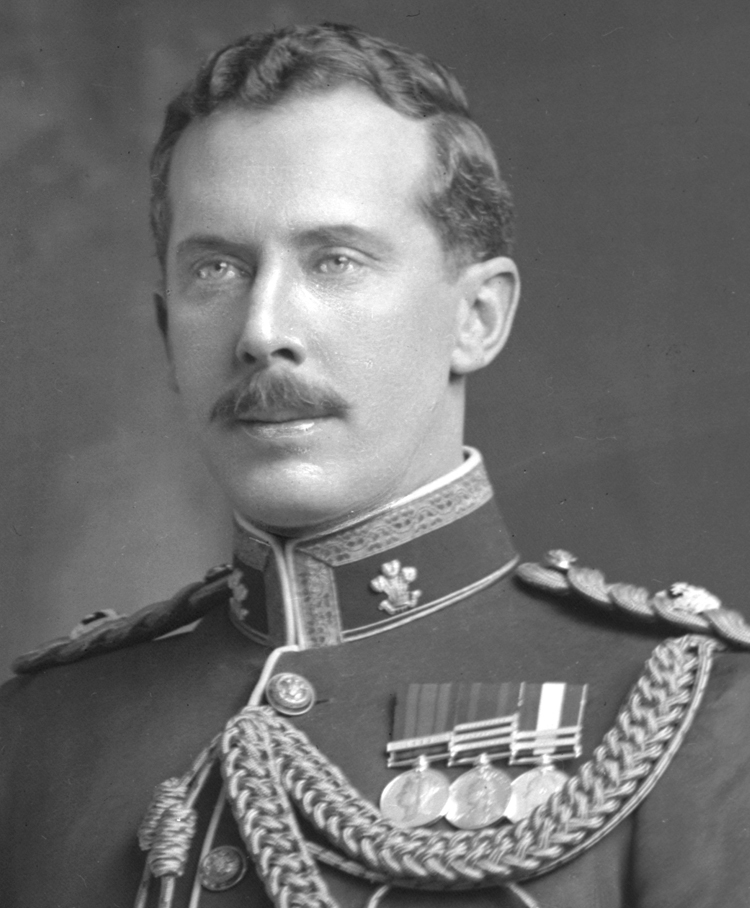 Reginald Francis Legg(e) was previously married, at Brighton in 1900, to Rosalind (aka Rose) Faris (1879-1936), daughter of Selim Faris (1826-1908), sometime Turkish consul in Paris, and grand-daughter of the scholar and writer Faris Shidyaq (1804-1887). They had 4 children. There was a much publicised divorce in 1924. http://www.saxonlodge.net/getperson.php?personID=I4312&tree=Tatham
Rosalinde married Brigadier General Reginald Francis Legge, and they had 4 children. They later divorced in London around 1921-1924. All information on the children from this marriage is unavailable and is being traced. One of their children, Rupert Maximilian Faris Legge, married Sheila Shetwynd-Inglis and had one child Douglas Legge, aka Robin Blyth. They Divorced in the same year in 1934 and gave away their child. Both Rosalinde and her son, Rupert, are untraceable. Safia Ahmed Faris died in 1915 at her home 5 Ashburn Place and was embalmed and moved to Paris where she rests at the Père Lachaise Cemetery in her family's vault. This was the last trace of Rosalinde and Safia. http://en.wikipedia.org/wiki/Ahmad_Faris_Shidyaq#cite_note-3
Date: 18 March 1912.
Occasion: The Court, 18 March 1912: Mrs. Legge presented by the Hon. Mrs. Arthur Browne.
Location: The Lafayette Studio, 179, New Bond Street, London.
Descr: FL standing.
Costume: (Major Legge) Uniform of a Major of the Prince of Wales Leinster Regiment;
(Mrs Legge ) Court Dress:
"Court gown of white satin vestal handsomely embroidered down front and sides with diamanté and crystal. Train of silver and white brocade lined silver gauze" (see: The Court Journal, 21 March 1912, p 403a).
Costume Supplier: (Mrs. Legge) Jays' Ltd., Regent Street, London.
Orders, Decorations & Medals: East and West Africa Medal 1887-1900, with clasp '1898'; Queen's South Africa Medal 1899-1902 with 3 clasps; King's South Africa Medal 1901-1902 with 2 clasps.
Furniture & Props: Painted backdrop; side-table.

Photographer: Lafayette Ltd., 179 New Bond Street, London.

Evidence of photographer at work: -

No of poses: 2. [See neg. no. 4990]

Copyright: V&A

All images on this site are copyright V&A. For further information on using or requesting copies of any images please contact the V&A Picture Library: vaimages@vam.ac.uk including the URL of the relevant page

Provenance: Pinewood Studios; acquired 1989.

References:

Biog: Who's Who [DSO BOOK P288]; Kelly's Handbook, 1936; The Times, 29 August 1955, p 9c.

Occasion: The Times, ; The Court Journal, 21 March 1912, p 415.

Costume: (Mrs. Legge) The Court Journal, 21 March 1912, p 403a.

Costume Supplier: (Mrs. Legge) The Court Journal, 21 March 1912, p 403a.

Orders, Decorations & Medals: E.C. Joslin, A.R. Litherland & B.T. Simpkin, British Battles & Medals, London, 1988.

Reproduced: -

Acknowledgements: -